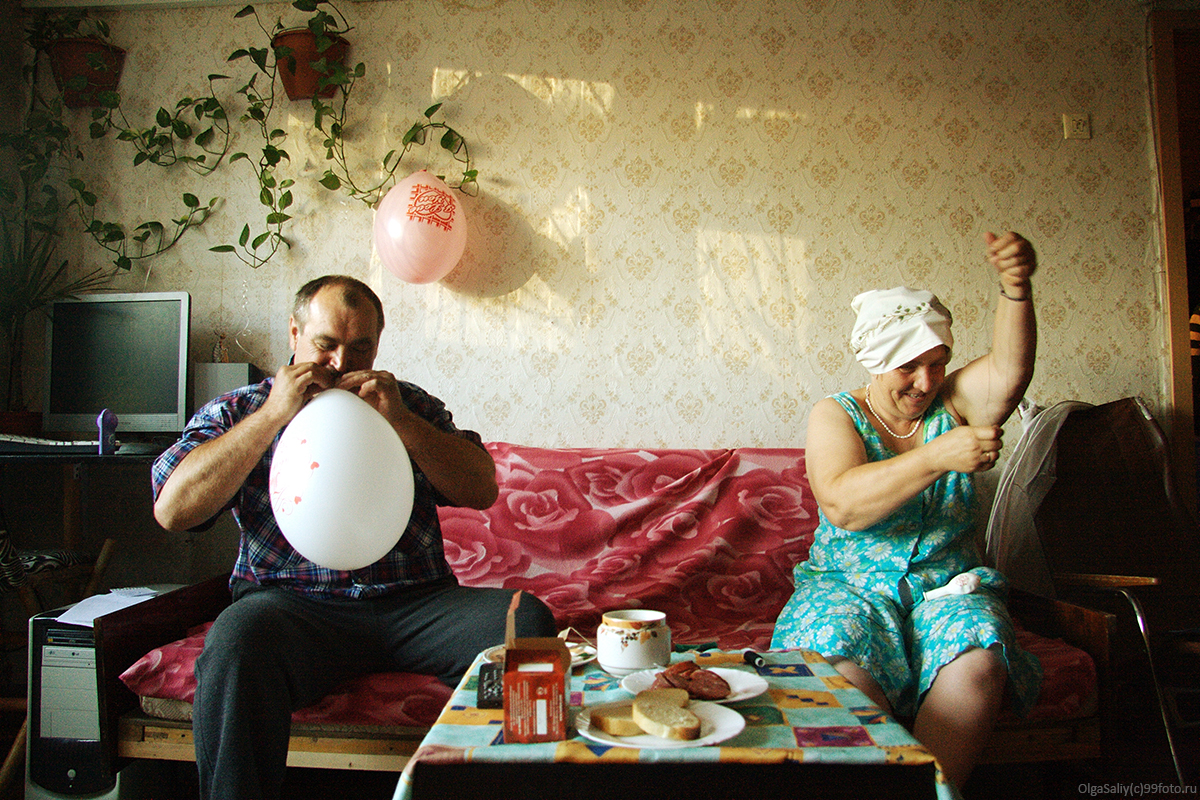 The modern traditions of celebrating Russian wedding considerably coincide with the traditions of past centuries and with the habits established in the USSR era. Now, thanks to the really strong and independent people, they are very slowly transformed into the present. I often take part in Russian weddings as a photographer and I can distinguish the following peculiarities of Russian wedding traditions:
1. Most newlyweds are intrinsically resistant to the common traditions and habits, and don't want their wedding to be "like everyone's else". But usually, as a result, it turns out "like everyone's else".
2. The Russian people are taught from birth to be very responsible, and other people's opinion is very important to us. Therefore, our attitude towards ourselves is very critical. It defines the basic style of shooting a Russian wedding: it usually includes portraits, posing and photoshop post-processing. Russian wedding photography is far from reportage photography.
3. Russian weddings are abundant in alcoholic beverages.
So. A modern Russian wedding — what is it?
In Russia, a bride and groom make a decision about a wedding on their own. It is possible that parents get to know about "children's" wedding after registration. But usually all the relatives and friends from the Russian Facebook (vkontakte.ru) know about the wedding in advance. We appoint a day of marriage registration (in Russian language, the form of the word "marriage" coincides with the word "defect" (sounds as "bruck")) in approximately 1-6 months.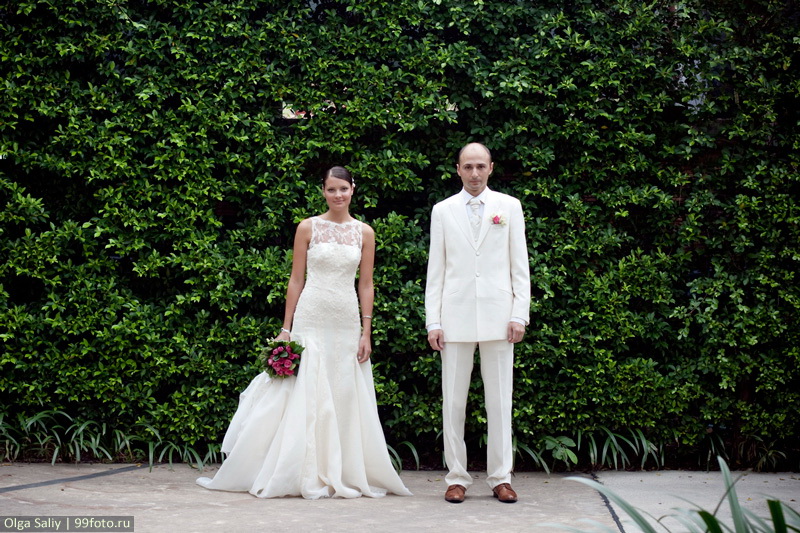 These six months, the bride lives in constant stress. The groom is not very much involved in preparations and keeps calm. Living in dreams and reality, the bride is preparing for a wedding. It is necessary to have time to make a guest list, find a cafe or dining facility for a banquet, think about places to walk around with photographer, find normal shoes, thingies for a dress and so on. In this sense, the Russian traditions are the same with other countries. In general, for some brides, life six months before the wedding is a real madhouse.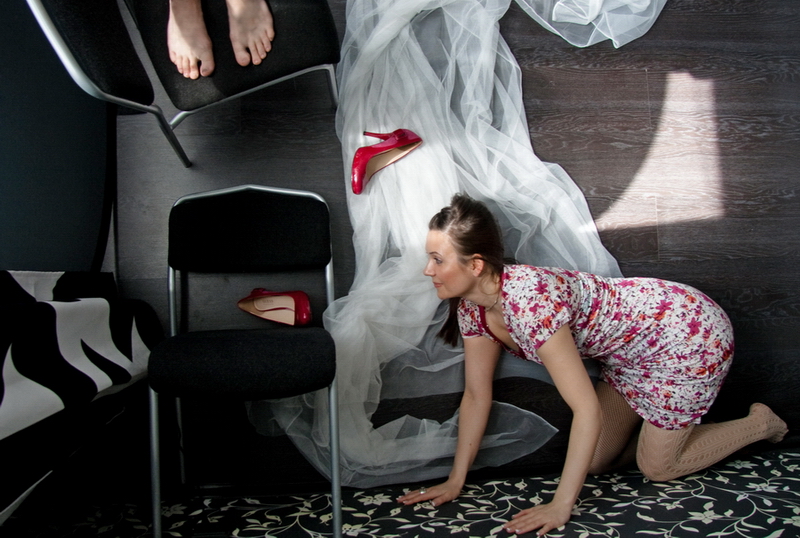 A bride's wedding dress is traditionally white. Before the Catherine II's wedding, bridal dresses in Russia were red. Now, a white wedding dress in Russia is a symbol of purity and chastity. But the white color was taken from ancient Greece: there it was a symbol of joy and prosperity. Queen Catherine married in a white dress, and it was the moment the Russian tradition totally changed.
Like in any other country, a wedding day begins with hair setting, applying makeup and dressing. It happens in all different ways: the bride can do hair and makeup in a beauty salon with a trained hairdresser and makeup artist, or in her own room with available tools.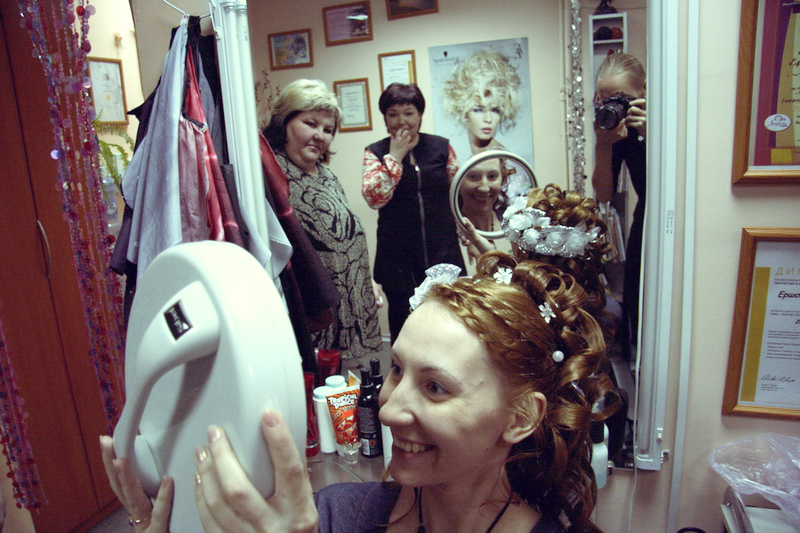 The bridegroom needs less time and effort to get prepared:)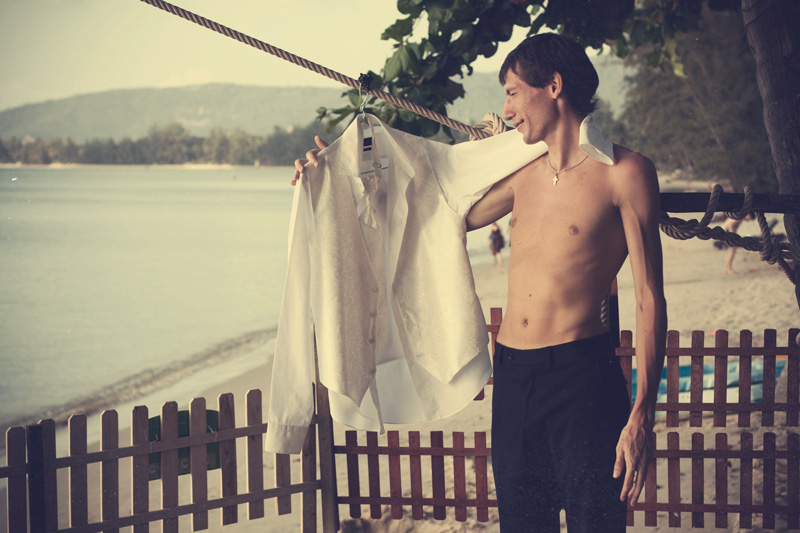 But he has other severe tests (to decorate the car, get a wedding bouquet and so on).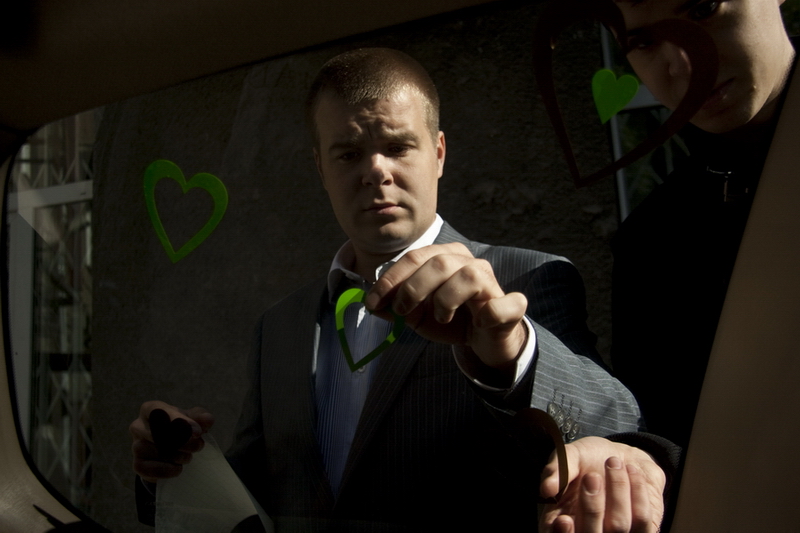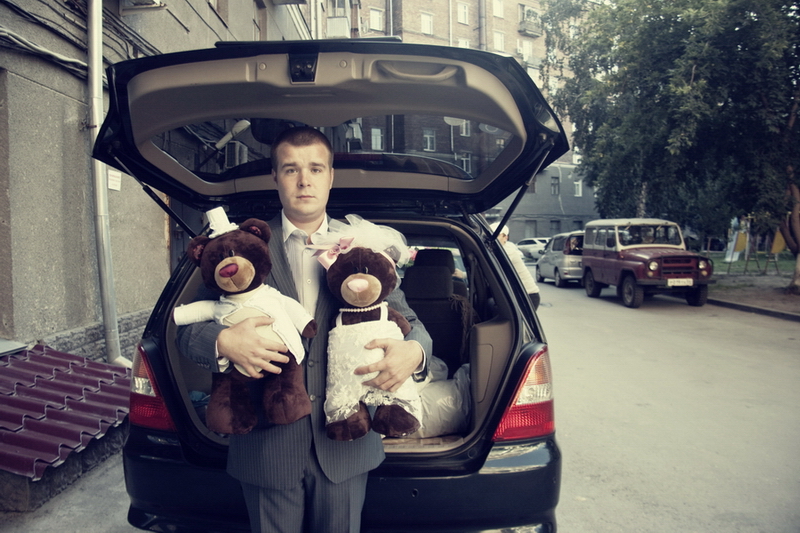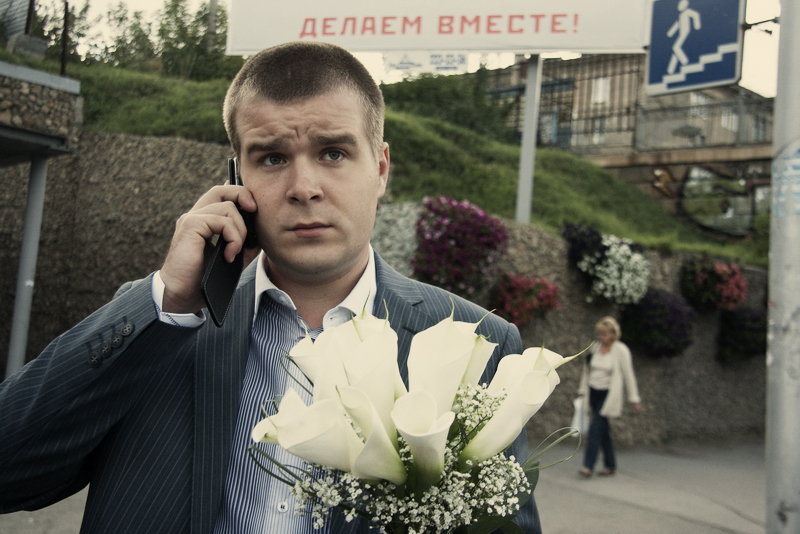 At this time, the bride is involved in real wedding commotion. Of course! It's not just to buy some bouquet (bouquet pre-chosen by the bride). The bride should keep control of how to put hair, lace dress and another stuff like that – it's much more serious.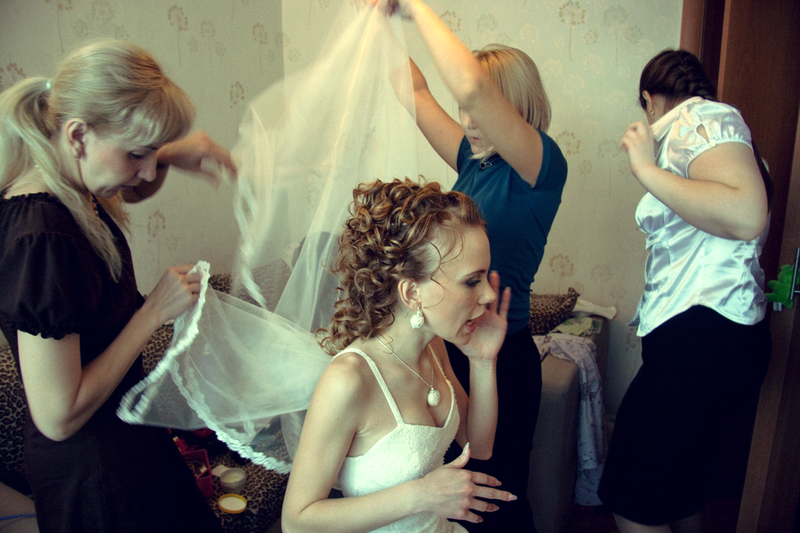 Parents and friends are involved in bride's preparations too. They rush about the apartment, making sure that all the bottles were carried to the car, that there are enough sandwiches for a walk, that everything is ready to meet the groom, and maybe he has already arrived.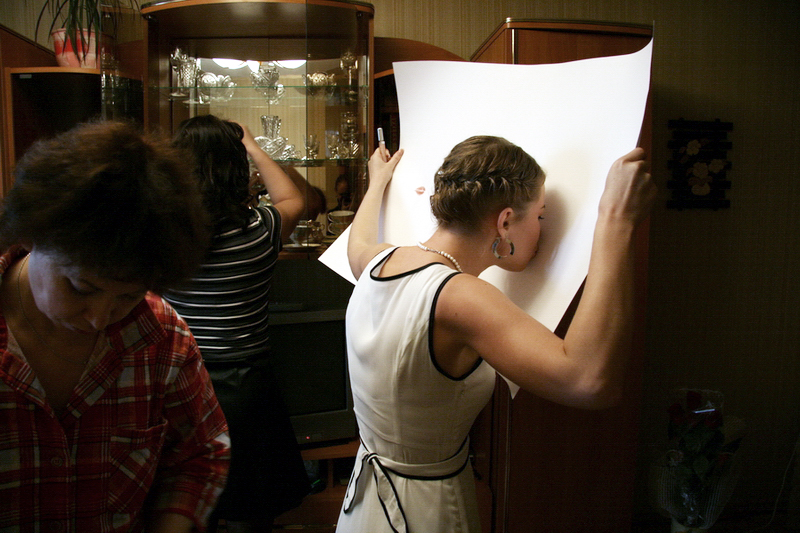 And then, a car with the groom drives over. And it starts … ransom of the bride. This procedure takes place at the entrance of the bride's house.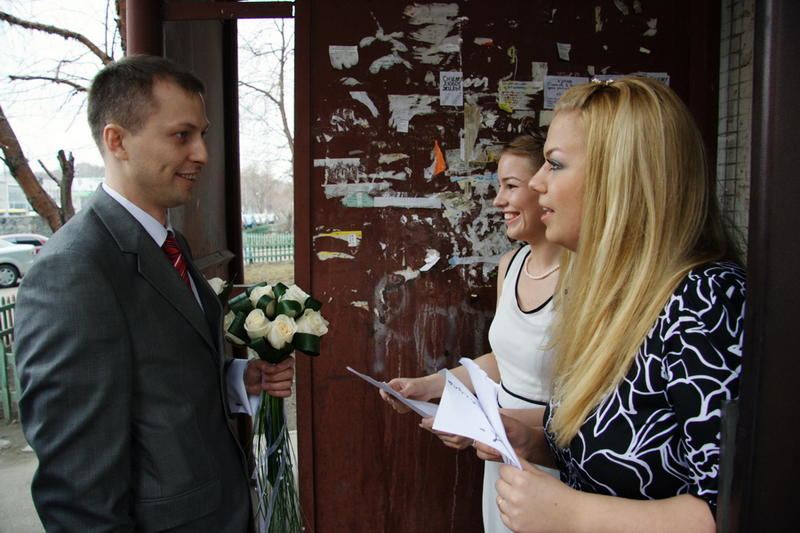 Ransom is perhaps the oldest tradition preserved in Russian weddings, its main purpose is having fun. Bridesmaids should torment the groom in a funny way: propose him a bunch of riddles and stupid tasks, and finally get a ransom from him. It can be money or any sweets that the groom can spare to the bride.
Meanwhile the bride is completing her preparations.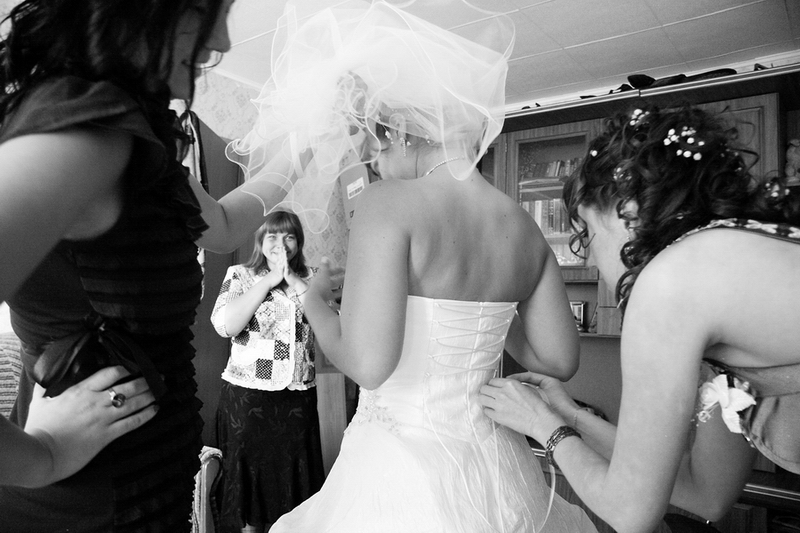 If she does not have time, the groom gets more riddles.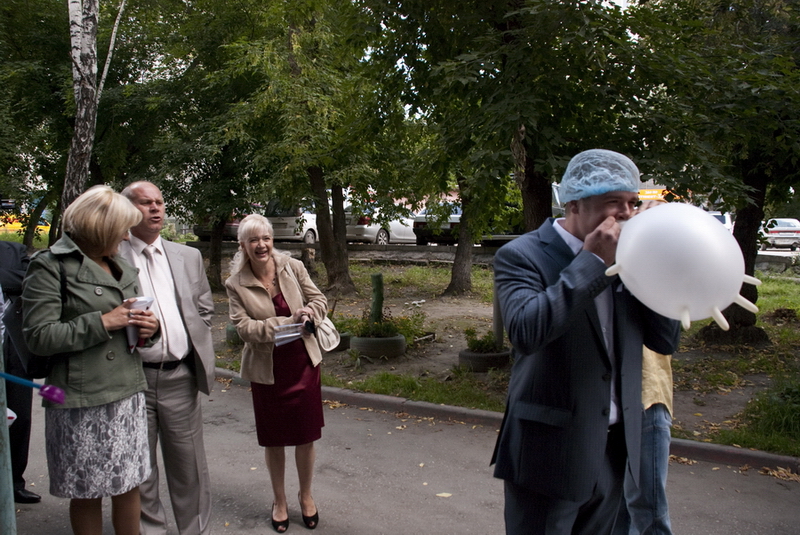 In the end, the groom can enter the house, but now he must find a real bride. Because deception is waiting for him again.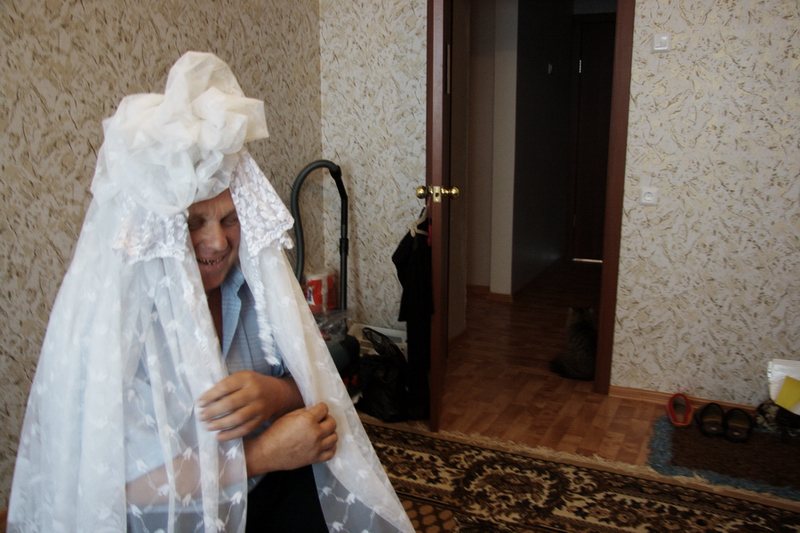 Eventually, he finds the bride and everyone drinks champagne to celebrate it. Then, it is time for a custom the roots of which have survived from antiquity to the present: the bride's mother hands the "talisman" to the daughter. It could be jewelry or some sort of heirloom. Talismans are greatly appreciated and can not be sold. The bride, in turn, will hand the talisman to her daughter when it comes to her wedding. Nowadays it also sometimes occurs as a part of wedding celebration.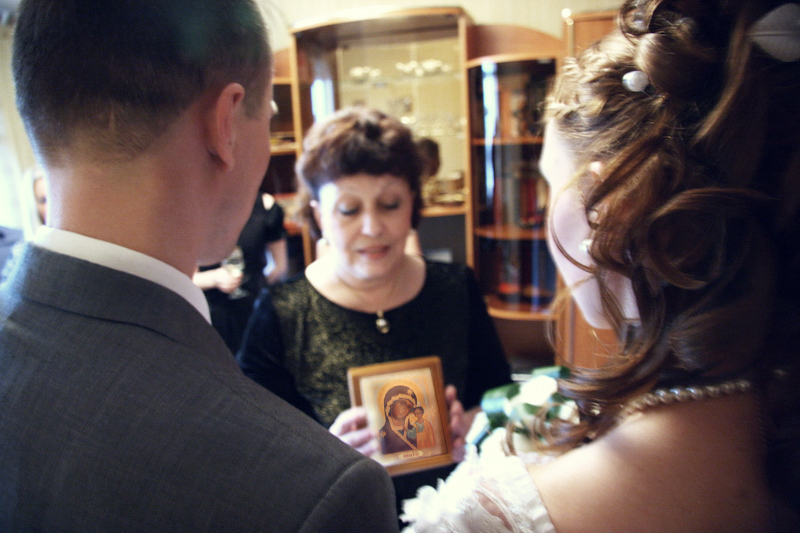 After that, all the people go to a registry office – rather semiofficial institution where the bride and groom become husband and wife.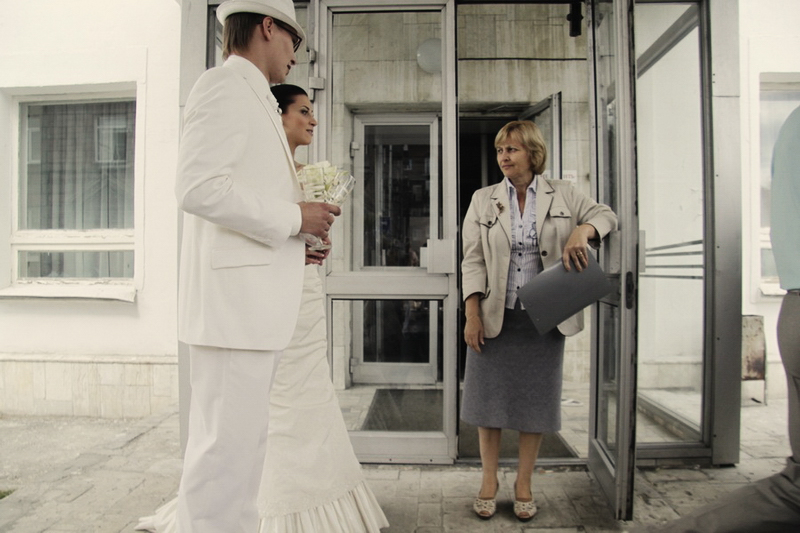 On the threshold of the registry office, the bride and groom are joined by the other guests – relatives and friends. It is difficult to describe what's going on here: meeting friends … or maybe a farewell to a single life). And now, exactly at the scheduled time, all the guests come inside.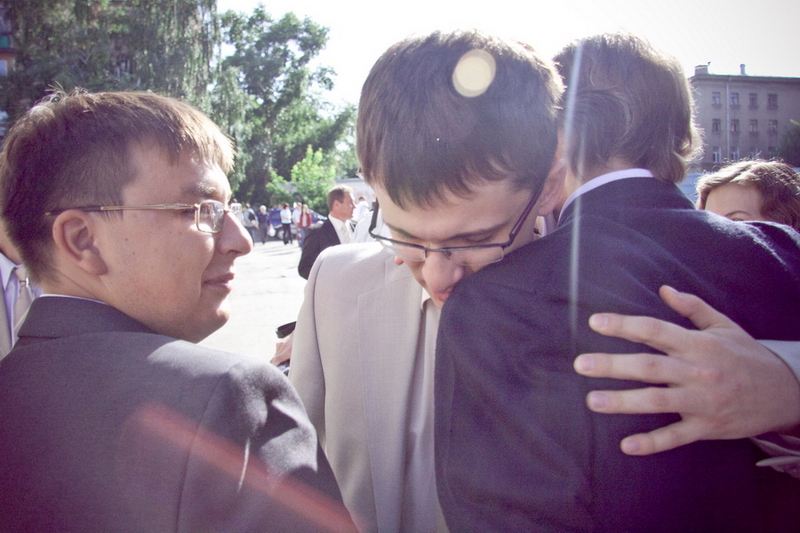 At the wedding ceremony the couple signs some document (I've never read it, even when I signed it myself). In front of an authority female representative, the couple confirms that they get married voluntarily. Then newlyweds exchange rings and kiss. All this takes about 5-10 minutes because dozens of other couples are waiting for them outside the door. Queues, it's a Russian tradition too.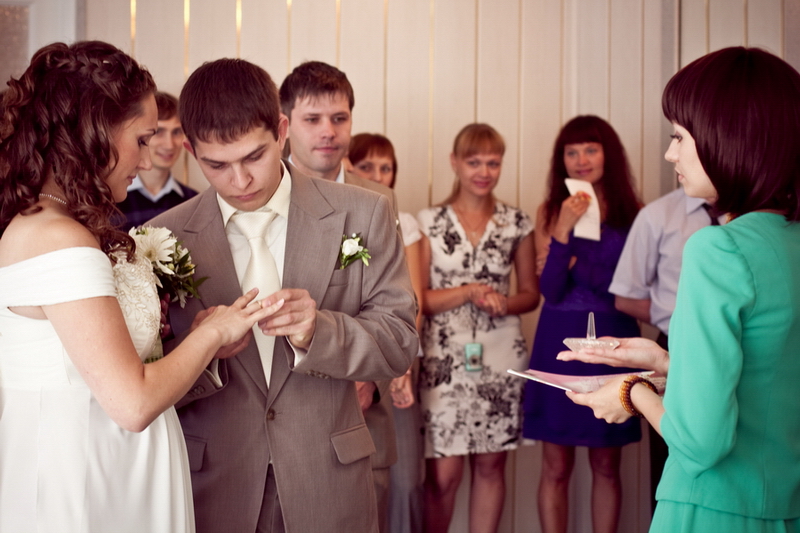 Finally, it happened! Now all the guests congratulate the couple and go out into the street to drink champagne on this occasion.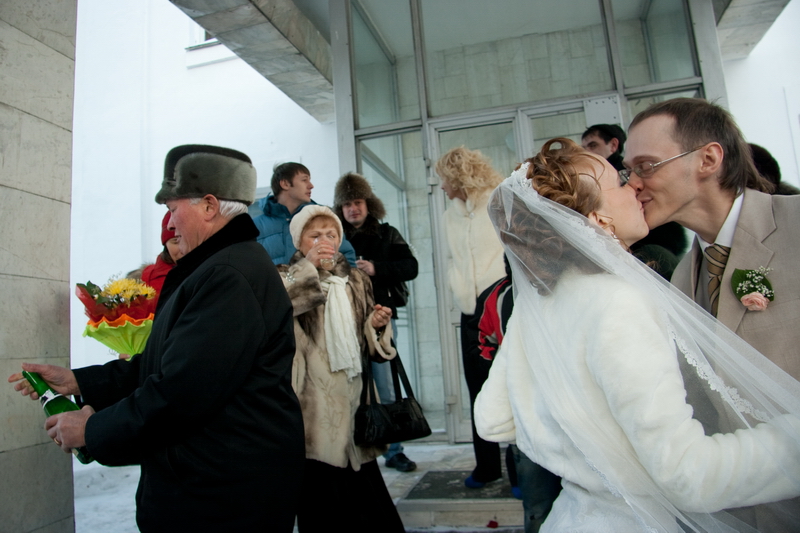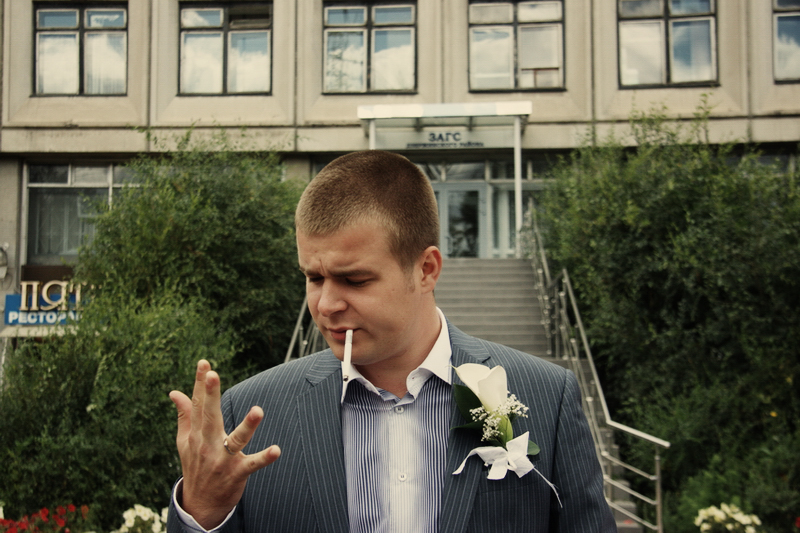 But now, perhaps the most exhausting part of the wedding day starts (it depends on the imagination and cruelties of photographer) —  it is a walking tour 🙂
Actually, sometimes all these traditions are broken. I remember one wonderful wedding in Kronstadt. There participated only three people: me, a bride, and a groom. When the couple left the registry office, we went to a cafe, where they took out their phones and called their parents to say that they became husband and wife. Up to this moment no one knew anything about the wedding. That was cool.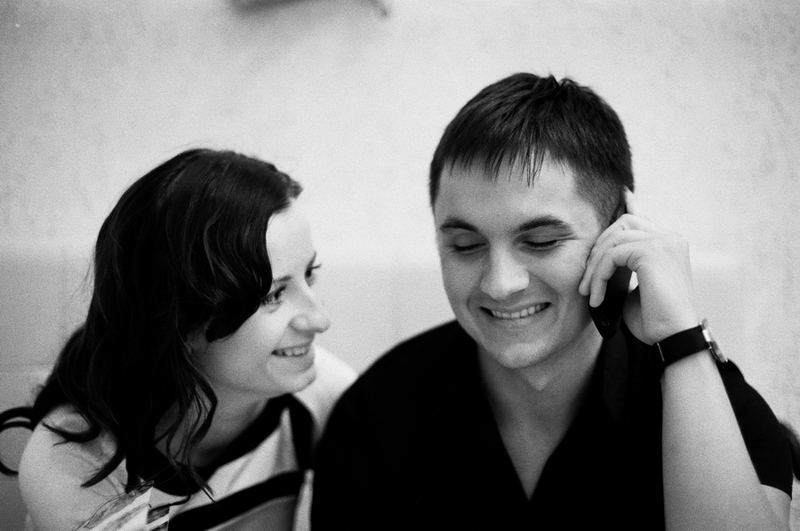 So, time for a walk. Someone is going to all sorts of urban monuments to make "a portrait against a prominent background," someone turns on their imagination to take cool photos.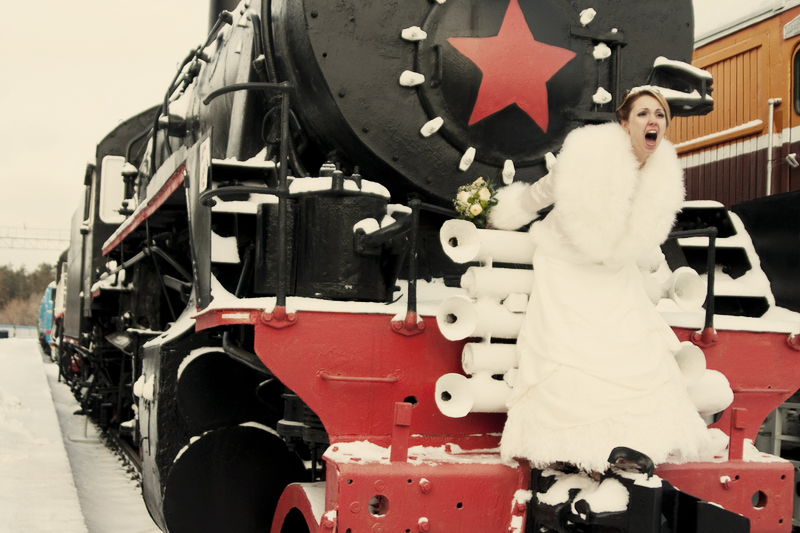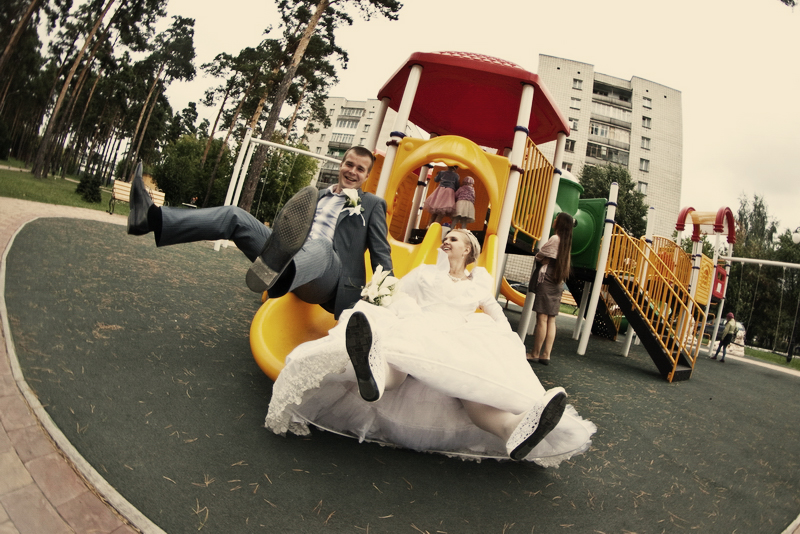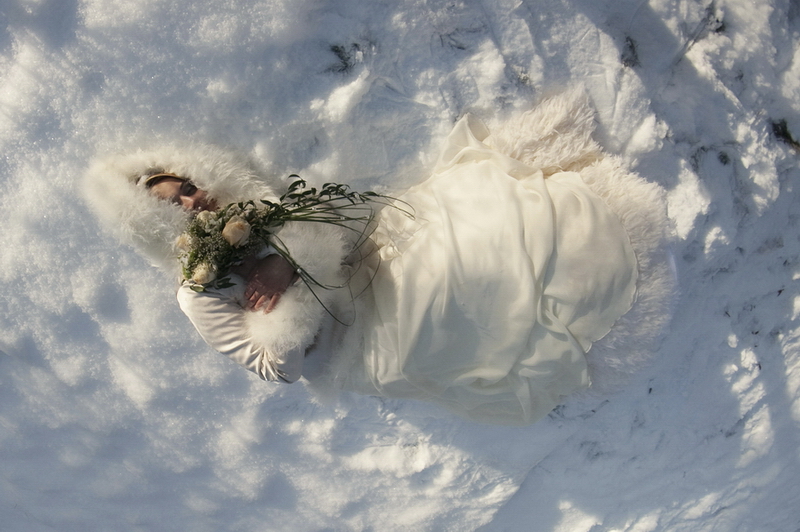 Well, finally, a tired couple and a photographer go to a cafe. The relatives and friends who did not participate in the walk are already waiting for them.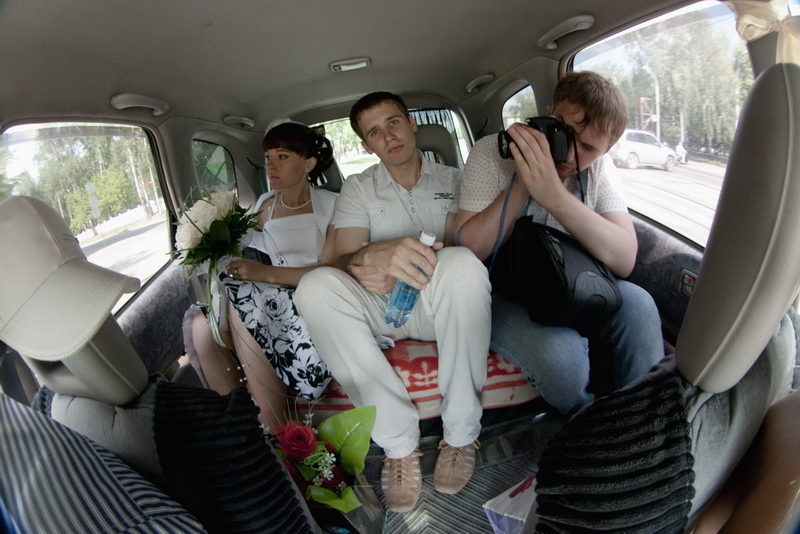 Guests are sprinkling the couple with grain and coins which symbolize wealth and prosperity. Also newlyweds can be showered with sweets symbolizing sweet life, and confetti, a symbol of a bright and romantic life.
Then the parents give a round loaf to the husband and wife. This is also an old Russian tradition: the newlyweds bite off a piece of loaf at the same time. The one who has a bigger piece is supposed to dominate in their life together. It's like a sign. And then the banquet begins.
To get started, guests open bottles of alcoholic beverages and start drinking. Then they all shout out "Bitter!" and the husband and wife, who are already incredibly tired and hungry, should postpone their spoons, forks, stand up and kiss.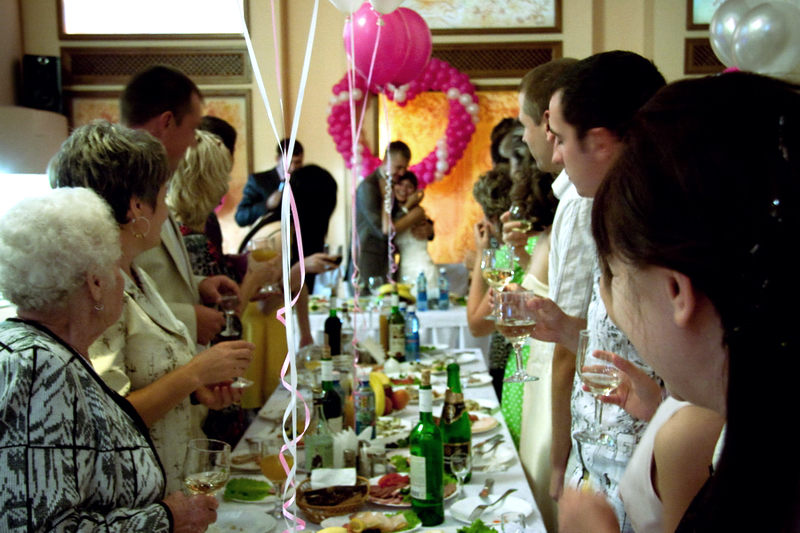 From this point, the wedding script completely proceeds to one man – Tamada. It is also an ancient tradition that was a bit transformed in view of modern life. Previously, the main person at every wedding was "Druzhka." He monitored the observance of rituals and helped to maintain fun. It was a very wise and important person from a clan. But now the tradition has changed, "druzhka" is now called "Tamada". He or she starts to offer up entertainment only at the moment when tired and hungry guests and the newlyweds arrive at the cafe and sit down at tables.
Then the fun begins: drinking alcohol, strange competitions, giving gifts, and dancing.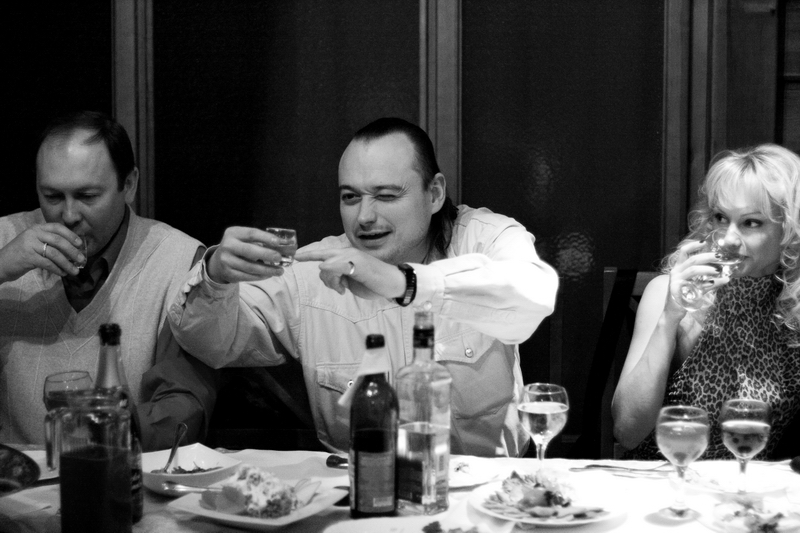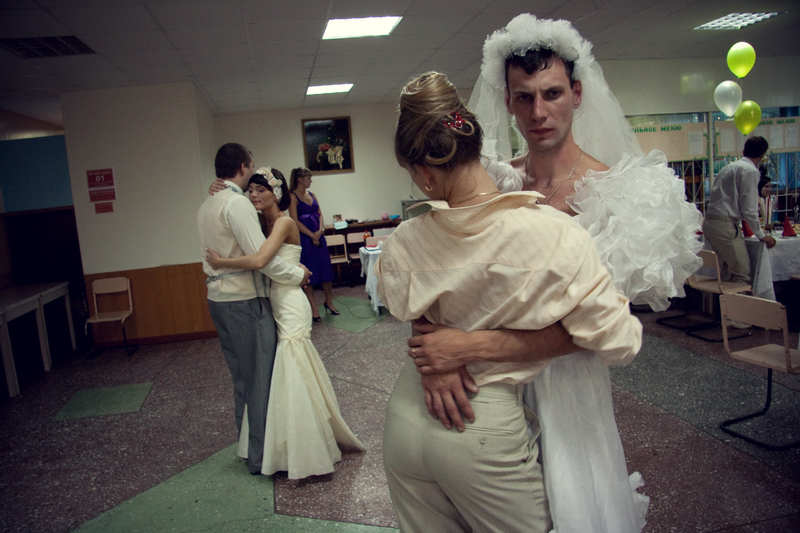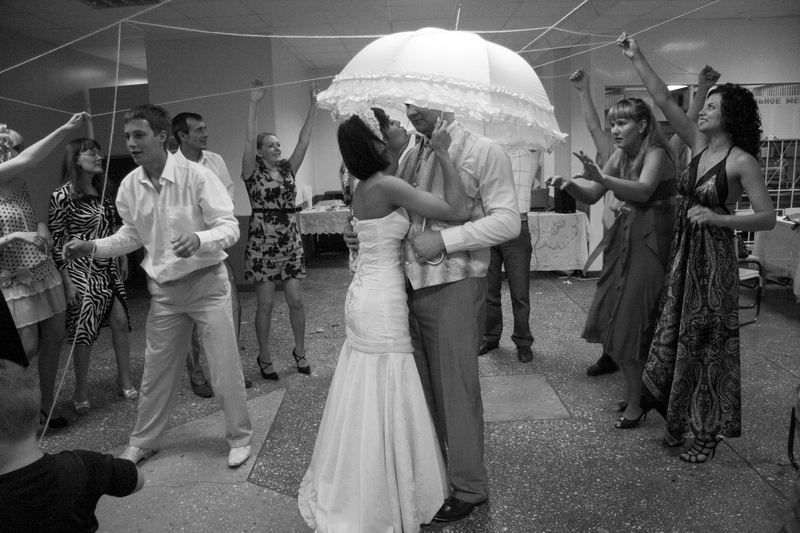 Sometimes celebration lasts till next morning. In the morning guests wake up in different places at home, eat breakfast and go home.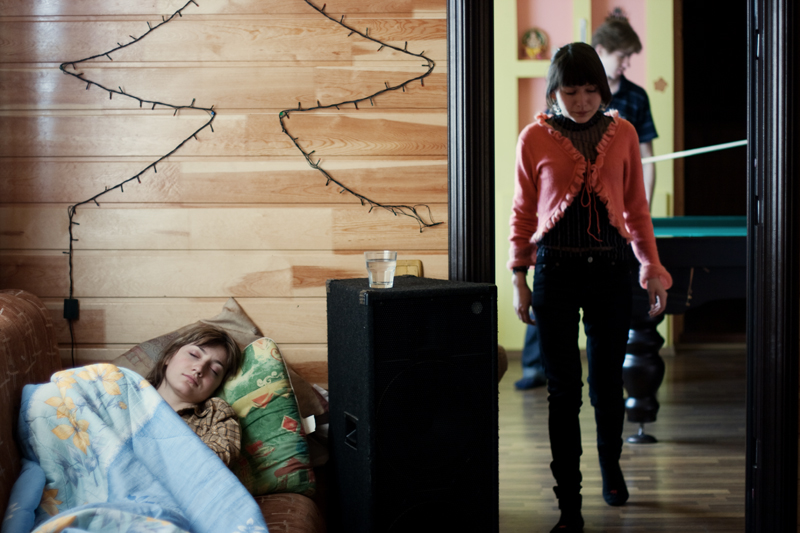 (c)Olga Saliy photography