Jumping ahead let me tell you that if it rains non-stop for about 2 days in a row in Samui – what happens quite often – it is called "Flood". Then I get it – time to stock up on chocolate lava, cookies, mango and stay in my burrow until the god of the sun won't come back to the island.
I'd stay inside not because the flood is dangerous, but simply 'cause there's nothing to do outside: you can't swim (there are jellyfishes and the sea is murky), you can't ride a motorbike: it's not convenient and in some places there's water on the streets, photo camera would break down a cause of the rain.
The main problems in Samui during floods:
→ The worst situation is for those who came to Koh Samui for a short period of time. You can't swim in the sea so as you can't travel around the island as it's absolutely inconvenient with the rain. But even in this case you can entertain yourself: chase for places flooded with water (you still have to search it!) and sail there on inflatable mattresses.
→ Transport connection with the mainland. On the 3rd – 4th days of raining it can turn out that the transport wont operate at all or would go with serious interruptions. Such kind of situation will last for 2 – 3 days and this happens if not every flood, but, maybe, once every couple of years. The last time when it happened for real it was in 2011. In 2017 there were delays and cancellations of several flights, but the planes were flying and buses operated anyway.
Well, if you are reading this and packing for Samui – don't worry – if there's really serious flooding you just won't be able to get there)
→ Mildew and dampness. Cameras and iPhones get broken in the rain – it's obvious, but also in the same way equipment dies when dampness and mildew are inside and sometimes it's impossible to clean it out from there. Likewise, clothes either gets musty in closets or, while it's raining, dries for weeks, especially if you live closer to the sea. Solution: air conditioning in a dry mode, silica gel in the bag with the equipment.
→ Food. There is a problem only for Bang Po and Maenam and only after a week of constant rains. That happens rarely. Everywhere there are lots of cafes and 7-11 shops. My big grief is that I can't get to Starbucks and Big C on Maenam during heavy rains.
→ Electricity and Internet. At some point electricity and Internet can shut down, so if you are reading it in panic, getting lost contact with the family, friends colleagues who are on Samui – don't worry, they'll get back online soon. It's just raining here.
Any flooding is, first of all, a prolonged rain.
Floods in Samui
During flooding in 2011 it was raining non-stop for 10 days, airport was closed and ferries were out of service for several days, in many places there was no electricity.
In 2017 it is raining for about 5-6 days, there is electricity, everything's much better and there are fewer floods this time. But flood is already hysterically discussed by Media.
Diary entry: Yesterday our local Thais, all looking like ducks in a thunder-storm, loaded into a large truck pointing to the mountains and talked about major sediment slides, which may seem to come down. It was that moment, when I went on the bike to photograph flooding. I live in a more or less dry area (Bang Po beach), and houses here don't sink, here are no people walking knee-deep in water, but only rivers descend down from the mountains and dark-brown sea comes very close to the beach so we can observe it from our house.
Landslide is a mud that comes down from the mountains to the road – there are several of them in Samui. Water is running down from the mountains to the sea – it's everywhere and in some points of the ring road (the main road of the island) water is knee level, sometimes higher.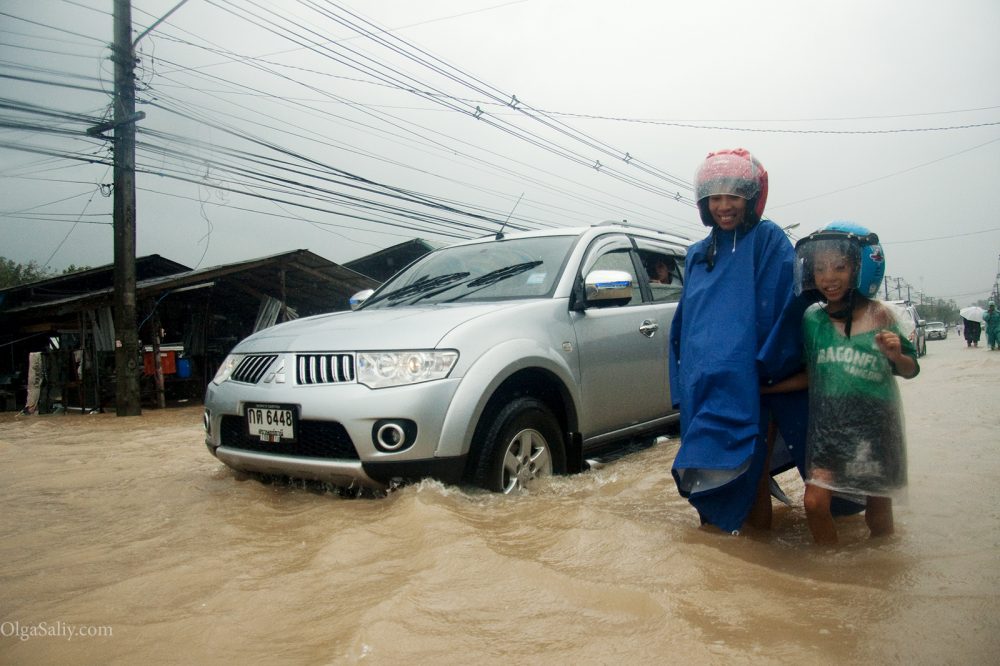 I turned away from the road and saw Thais fishing in the puddles. To be more precise – they are doing it in the place where normally the road and houses are when it's dry. Water is chest level. Boys are diving and swimming, adults fishing – why would you have it any other way! Everybody is happy and calm – as Russians when they go out to make snowmen in winter.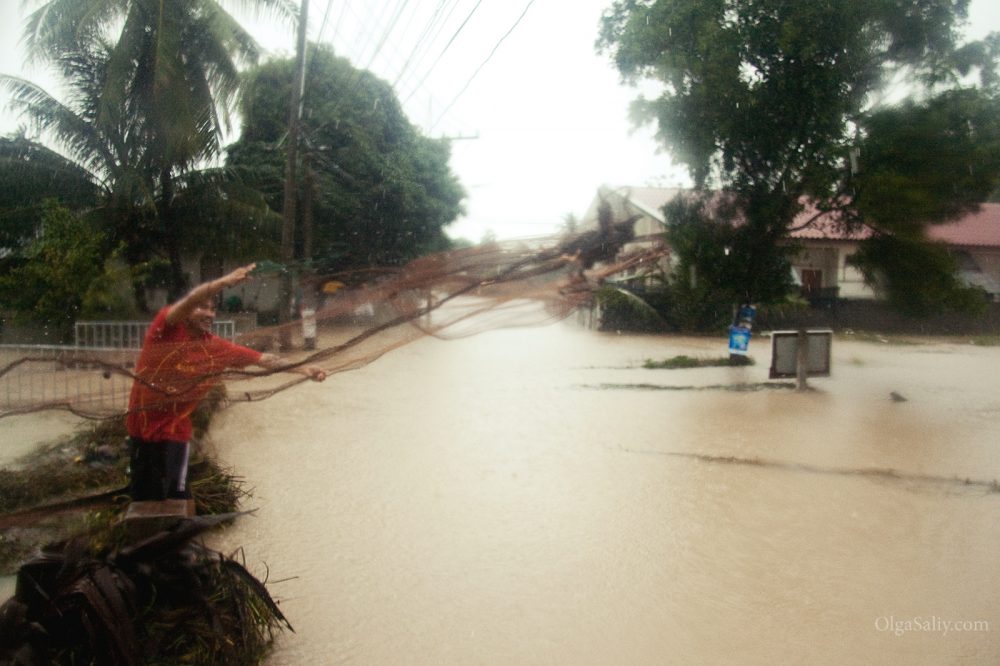 In Lamai (area on the East side of the island) a piece of rock came off and fell on the road. Block spanned nearly all 2 lanes leaving only one lane for motorbikes.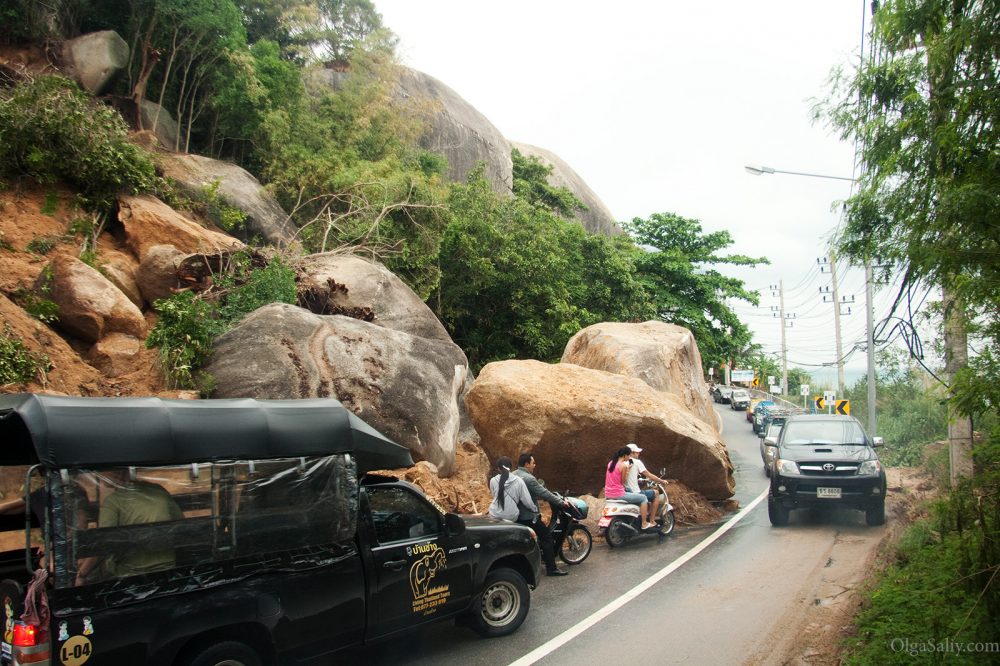 A little bit more of flood photos, but actually, what you see – these kind of flooded sites are quite rare on the island. As you see, I even borrowed a few photos, although in my blog all the photos are always made by me: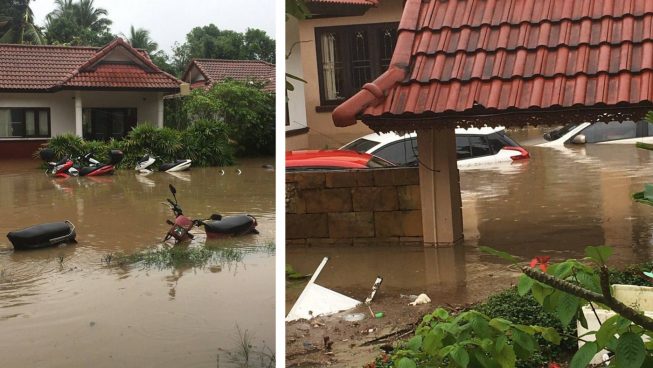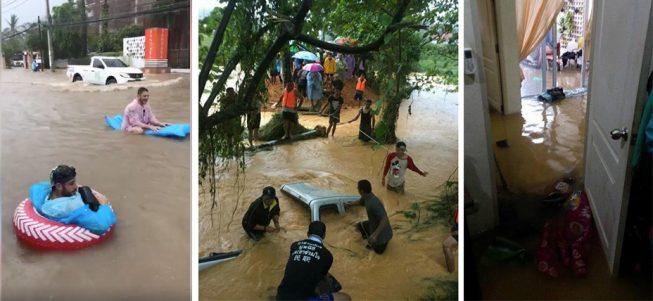 The main problem for holidaymakers is actually not flooding of the houses because it's rather a problem for Thais who live in lowlands. The problem is the sea where it's impossible to swim. This is how usual sea is different from the one that you can see today:
Sea in good weather: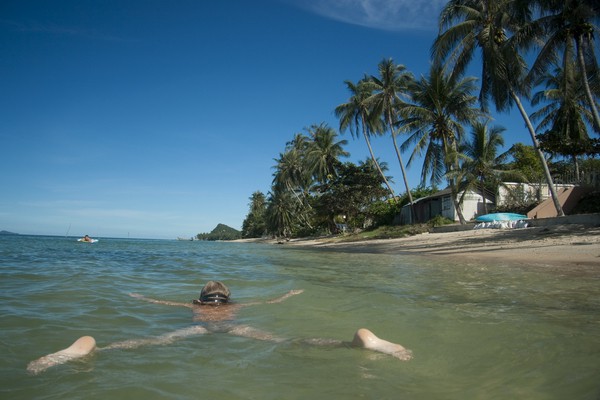 (The same) sea during the rain: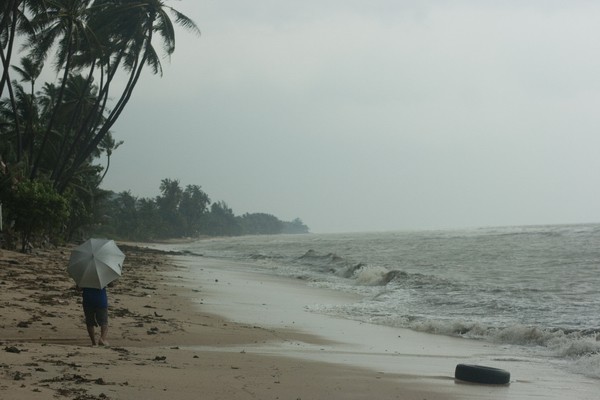 The greatest flood on Koh Samui in the last 100 years or Media histery
Media. Each flood in Thailand is excitedly discussed and described in the news as "the strongest in the last 100 years" (who says 100, who says 50) and over the years Google is full of such kind of news. It is important to understand and forgive not to be surprised to anything – it's just the work of journalists: give them any event and they'll make a sensation. Big deal!
I would highly recommend not to enter media hysteria about any flood. It's just completely different, forced look at the same reality. Let the media beat its head against the wall from the panic while we'll peacefully swim on inflatable mattresses on the roads waiting out the rain.
In fact, for those who live here during the flood everything is slightly different then described in media.
Just check Samui webcams on samui.life and you'll be surprised.
Real-time weather and forecast on a beautiful map you can find here: ventusky.com
Any flood for tourists is, in the first place, a prolonged rain.
Which area of ​​Samui is the worst during the flood
Bophut – everything is bad, many lowlands, flooded houses and high water level on the roads.
Maenam, Bang Po – in general, there are a lot of dry places, houses are not in the water, but there are lowlands (where mainly Thais live) and it's not possible to leave Maenam on bike or by car – lots of water on the way to Chaweng. Main sadness – it is impossible to get to Starbucks.
Lamai – if to compare 2011 with 2017 it's much better. It's one of the good areas during flooding and rain. But the lowlands are everywhere, in all areas.
South of the island and Nathon – in the lowlands there's water, but there are only a few such places. You can drive, you can use ring road to get right up to Big C – that's literally just perfect.
Major congestions on the ring road are in the northern part of the island: from Bang Po till the beginning of Chaweng: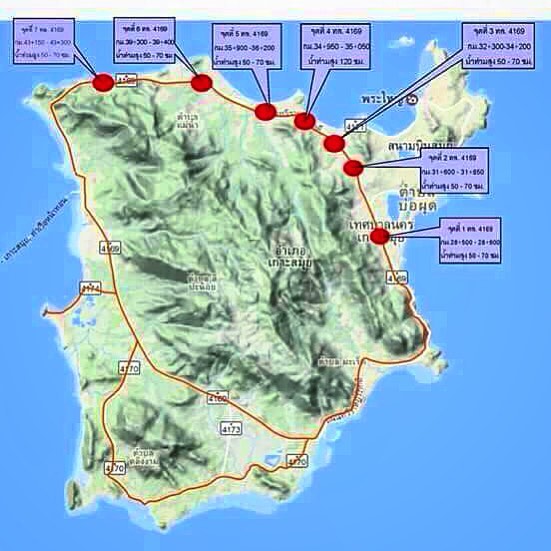 How floods end
Any flood sooner or later ends. In 2016 it happened on the 4th – 5th day of raining. In 2011, it was probably the maximum – 11 days of rain. On average, floods (non-stop rains) in Samui end in 3-4 days.
About happy end. From the diary of 2011 (relevant for any year):
Day 10. The amount of rain has decreased although it is still raining. The sea receded to normal tides. Evacuation on navy ships from Koh Phangan and Koh Tao began yesterday (or even the day before). In general, compared to the mainland, things are going good.
Evening. Stores have run out of food and not everyone still can fly out from Samui airport. But in general it is getting better and better! There's no heavy rain, the sea calms down, I found and bought 2 kg of potatoes (the last ones).
Day 11. In the morning I went out to veranda and saw the sun! At first I could not believe it, then started laughing hysterically. Now, in the afternoon, it started to rain, but it is clear that it won't last long.
So, the flood was over, almost no rain. Everything around gets back to life. Only traces have left.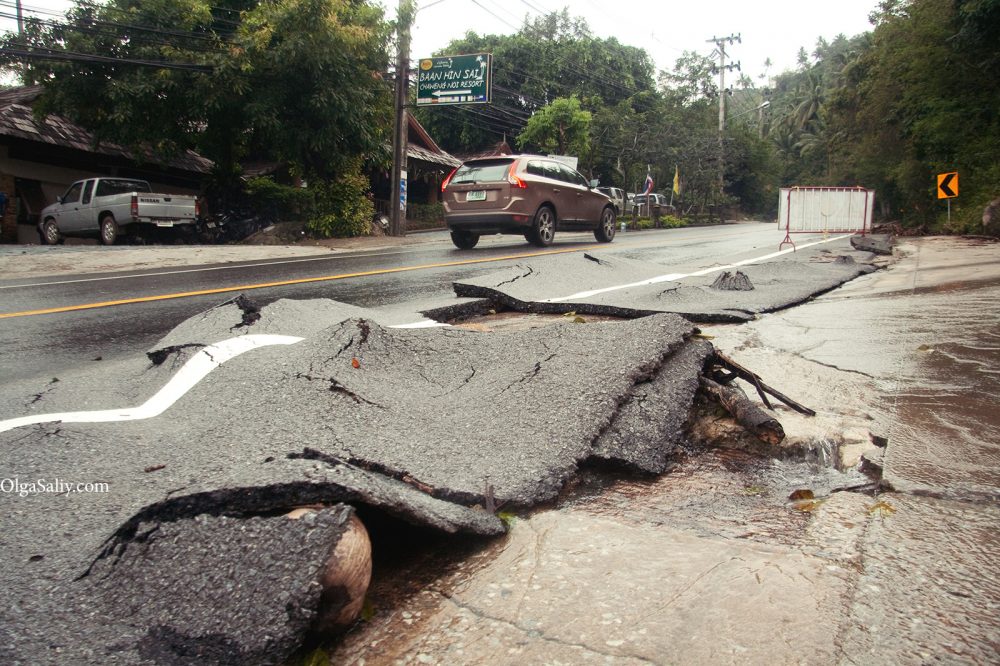 Empty shelves in the stores – is normal situation during and after the flood. So, to stock up on food is better in advance – in the rainy season after it's pouring 6-7 days (if you will be able to get to any store, buy stacks of food):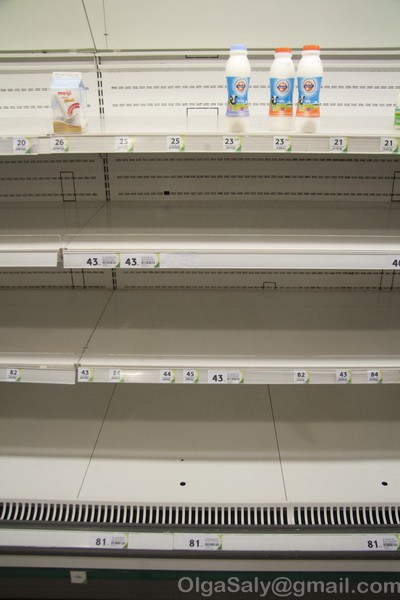 A short video on how Samui looks like when it rains non-stop the second day in a row, although there's behind the scenes were there are really flooded roads with floating cars and drowned homes in some parts of the island (December 2016 ↓):
Add a few words about the floods in other parts of Thailand.
Flooding in Bangkok
You can see photo report by Sasha Safronov about life in Bangkok during flooding in 2011: reality of flooding in Bangkok >>
Flooding in Bangkok is always, primarily, concern of the residents of suburbs. The city itself follows its regular, just a bit rainy life.
Flooding in Pattaya
There is no global flooding in Pattaya. When tourists post in Instargam pics with large puddles on the roads and when then puddles rapidly disappear so from the roads as from the memory of holidaymakers – then it was short and rare "flooding". So if you are going to Pattaya and it is raining – stop panic, get your plane ticket out of the trash bin and start to enjoy your vacation.
When flooding in Thailand is possible. Rainy season
It is commonly believed among foreigners that the rainy season on Koh Samui is in November. Thais say it's in August. In any case – rainy season is not that obvious: well, it rains sometimes. The rest of the time the sun is shining.
Floods actually occur not every year, well, for example, maybe once every 3 years. And they don't last long. Therefore, if you happened to be a flooding witness it's a rarity in itself and you can then be proud of it (after you get out of it). In 2011, flooding occurred in March – it supposed to be dry and hot season on Koh Samui.
If you want to learn more about rainy season in Thailand – in different regions of Thailand it occurs at different times and I have detailed (but short) separate post about it: Rainy season in Thailand