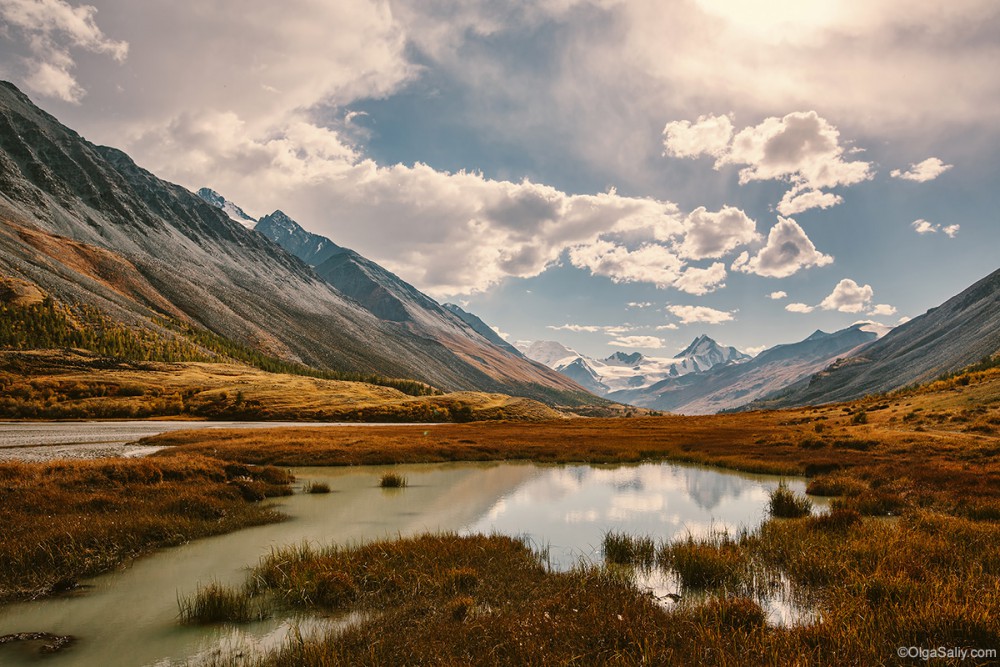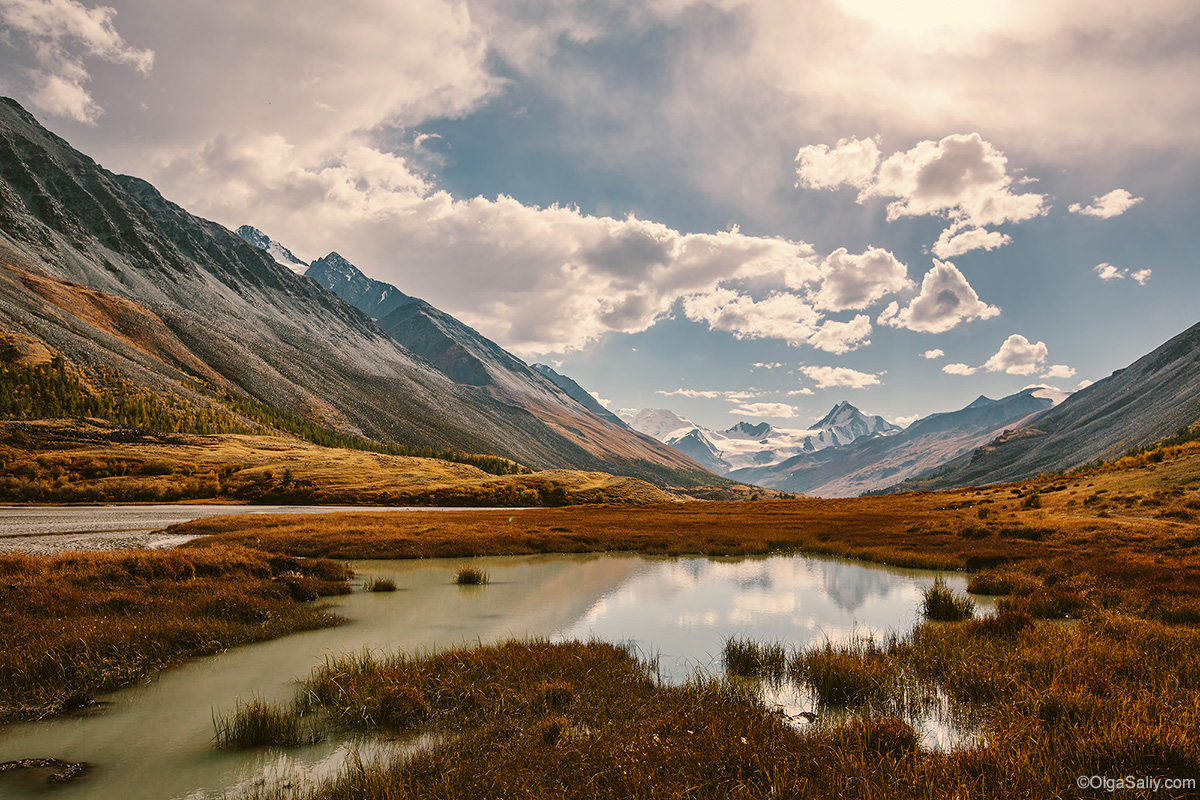 Altai is great and different in its every part. You can come here every year throughout your life and explore something new. In this post, I want to share with you my favorite places that can be reached by offroad cars or sometimes on foot. Trekking routes of Altai will be next time 🙂 
Best time and seasons to visit Altai
You can travel through different parts of Altai all the year round, but:
Winter here is certainly cold, but nature and snow-covered mountains look fantastic at this time of year. There happen avalanches and it's better to visit such places if you know about avalanche-prone places.
The beginning of summer is better, but there can be ticks and a lot of water along mountain gorges.
Foothills are full of recreation bases (at Chemal, Teletskoye lake and other places) that work all the year round.
August and September are the best months for trekking and car trips to Altai: at that period, you can reach even Ukok Plateau (because amount of water decreases) and there are fewer ticks.
What you should know about Altai trips:
Popular Altai places, like Chemal or Teletskoye lake, are known for a great number of tourists, but they also have an appropriate level of comfort. You can reach these places by bus or try hitchhiking.
The most interesting places of Altai are located in out-of-the-way places with rare cars to hitchhike and no buses. Rarely (once or twice in 100 km) you can find small houses of local herders. You can hike here or partially reach these places by offroad vehicles.
Offroad at Altai mountains is awesome: you can discover many different and beautiful places, some of which I'll show you now.
(information will be updated if something important calls to my mind, also ask me in comments↓ is you have a question 🙂
Interesting Altai places that can be reached by car: photographs and coordinates
Gorge of Sofiyskiy glacier
Actually, there are many roads going from Beltir and all of them lead to different beautiful gorges. Road to Sofiyskiy glacier becomes passable in autumn (in the beginning of summer, there's a high level of water, in winter — a lot of snow).
Coordinates: 49.794444°, 87.772222°
Kosh-Agach Gorges landscapes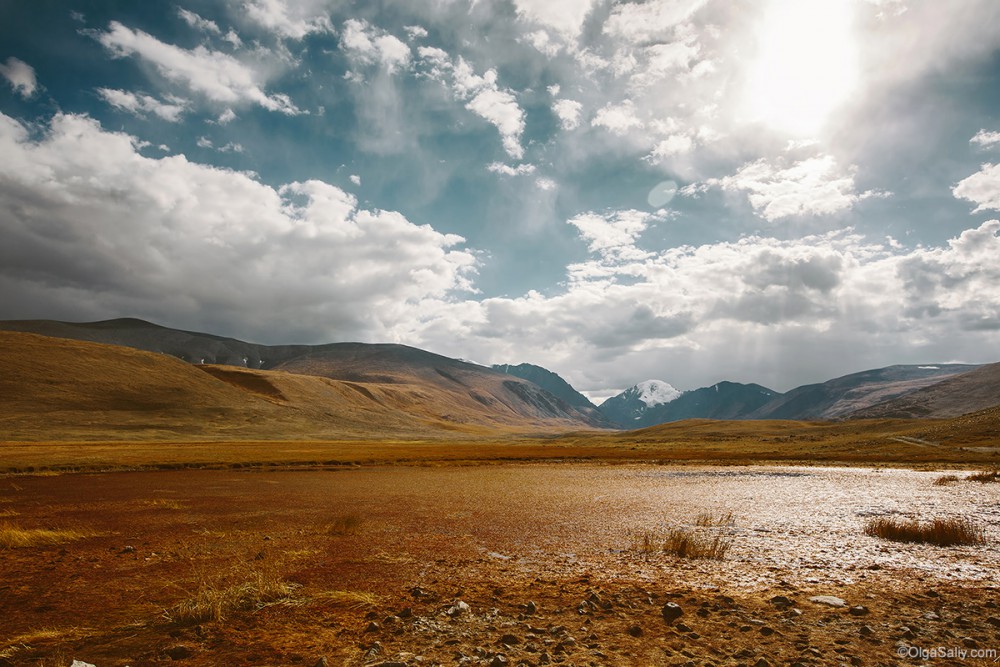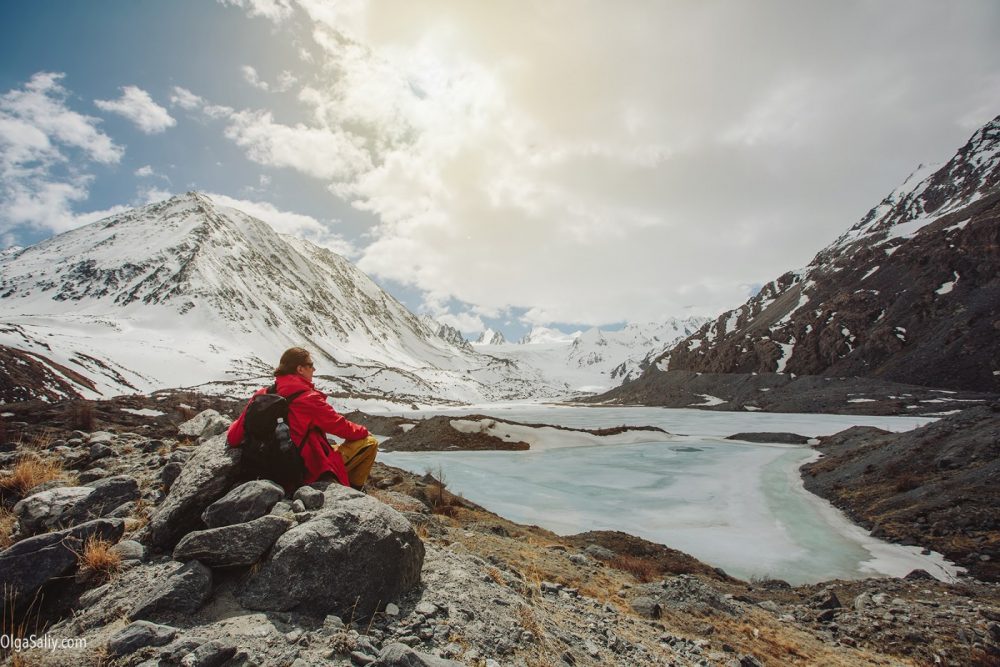 Martian landscapes not far from Beltir
This kind of landscapes you're going to see on the way to Sofiyskiy glacier, Karagem or other gorges. It's not the popular Altai Mars I describe below, but it looks even more realistic.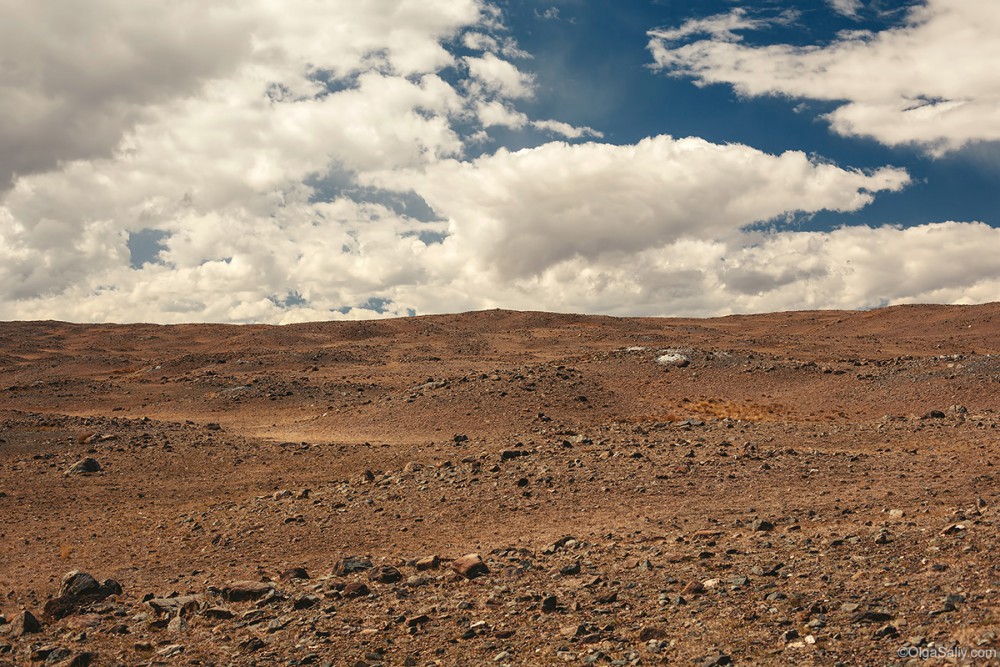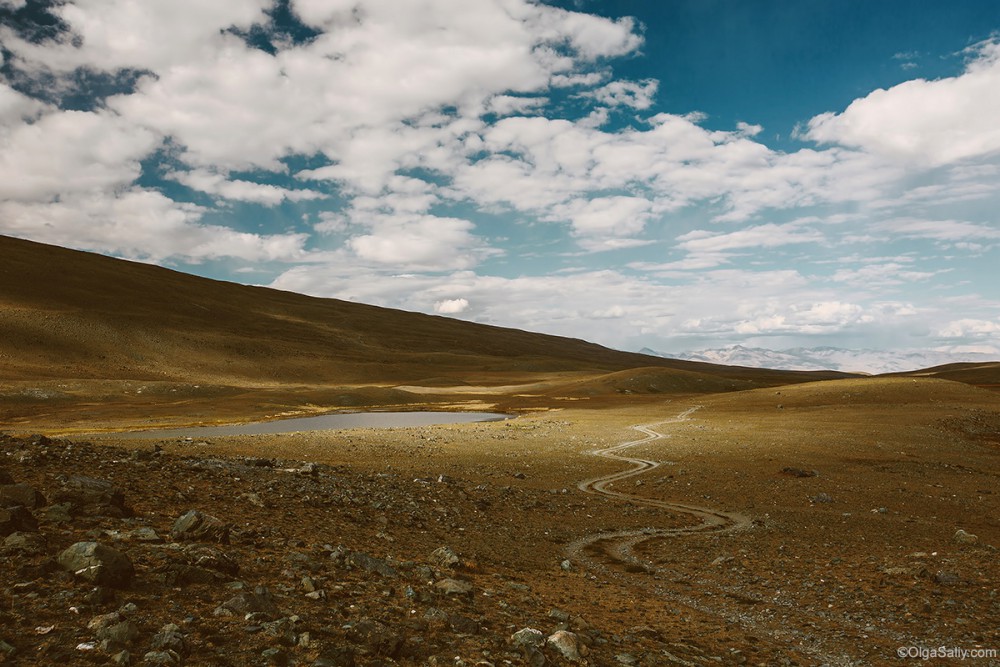 Martian landscapes of Altai, Kyzylchin gorge and Chagan Uzun
That's the Martian Landscapes of Altai I've already mentioned and that's a popular place for excursions. You'll have to reach this place without coordinates: all you need is to find location of Chagan Uzun on Google Maps, then find the way among a brunch of roads going from the settlement, and you are on Mars!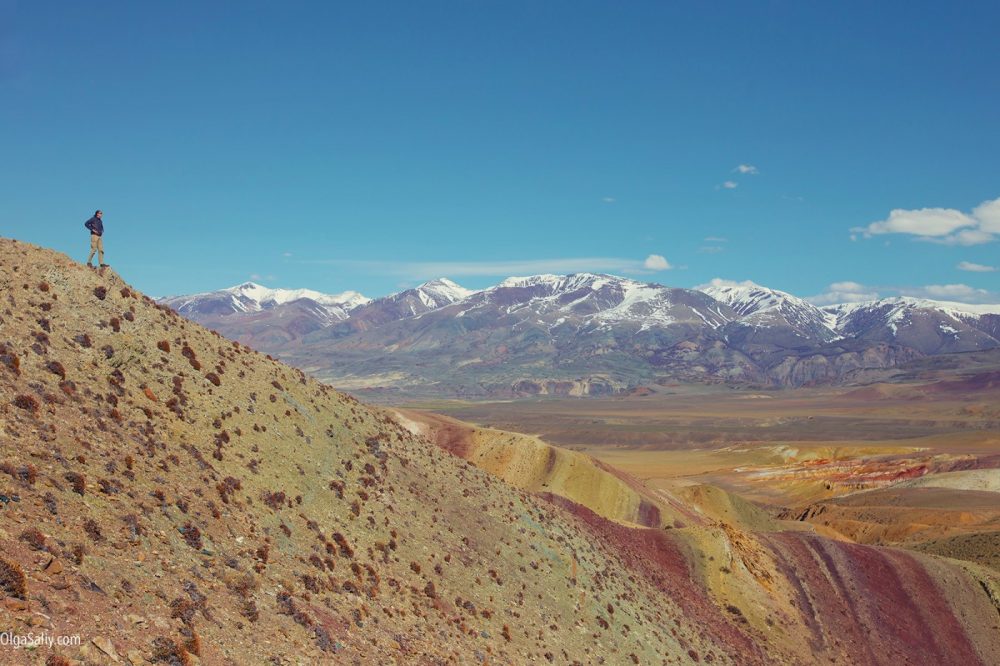 Peak with the radio repeater not far from Aktash
Google coordinates: 50.34001,87.748672
The mountain top is accessible by off-road vehicles: you need to go from Aktash passing by the abandoned mercury mine. Views on the top are fantastic!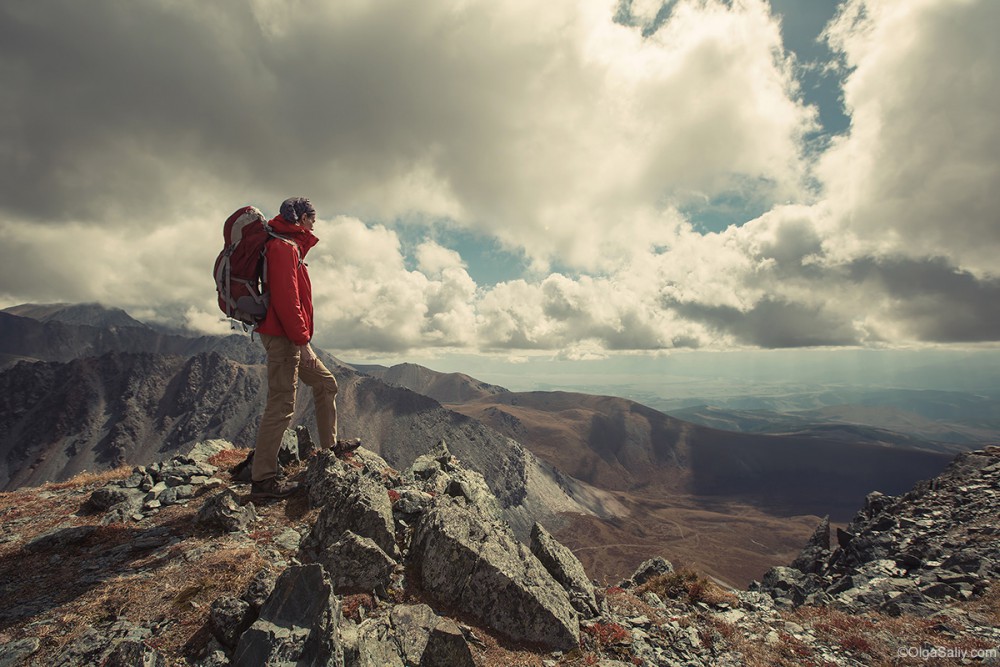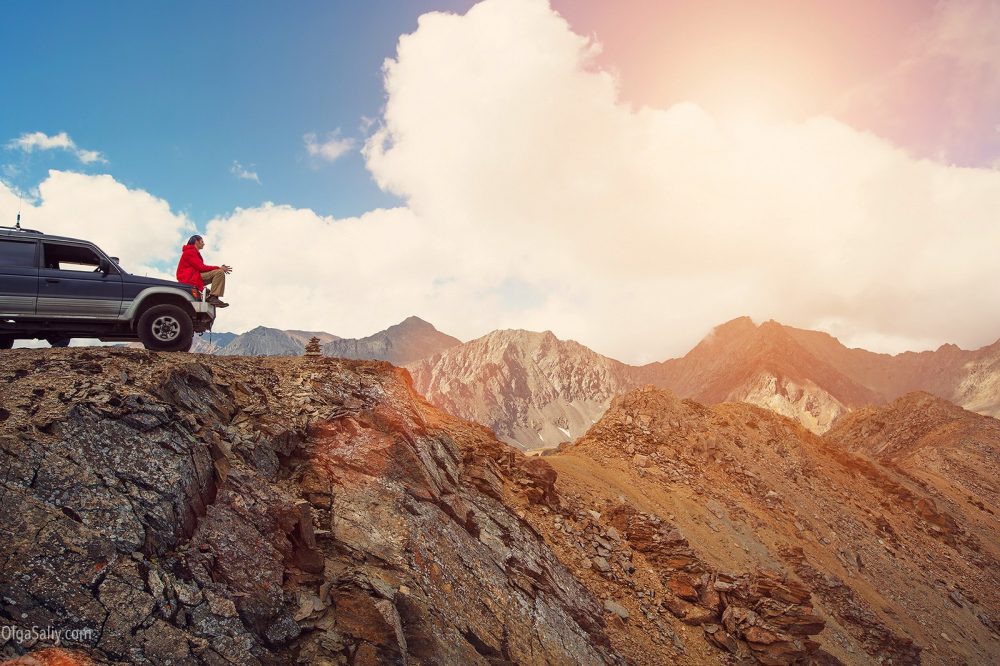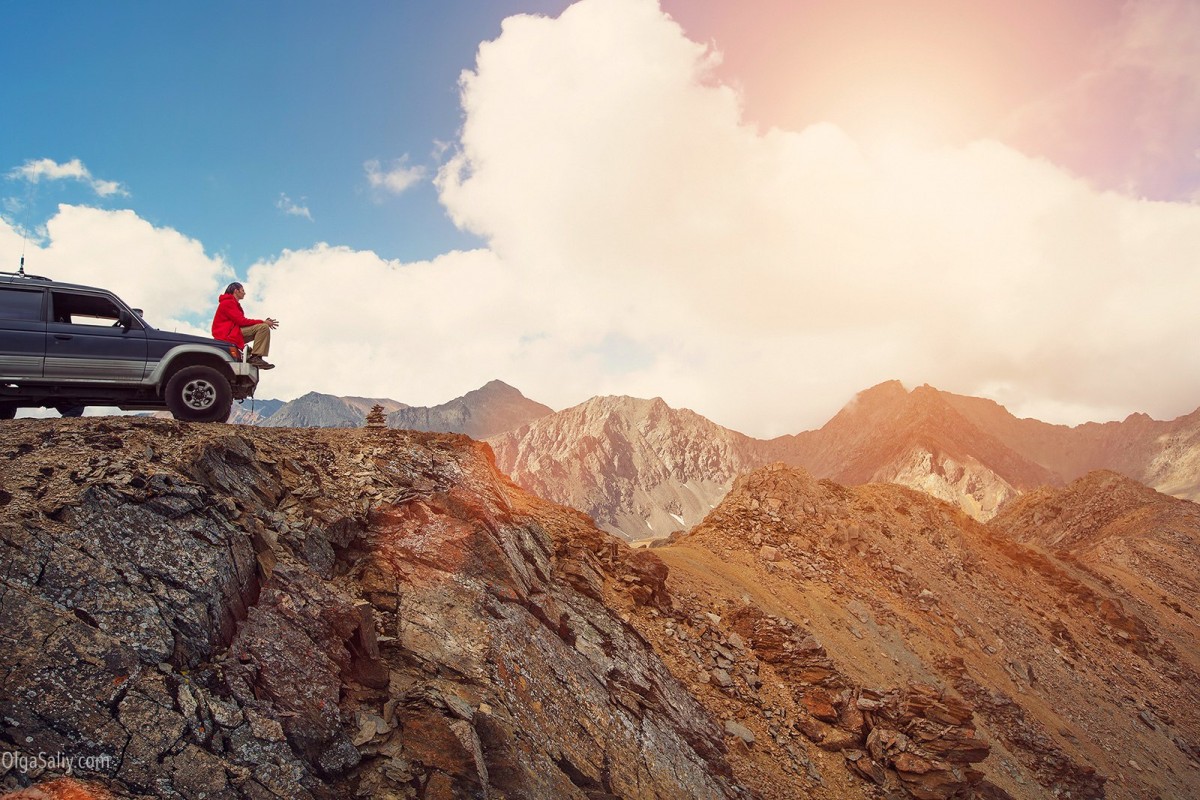 Mountaint top near the Aktash village
Teletskoye lake
You can reach the lake from two sides: people not looking for easy ways will prefer the southern bank accessible through Katu-Yaryk mountain pass and Chulyshman valley. The road itself is tiresome but views around are worth it. There are several houses on the bank to stay overnight, or you can set up the tent and sleep there.
Coordinates: 51.347994, 87.776104
There's an easier way to reach Teletkoye lake: you can get to it by bus and find yourself on the northern side of the lake — in Artybash or not far from it.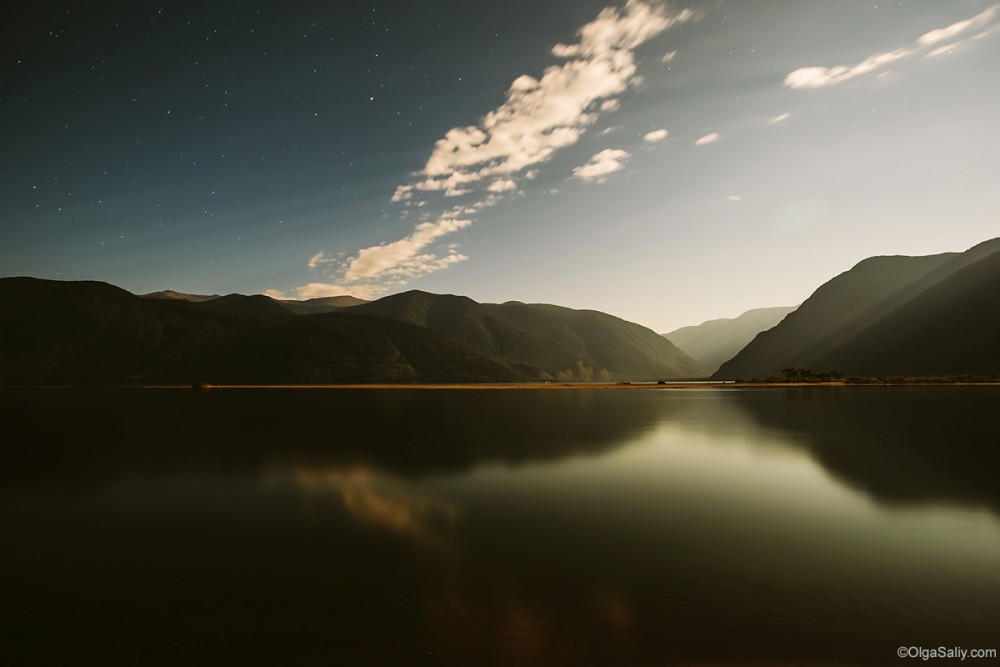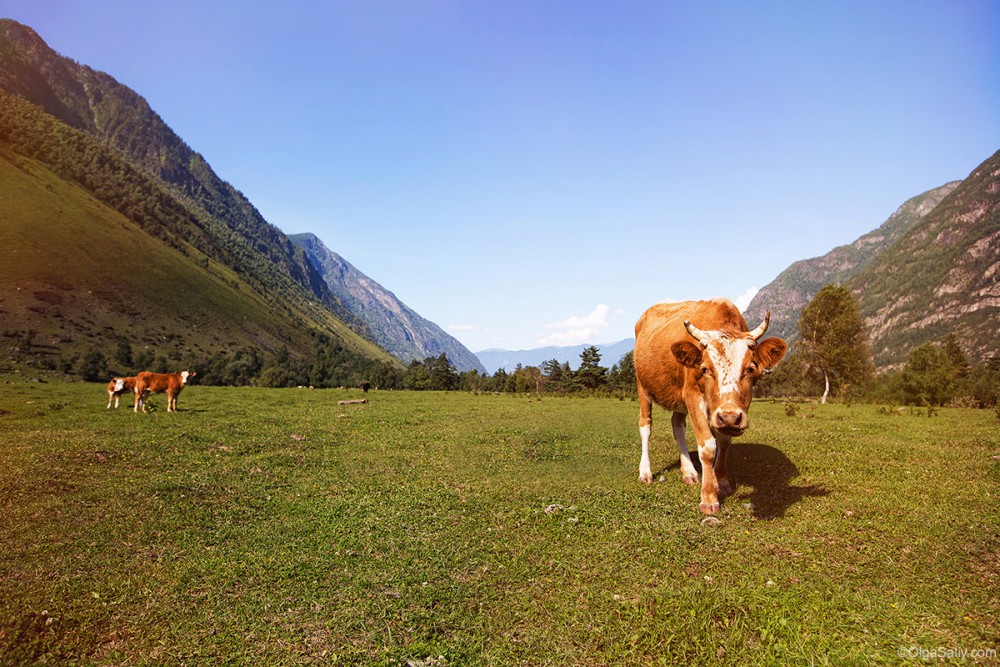 Chulyshman valley and Katu-Yaryk mountain pass
You'll have to descend down the serpentine from the photo below. The road is considered a rather dangerous, but actually I didn't feel danger descending that way — slowly but steadily, we moved forward and admired landscape. You can see even descending sedans, but later some of them have troubles getting back to the top.
Google coordinates: 50.911640, 88.216379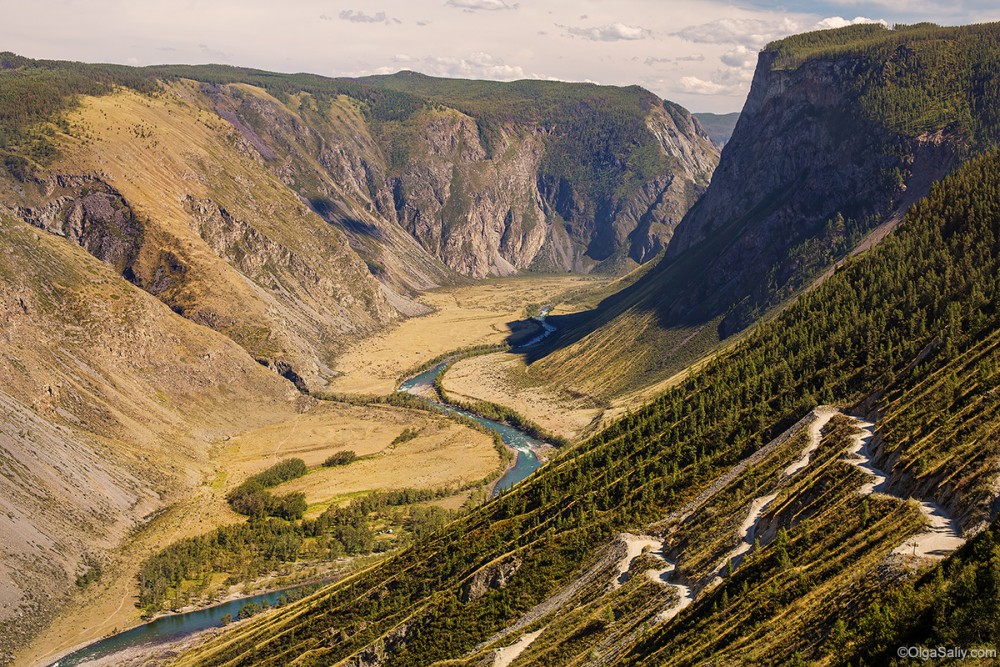 There's video shot there:
Uchitel mountain pass, Aktru gorge
Uchitel mountain pass is located in the Aktru gorge, its height is about 3150 meters, and it has A1 category according to Sport Tourist Union of Russia. You can get through it and come back in 4-5 hours, so it's one of the simplest mountain passes in this gorge rated with the category of difficulty.
Google coordinates: 50.084444, 87.778611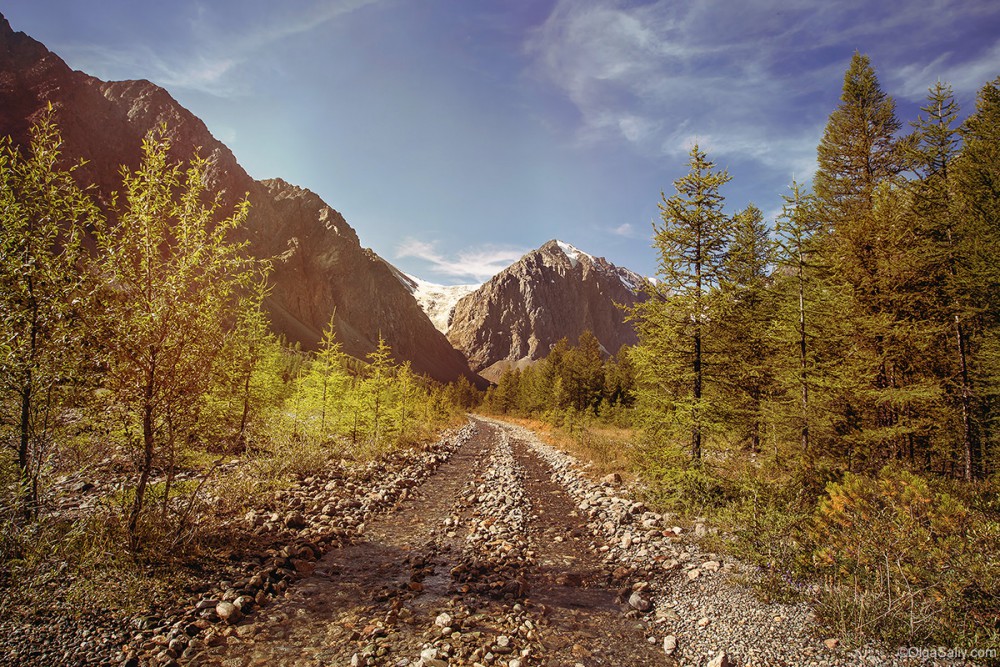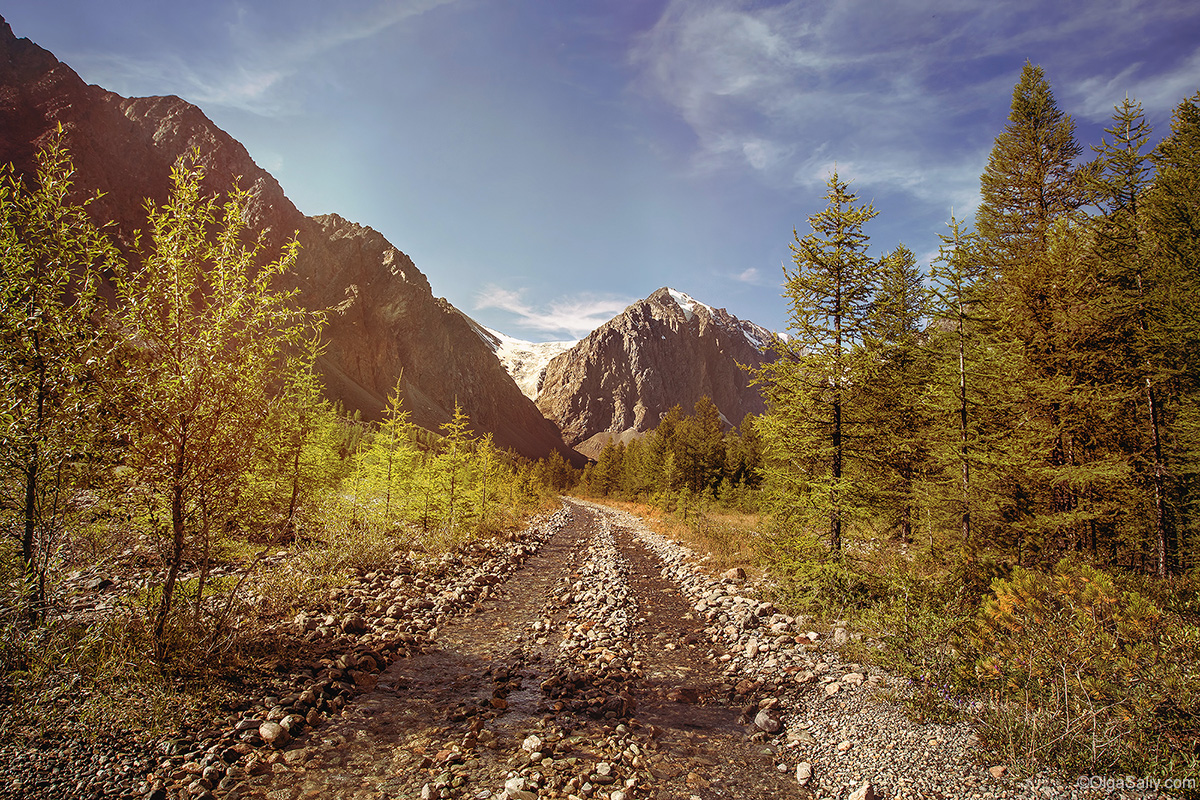 Way to Aktru.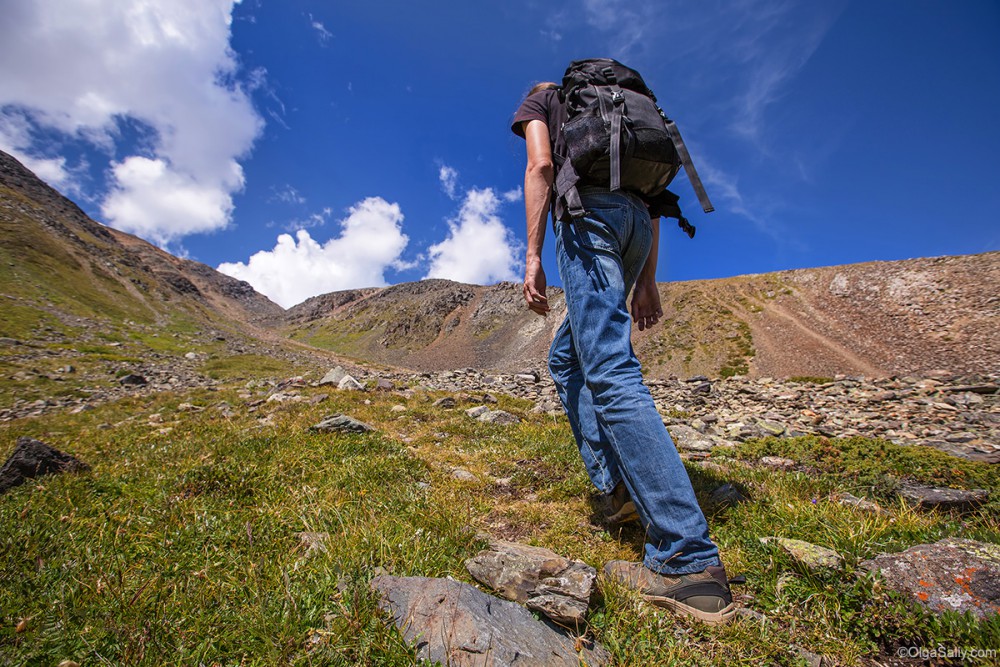 Mountain routes in Aktru gorge: route to the Blue (Goluboye) lake and Aktru glacier
There are many interesting routes in Aktru gorge, among them you'll find both difficult, where you'll need mountaineering equipment and ropes, and simple, that you'll easily come through in a few hours. Climbers at the base will give you more information about the possible routes.
Aktru base is worth visiting by itself. Firstly, it's not easy to access by car, so if you get there, you may be proud of yourself! Secondly, it's just awesome there…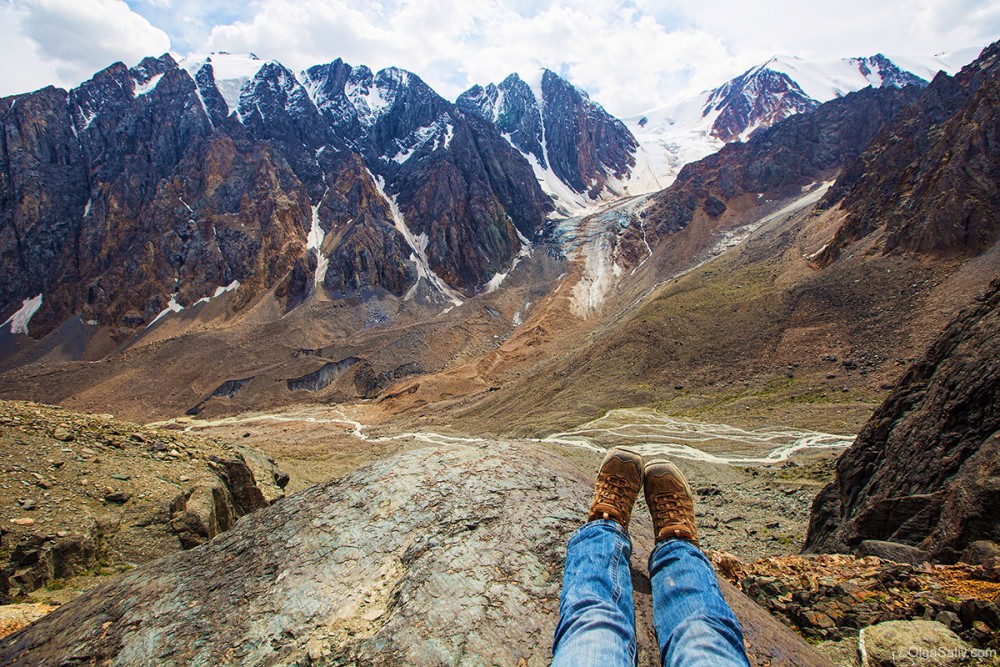 Blue lake near Aktru glacier
Blue lake (or Goluboye ozero in Russian) is a way station for climbers going up to the top or to the Aktru glacier. It's a fantastic place worth hiking to, the way will take about 4 or 5 hours.
Google coordinates: 50.077716, 87.724579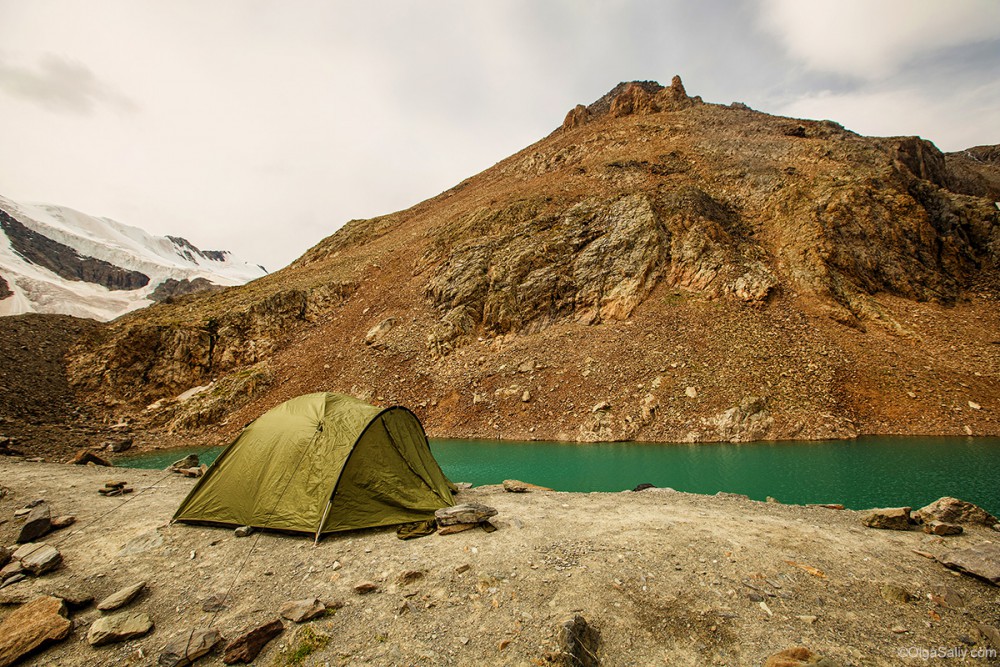 Blue Lake near Glacier Aktru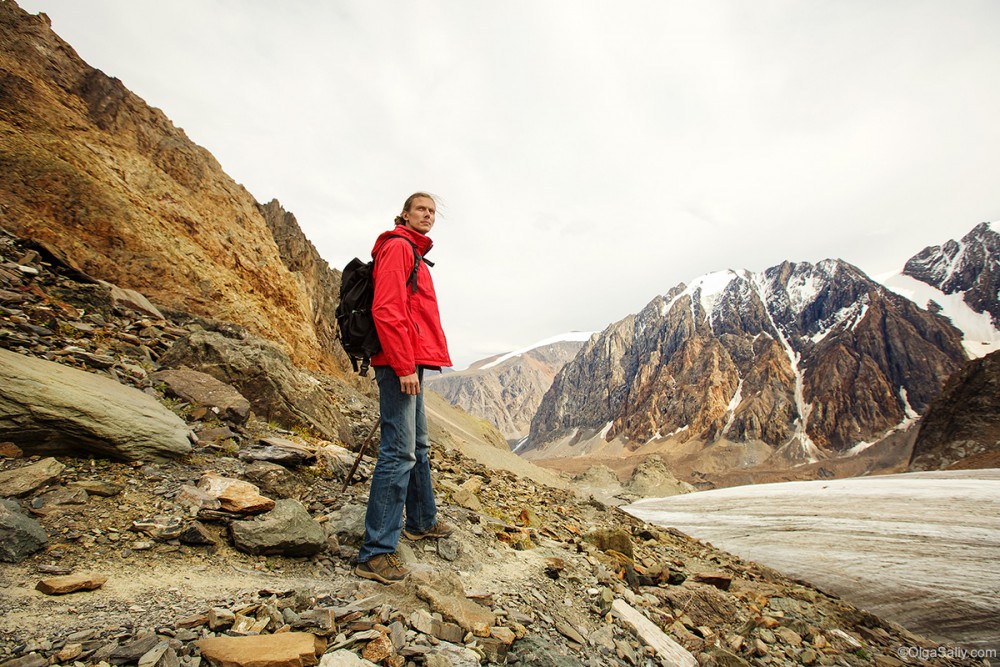 Summit Kupol tryokh ozyor (English: Dome of three lakes)
Route to this summit has 1B category of difficulty (more complex than previous ones but anyway relatively easy), so you can reserve the whole day for climbing and coming back — the way will take about 12 hours. There are two routes to reach the summit, and you'd better have a guide (and crampons in winter). Anyway, you'll meet experienced climbers at the base and can ask them about safety on the route and directions. Climbing route begins from the Aktru base.
Approximate coordinates: 50.044800, 87.806500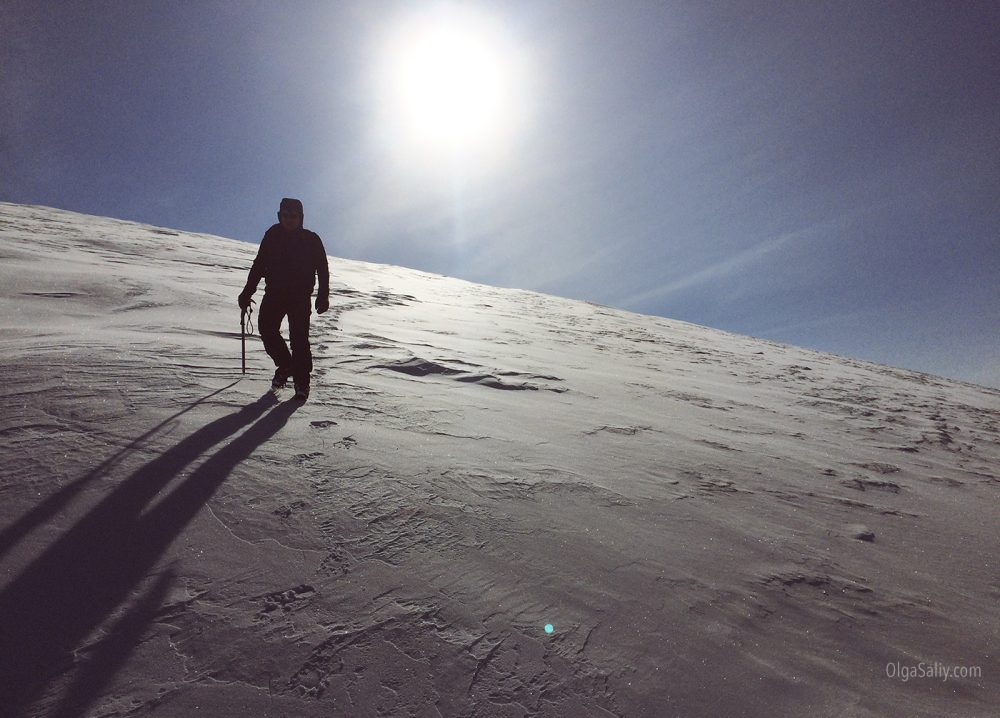 The glade behind the Karagem mountain pass
Google coordinates: 49.962720, 87.622576 (road goes from Beltir)
The place is awesome but accessible only by offroad vehicles. It's better to come here in a company because sometimes you may need somebody's help getting your car out of mud. The road is difficult, with many fords, big stones, slopes…and sometimes without road itself. But it's worth visiting anyway.
There's a banya (a typical Russian bathhouse) on the glade 🙂
Morning yoga near Karagem pass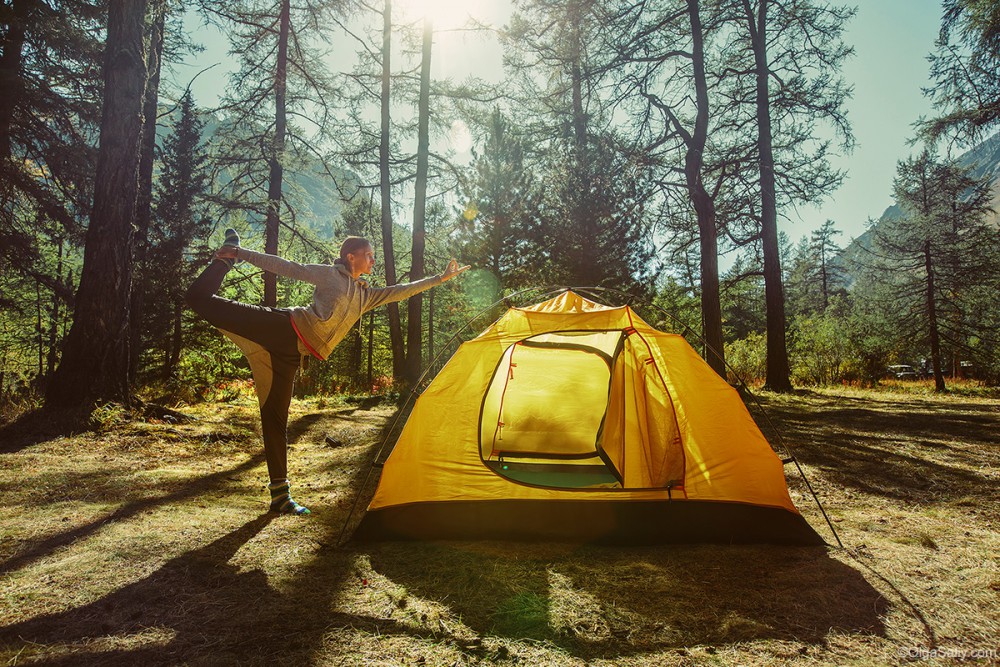 Road from the glade to Karagem mountain pass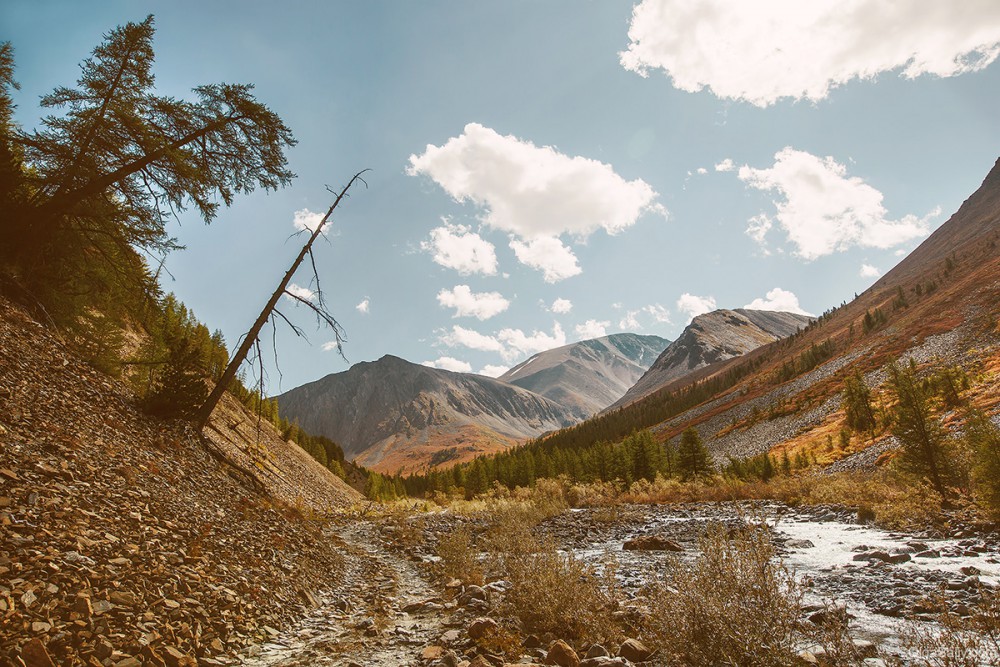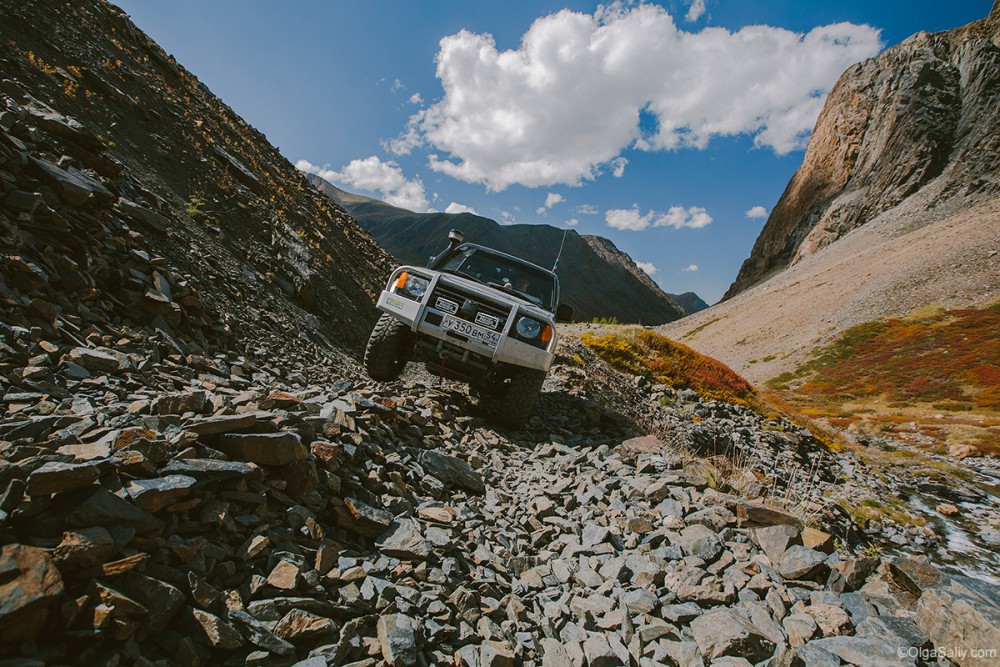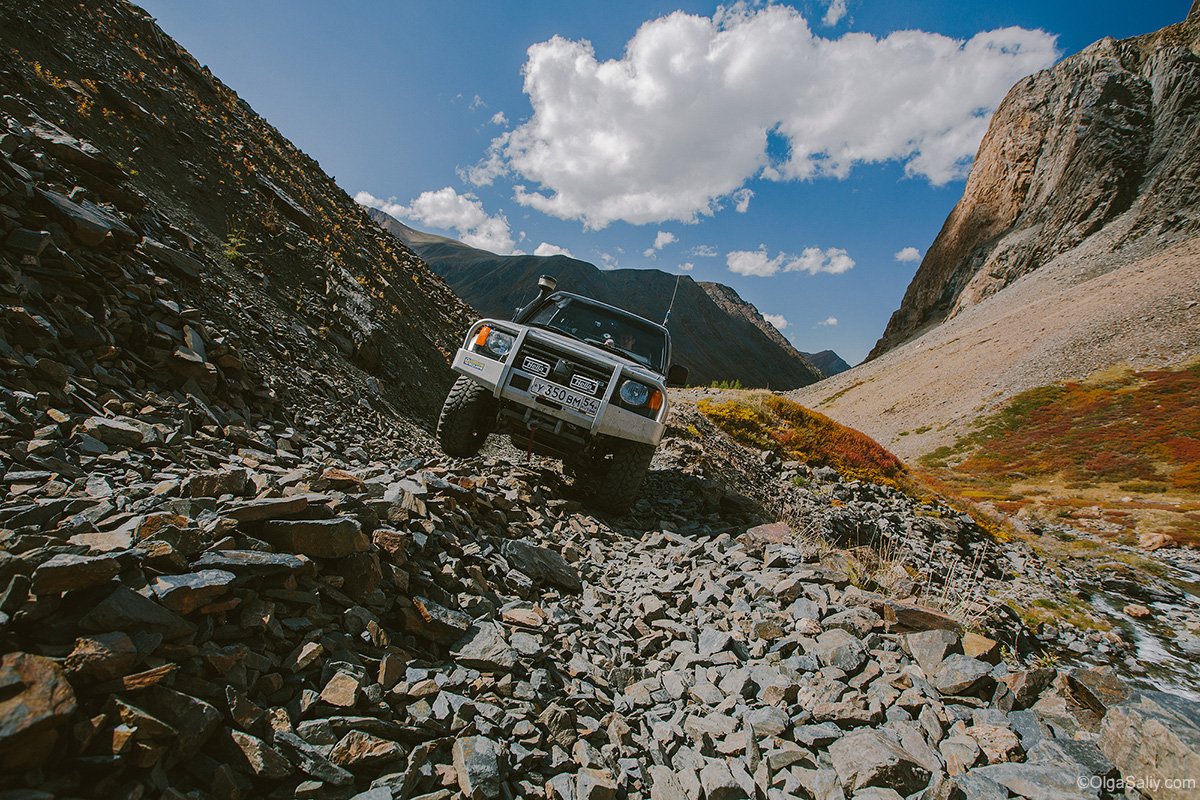 Ukok plateau
Ukok is a plateau located on the border between Russia, Kazakhstan, China, and Mongolia. Its height is 2200—2500 meters, there are constant winds, and temperature at winter falls to -50°C. The highest point of Ukok is Kuyten Uul, 4374 meters (the second highest point of Altai).
Ukok is known for its ancient burial places, and among other discoveries there, archeologists found and dig up Princess of Ukok. This place is strange, cold and mysterious… It draws you, you want to go there again and again. The best time to get there by car is August and September; during spring and the beginning of summer you'll find there a lot a water and sometimes deep snow. You can get there either through Teplyi Kluch mountain pass (the most successful way) or wading the Dzhazator river.
Plateau coordinates: 49.268354, 87.413683
Teplyi Kluch: 49.408177, 88.035687
Ukok roads in August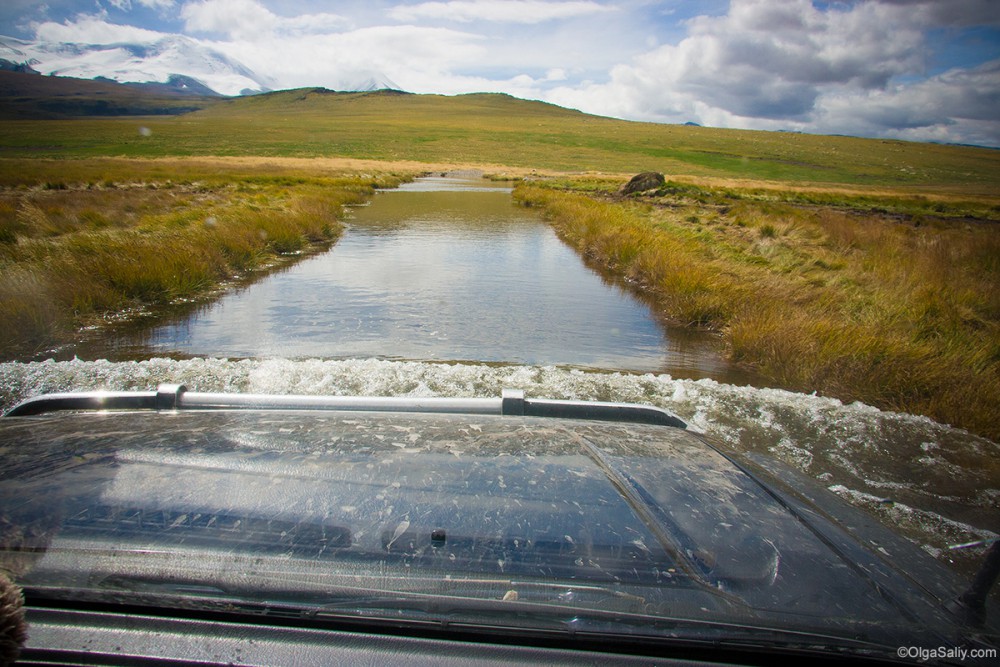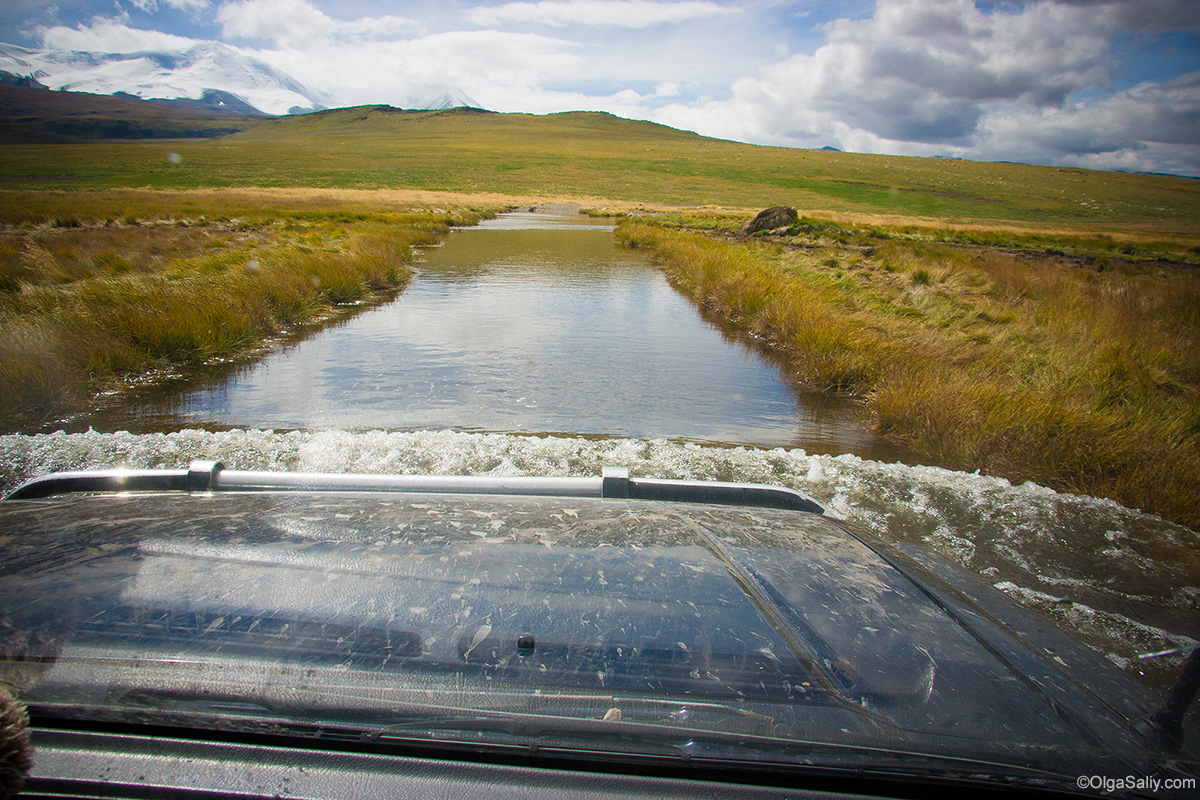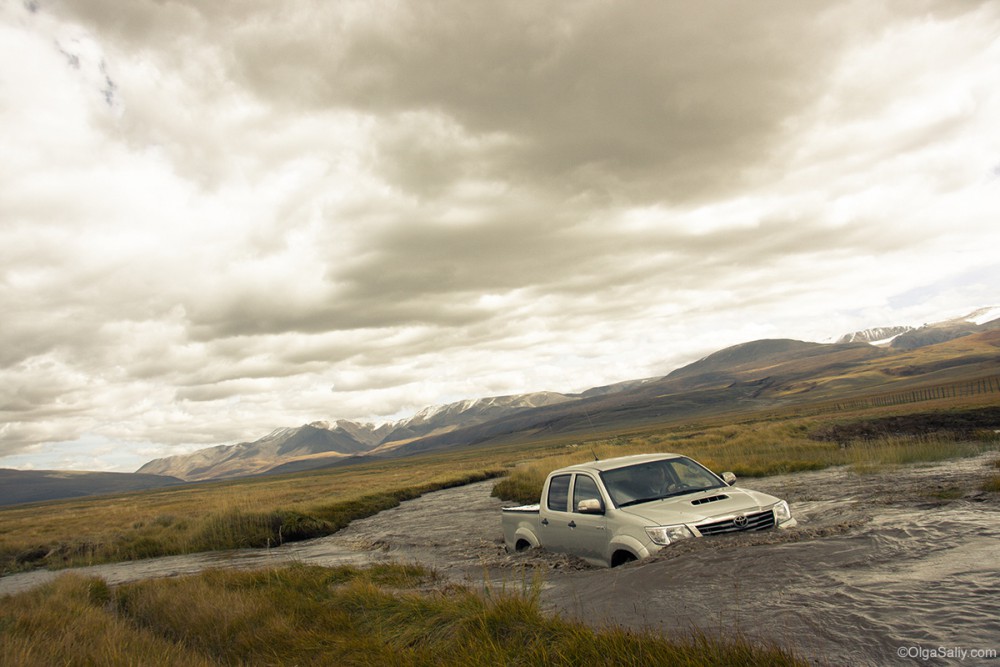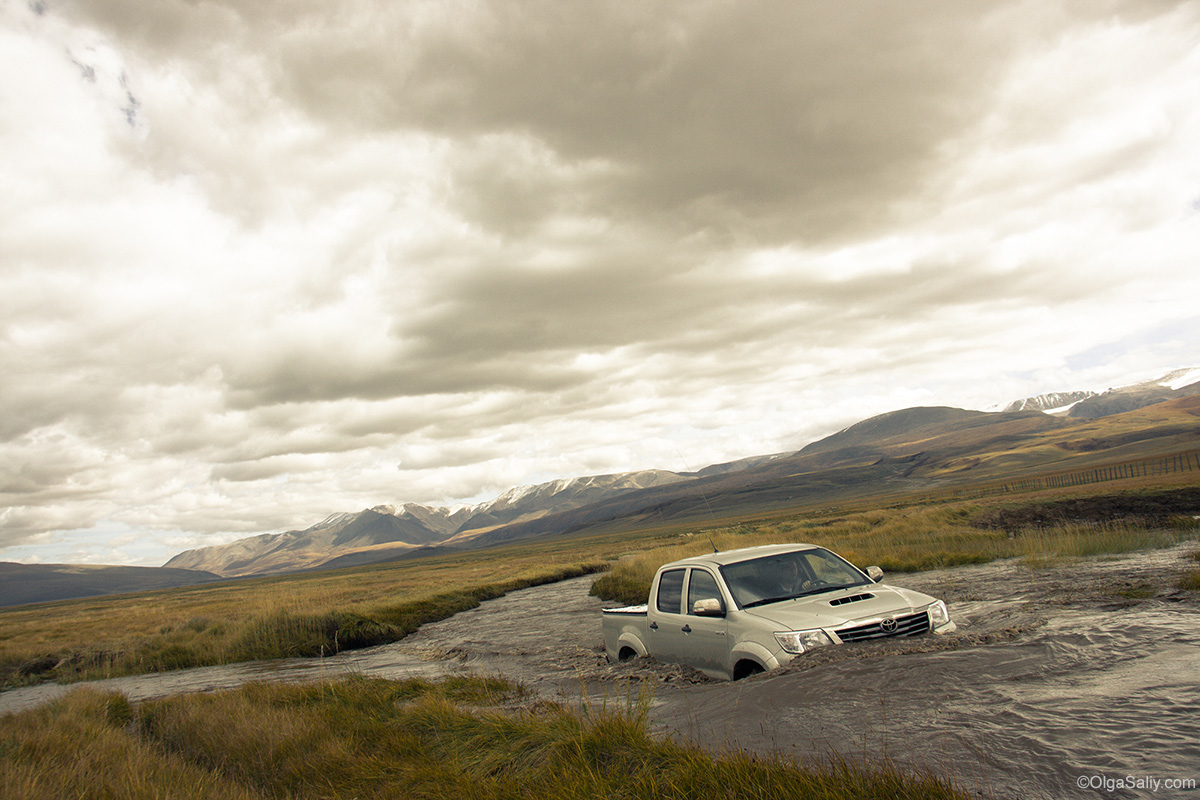 Teplyi kluch mountain pass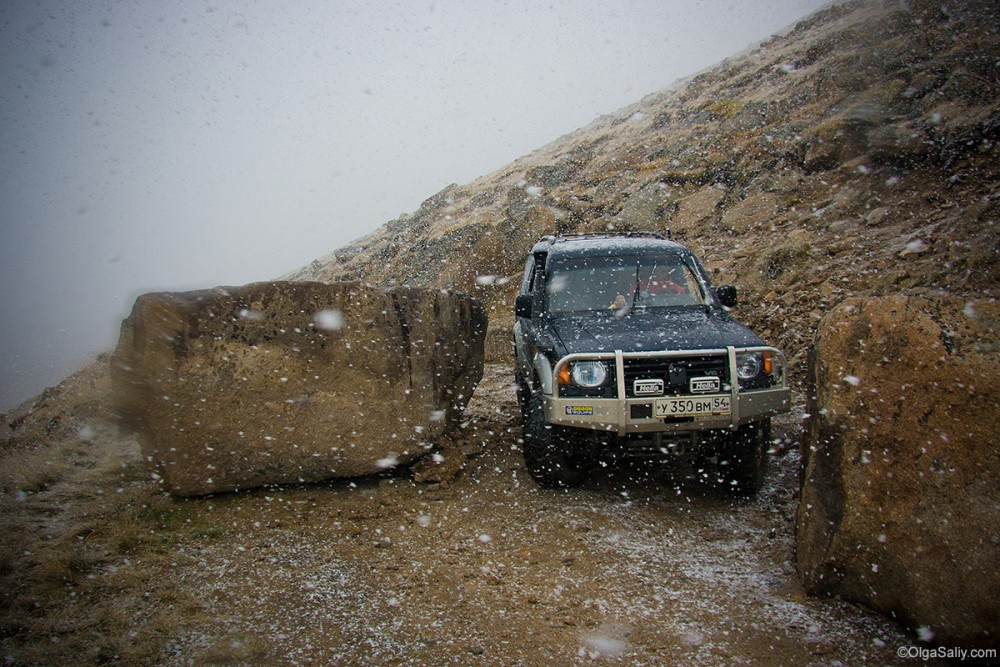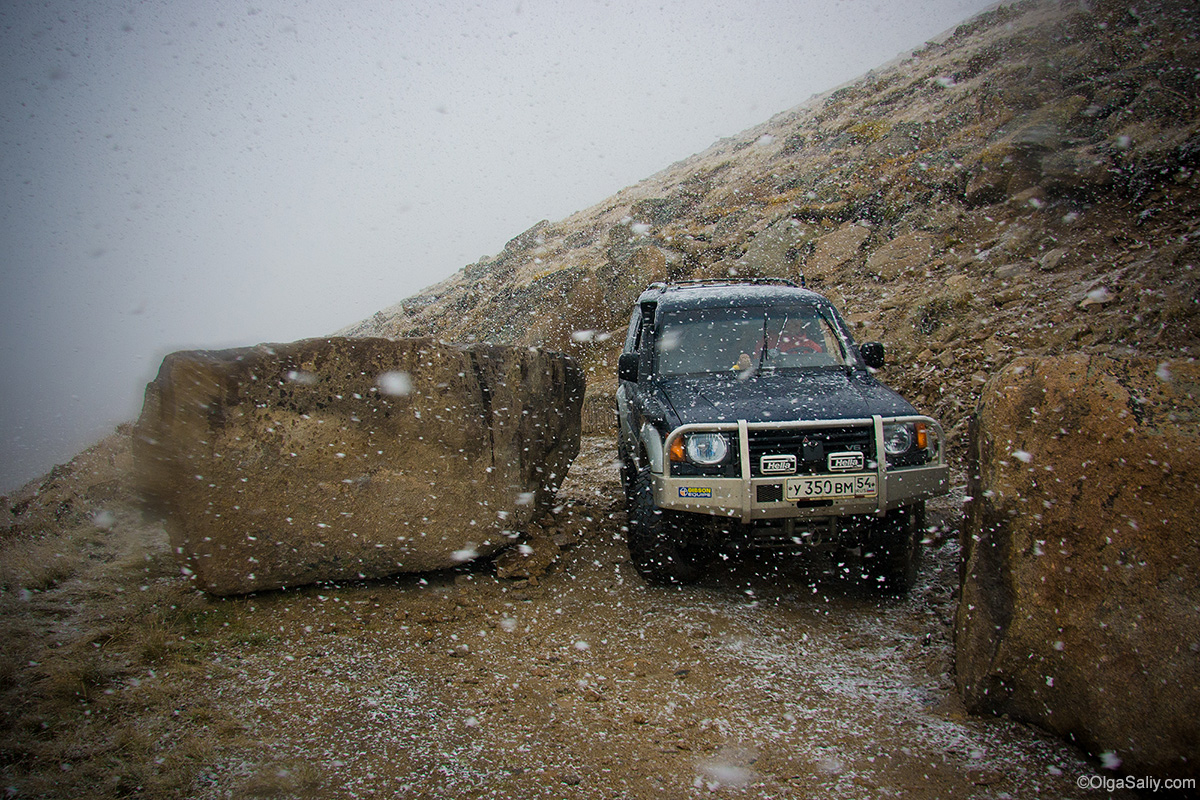 Failed attempt to get to Ukok through Dzhazator river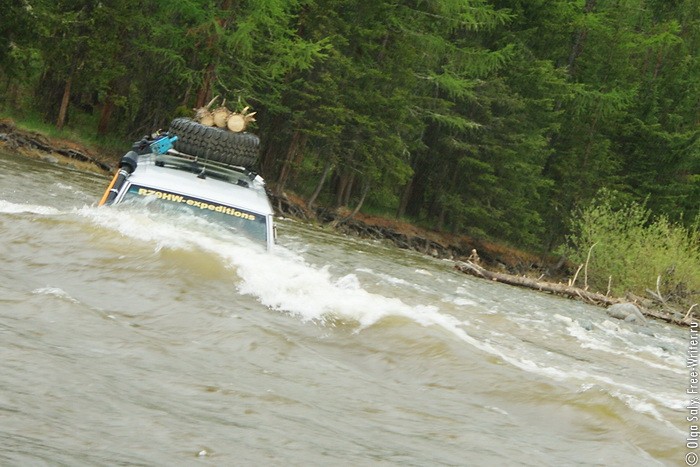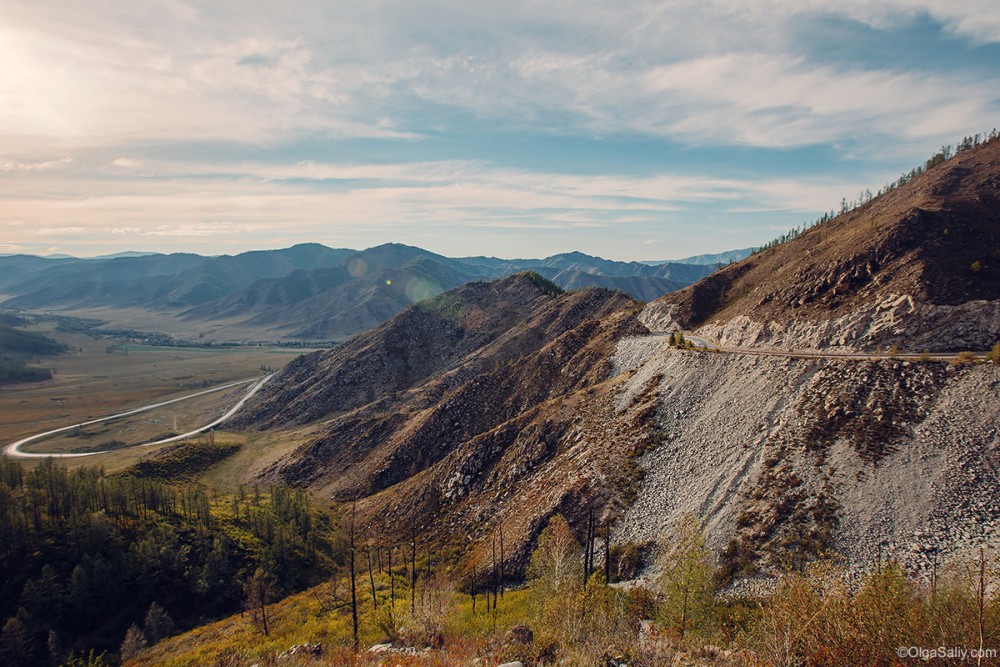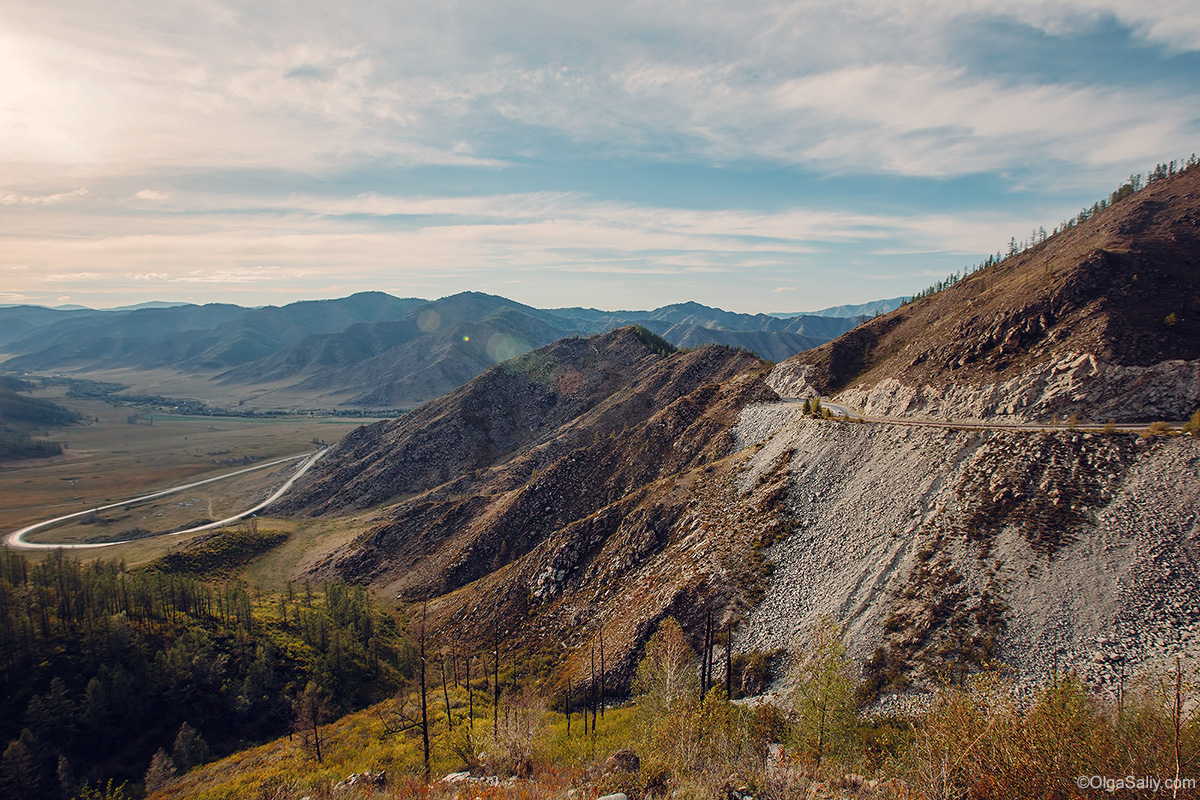 Way home from Altai, Chuysky Trakt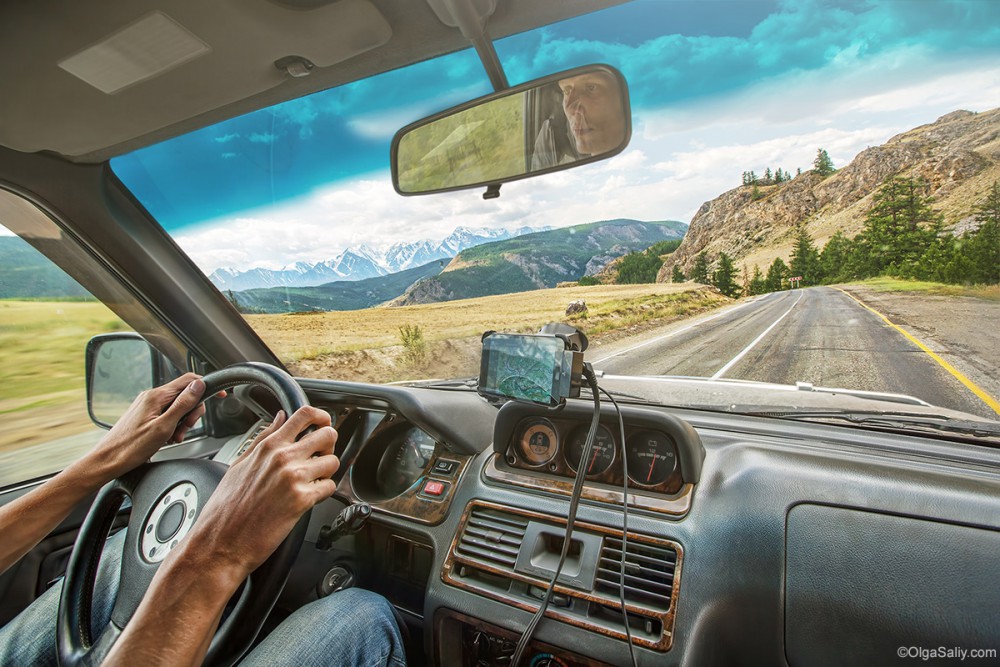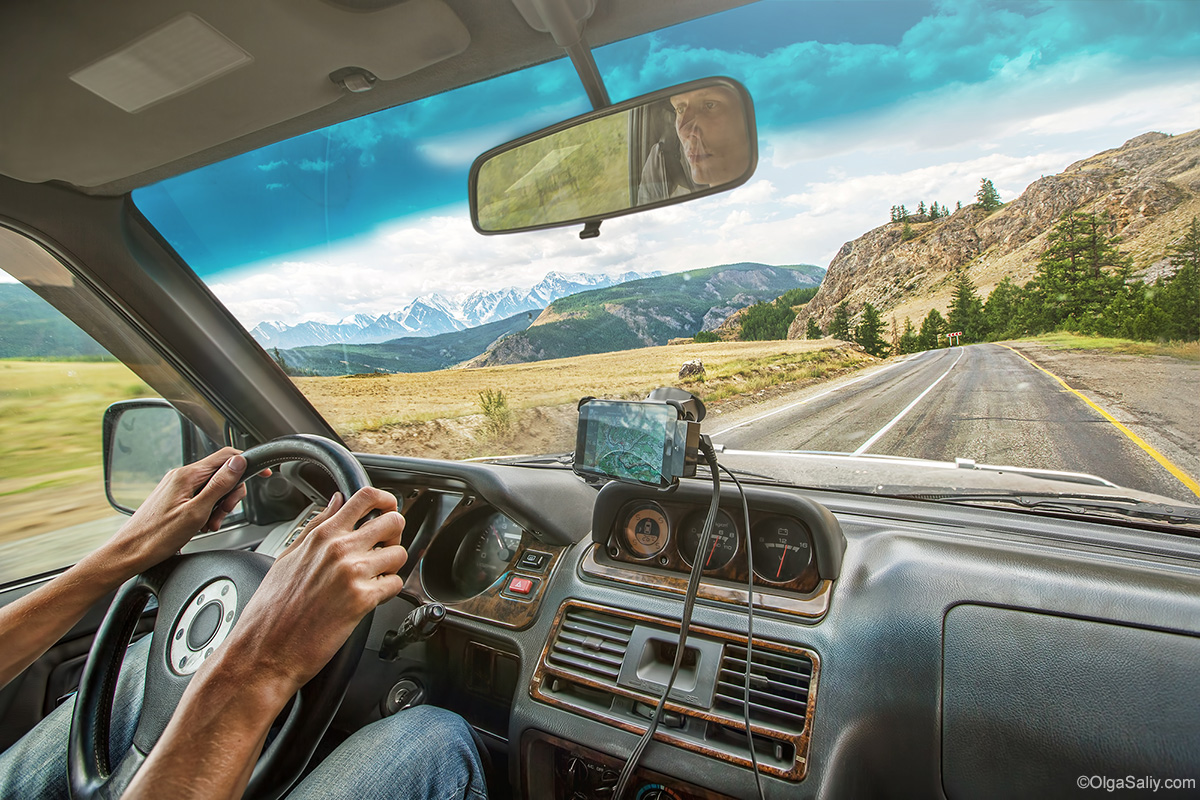 This list contains only a part of incredible Altai places, because the region is great and vast, and there's always left something that you didn't explore… By the way, there's also Tuva connected with Altai by Buguzun mountain pass and many other beautiful places.
So guys, I shared with you a lot of information! It would be great if you could share your experince and favourite places in Russia and Altai region too:) Welcome to comments!
© Olga Saliy. All rights reserved. No part of this article may be reproduced without prior written permission of author.