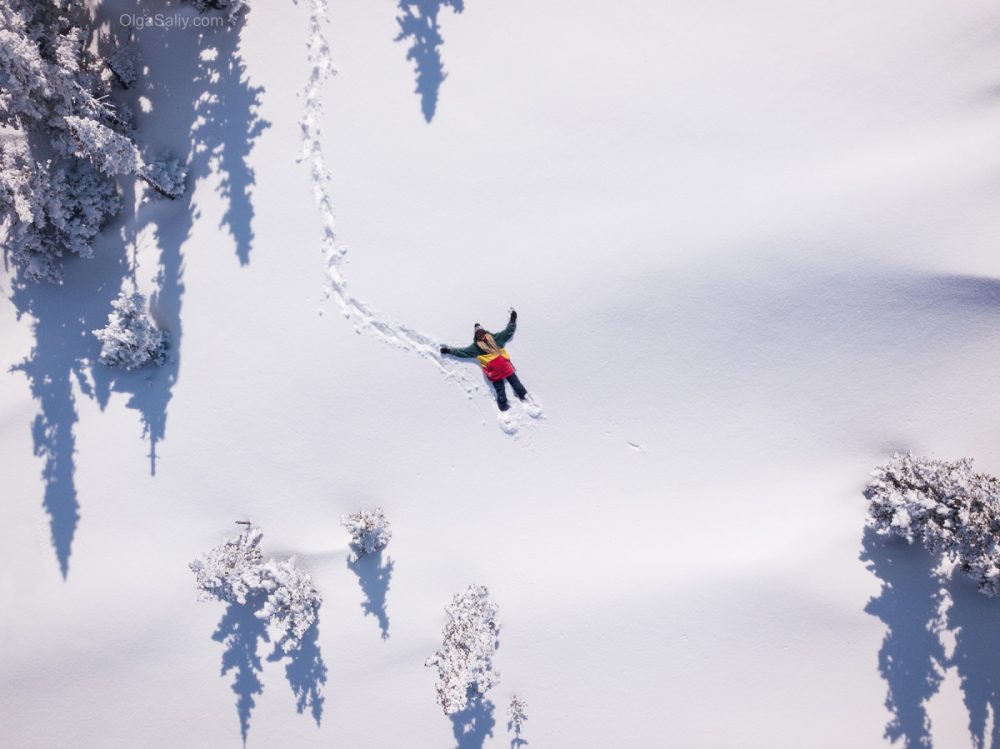 What is Sheregesh?
Sheregesh is one of the most popular ski resorts in Russia located in Siberia — somewhere between Novosibirsk region and Khakassia. It's about 530 km eastward from Novosibirsk. Mountains here aren't high but beautiful and good enough for skiing and snowboarding. The highest point in Sheregesh is 1570 meters.
Snowboarding in Sheregesh is the reason why I come to Russia in winter. It's Gornaya Shoria (Mountain Shoria) with snowy mountains, powder and groomed runs — you can choose what you like the most. There's always much snow (sometimes too much). And a lot of people, but there's enough space for everyone.
Snowboarding/skiing season lasts from November to May.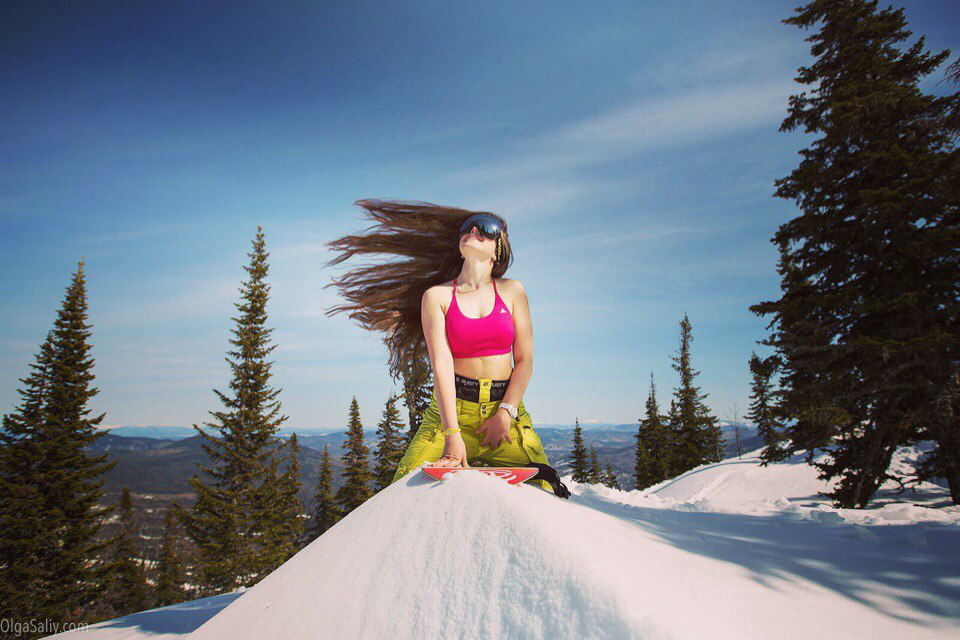 We born to be free.. Knowing nirvana, falling from the sky, and those who are just learning
English-speaking Guide in Sheregesh and Russia
There are really a lot of interesting staff and activity take place here. If you need any answers about How to… in Sheregesh (or all Russia ski places) – welcome to English speaking Group with Russian skiers, snowboarders, guides and instructors – We are live Here: www.facebook.com/groups/russiasnowboard
→You also can ask me about Eng-speaking instructors or how I can be your Guide and photographer in Russia:)
How to get to Sheregesh
Unfortunately there're no airports nearby and you'll have to go by car or bus at least 160 km. The best way to go there — find fellow travelers on websites like Blablacar.com (travelers going to the same destination along your way may give you a lift at a price cheaper than a bus ticket).
From Moscow (4.000 km): find a cheap plane ticket and fly to Novosibirsk, Novokuznetsk, Kemerovo or Gorno-Altaysk. Then you go by car or bus.
From Novosibirsk (530 km, 7 hours) – the easiest way. You can continue by taxi, bus (they organize regular but not everyday trips — find bus schedule here: gesh.info/bus/nsk-bus), or find a vacant seat in a car on Blablacar.com
From Novokuznetsk (160 km, 2.5 hours), it's easier to get to Sheregesh by taxi or with fellow travelers from Blablacar. There are also buses to Tashtagol (26 km from Sheregesh) but it's only $2-5 cheaper and not so comfortable.
From Kemerovo (400 km, 5 hours), finding a car on Blablacar will be the best variant.
From Gorno-Altaysk (250 km, 4-5 hours), the same: Blablacar is the best way to reach Sheregesh from Gorno-Altaysk.
Slopes and trails in Sheregesh
There're many trails in Gesh (Gesh is a term of endearment for Sheregesh). Its length varies from 700 to 3900 meters, width — 50-200 meters, elevation range — 300-680 meters, the highest point is 1570 meters.
People ride on 4 mountains — Mustag, Zelenaya, Kurgan, and Utuya. Zone are divided into 3 sectors: sector A, sector E and south sector ("Malca", former "Skyway"). You may reach the top via different types of mountain lifts: T-bars, chair lifts and gondola lifts.
Main trails in Sheregesh:
Training slope located at the lower and gentle part of "Lob" trail is meant for beginners. It's short but thanks to the gentle slope it will be good for the first steps and initial practicing.
"Dollar trail" in Sheregesh, one of the best trails, quite simple. All along the way, you'll find many side trails going through the forest (riding off the trials is officially prohibited but it doesn't stop people from rushing there) or to more steep slopes. You may reach the top of the trail via chairlift called "Khlebnitsa" located in the sector A. In general, it's a great trail both for beginners and experienced riders, but sometimes it can be overcrowded.
"Panorama" or Malca is located between the sectors A and E, it has three trails described as simple. Length of trails is 3200-3500 meters, width — 30-70 meters. The trails are served by chair and gondola lifts "Panorama" and they are also within walking distance from the top of "Lob" trail.
"Lob" (called a "forehead" because of its steep slope) — complex trail located in the sector A and meant for those who ride well. I found myself on that trail on the very first day of my snowboarding experience and it really scared me.
The sector E. There are only two trails: facing downside, you'll see the main and longest trail. Its length is 3900 meters and it's considered a simple one. You just ride and ride… But I didn't like that trail because of my first experience: when there's not much snow, temperature gets higher, the slope becomes stiff and slippery. You should follow the weather forecast, because it's a south slope and snow here melts faster than in the sector A.
The right trail of the sector E (facing downside) is a bit shorter — 3600 meters — and more complex.
Prices for the lifts:
One chair or gondola lift costs 100-200 rubles ($1.5-3), t-bars — 40 rubles (less than $1), 4-hour skipass — 800 rubles ($15), a full day skipass — 1400 rubles ($25).
Price for rental equipment in Sheregesh
If you're going from Novosibirsk, it's easier to take equipment there and bring it to Sheregesh. Price for rent board and boots in Novosibirsk is about $6 per day, in Sheregesh (really a lot of rental places here) — $12-14 per day.
Accomodation in Sheregesh: apartments and hotels
Sheregesh could have been a cheerless soviet town with piles of snow every winter, but now its severe appearance means nothing. Now it's a town of cheerful snowboarders and skiers with its special atmosphere.
Here you can stay at one of the hotels, guest houses, hostels, or rent an apartment right in the town. Prices for hotels varies $20-150, you can book it on Booking.com
Apartments for short-term will cost app. 2.000 rubles per day. If you know Russian, you may find them in vkontakte group vk.com/shershavel001 — there are a lot of information about Sheregesh in Russian. If you don't find anything, feel free to ask (in Group, here, or your Guide↓)
I decided not to bother with price and rented an apartment for 7.500 rubles ($130) per month that I found in that group.
According to location, all accommodation in Sheregesh may be divided in two groups:
Hotels on the mountain slope. Living on the slope gives you the majority of lifts in walking distance from a hotel; besides, you can walk nearby in the evening, dance in local bars and keep on leading an active life at night.
Apartments and hotels in the town. If you decide to stay in the town, your night life will become relaxation with a bottle of bear and a bowl of pelmeni. Besides, you'll have to reach the mountain and come back home by taxi (200 rubles to the sector A with your equipment).
Shops in Sheregesh. There are a couple of ordinary supermarkets in the town — Maria-Ra and Kukuruza — and a small farm shop "Kalina-Malina" (they sell delicious marshmallow by the way) located between the supermarkets.
When to go to Sheregesh
The season lasts from November to May but in the beginning of April many people come here for the "Grelka" festival. There are also crowds of people during holidays and weekends (during weekends it's relatively okay because a big number of trails allow people divide evenly between them). The rest of the time is better.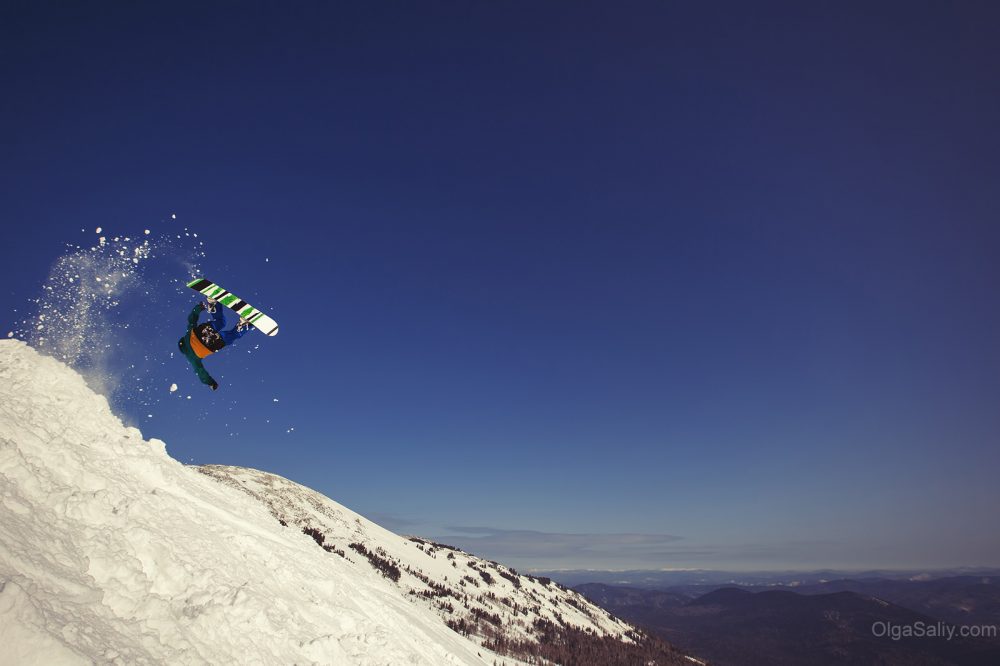 How to learn to snowboard and ski faster
In my opinion, the speed of learning depends on the level of your inner fear .. about the speed and falls. Therefore, if there is no fear, then you can immediately work with the technique. And if you have it, you need to find an instructor who will help remove your fear. You can also wear protective panties and knee pads (if you don't want to paint your knees in fashionable violet-burgundy colors), take napkins to wipe the snot and fall, fall, fall, knocking out fear of falling.
Snowboard, freeride English-speaking instructors in Sheregesh and Russia
You can find English-speaking instructors in Russia here: www.facebook.com/groups/russiasnowboard/ 
Also I think it's good to make a personal choice to find English-speaking offline, or ask me to help:) There are a lot of instructors and you can find them in any rental place in Sheregesh.
One-hour training with instructor will cost 1.500 rubles.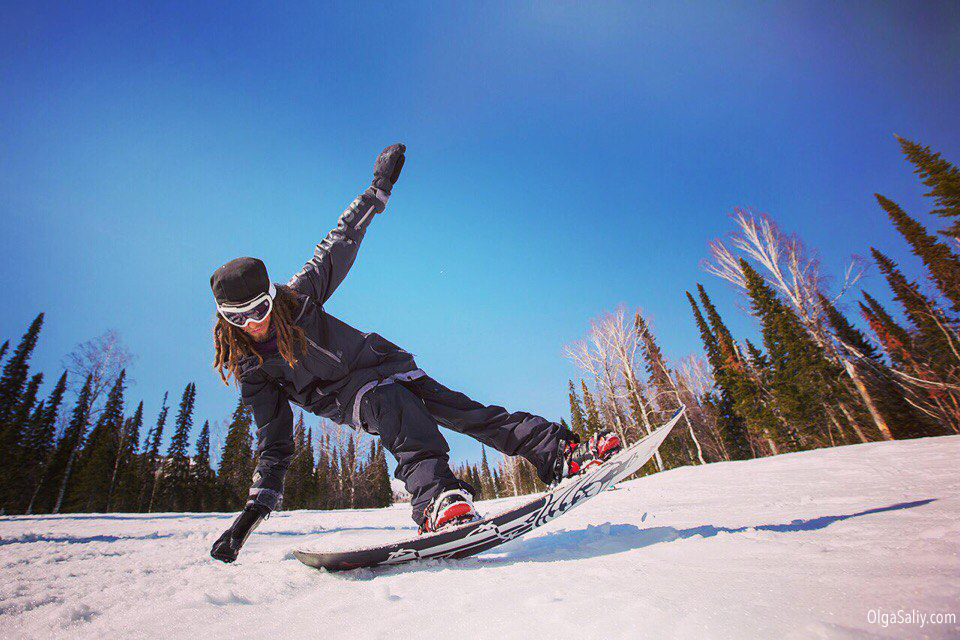 Freeride school in Sheregesh (Russian-speaking):
Freeride in Siberia
Sheregesh has enough places for freeride, there are many freeride schools and agencies providing freeride tours. One-day tour in a group will cost 5.000 rubles. All participants are delivered to the drop-off points by snowcat where they can ride down. By the end of the day, you can go down approximately 7-10 times.
If you know Russian, you may search for freeride tours here: vk.com/snowhunter and vk.com/blackcat.freeride. You may also google other tours or groups.
Safety. If you go freeriding alone, you have to keep in mind that you are in Siberia, in wild places: if you get lost and see a snow pile with vapour getting out of it — probably, its a bear's den and you'd better not to wake the bear. You can also fall into a pit or get your head stuck in a snow hole (there were cases when people couldn't have gotten out and suffocated). Besides, slopes can be avalanche-prone.
Snowbike and Snowmobile rentals in Siberia
As I know Sheregesh is one of the best place for riding snowbike and study how to ride for beginners. I recommend this guide for rent, study how to drive and guiding to unusual great spots: instagram.com/maz_5oo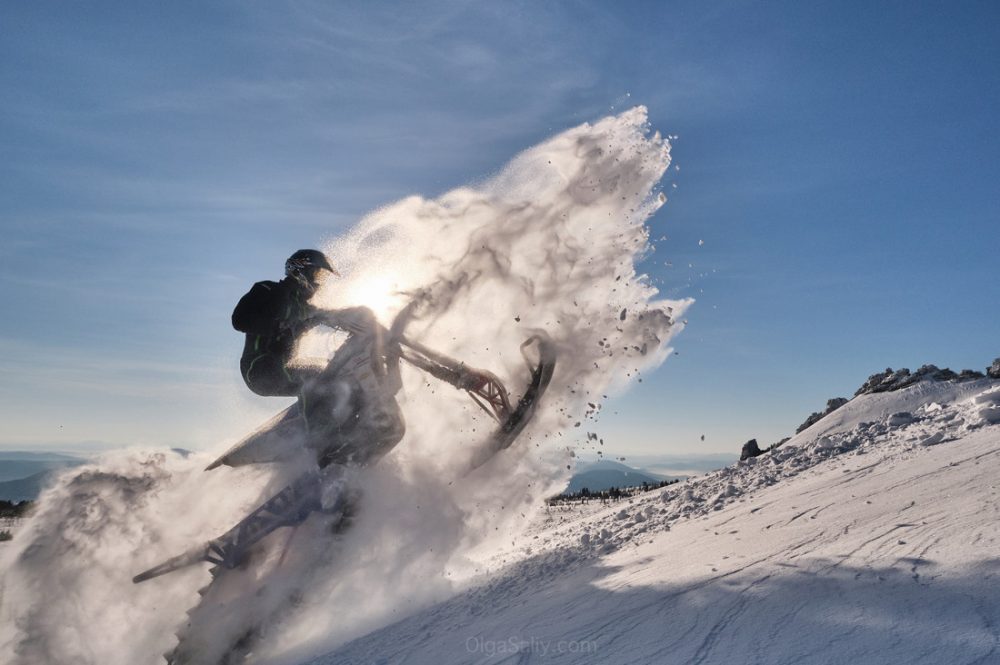 Injuries and sport insurance for snowboarders, skiers and freeriders
If impact pants and helmet didn't help and you happened to be the one to go down in a rescue stretcher, you would be transported to the local emergency room (that has controversial reviews). Injuries could be unexpected and serious, so it's better to have a sport insurance. If you bought an unlimited ski pass and rode on the prepared trails, you automatically have an insurance; but it doesn't work with one-time lifts and freeriding. So I would recommend to take care of insurance in advance.