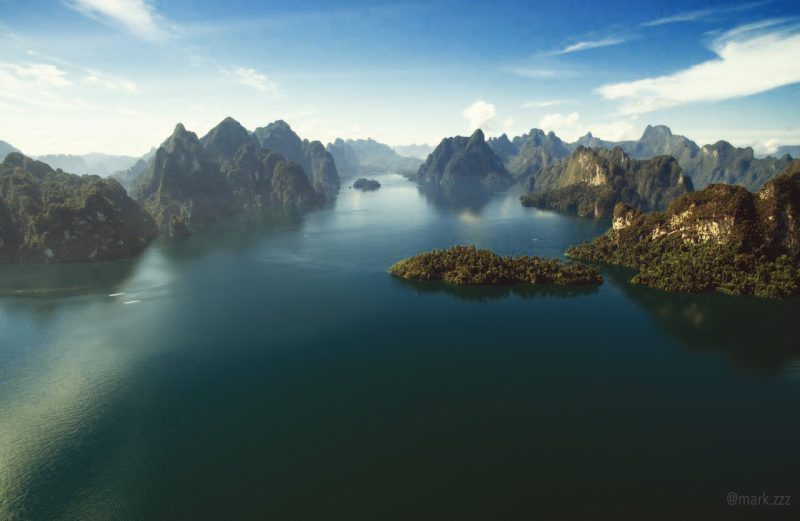 When you look at the sky lying in perfectly clear water among the mountains, you finally realize that it's not a dream, and everything that surrounds you is real… You don't need to slap a forehead to believe in what you see or to kill a mosquito — there's no doubts or insects. When you wake up and open your eyes, you see the lake and mountains right out of the window at your floating house — right here you may leave a room and jump in warm water to swim with beautiful, colorful carps.
About Cheow Lan lake. Territory of 165 square kilometers was filled up with water in 1982 to generate electric power in Thailand. Initially there used to be a village whose people were resettled to other places. Now it's a beautiful and peaceful place: there are funny cries of monkeys in the morning and absolutely no mosquitoes.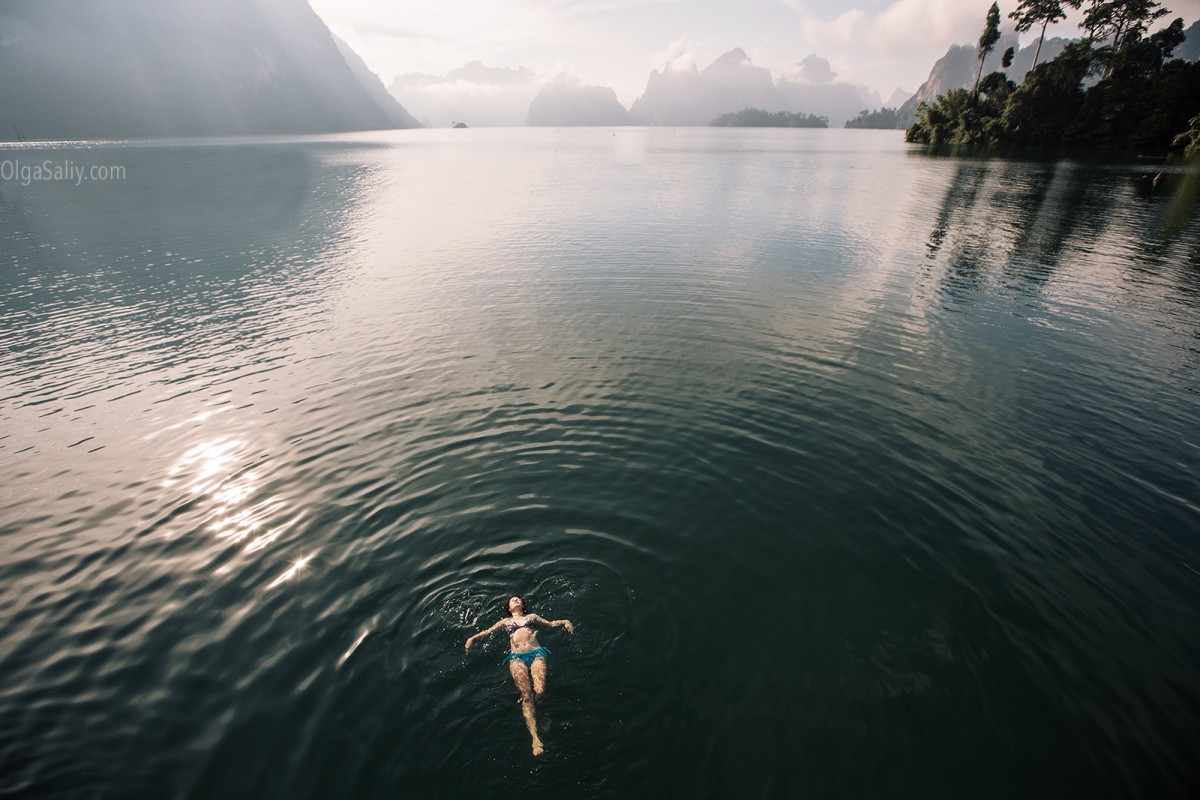 I'm a fastidious traveler and for a long time avoided Cheow Lan and Khao Sok because of crowds of tourists and because didn't realize the beauty of this place. But now I am writing this text to say that Cheow Lan is one of the best places on this small planet!
The following tips will help you to enjoy this place as I did:
The best time for visiting Cheow Lan and how to reach it
The best time to go
You'd better go to Cheow Lan during the weekdays, when the majority of people can't visit it. During weekends you'll meet here crowds of Thai, Chinese and other people, it will make the place less comfortable and will cause problems with accommodation.
If you want to combine your trip to Cheow Lan with walking at Khao Sok, period from December to February will be perfect: it's time of Rafflesia blooming and you'll have an opportunity to see a plant with giant flowers that can reach over 1 meter in diameter and weight over 10 kg. But nevertheless I didn't find Khao Sok especially interesting.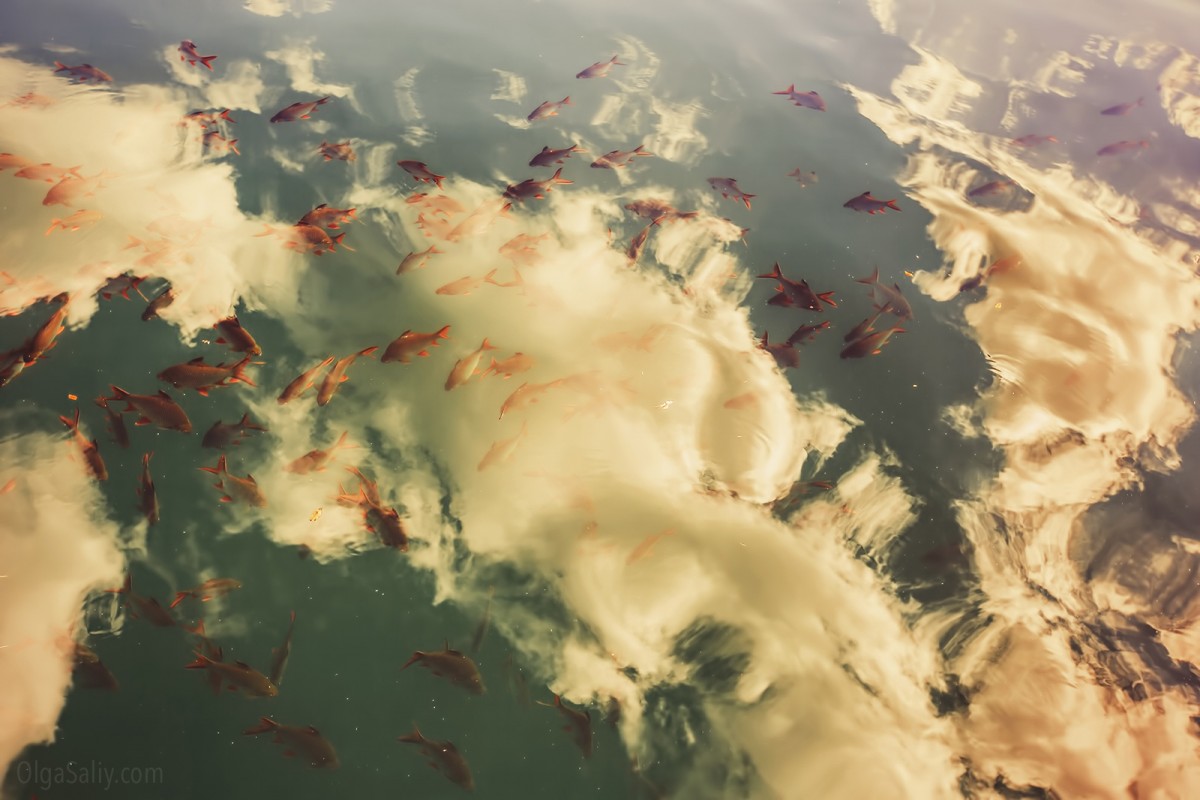 How to get to Cheow Lan
Rental car is the best choice that will give you freedom of movement at a good price. Price for an ordinary car in Thailand starts from 800 baht per day. Roads are great! You will easily find a car for a reasonable price in Phuket, Samui or Pattaya. In Bangkok, on the contrary, you may have difficulties finding a rental car, especially a cheap one.
You can take a bus to Khao Sok (ask about bus routes in a ticket window at the nearest bus station), then take a taxi or hitch a lift from Khao Sok to Cheow Lan (~60 km and ~1.500 baht). It's not the best variant because anyway you'll have to take a taxi from Khao Sok .
Taxi. Average price from Crabi to Khao Sok is 2.000-3.000 baht, from Phuket — 3.000 baht.
Buy tour in a travel agency. Price for a one-day excursion from Phuket is 2.000 Baht, for a two-day excursion — 4.500 baht.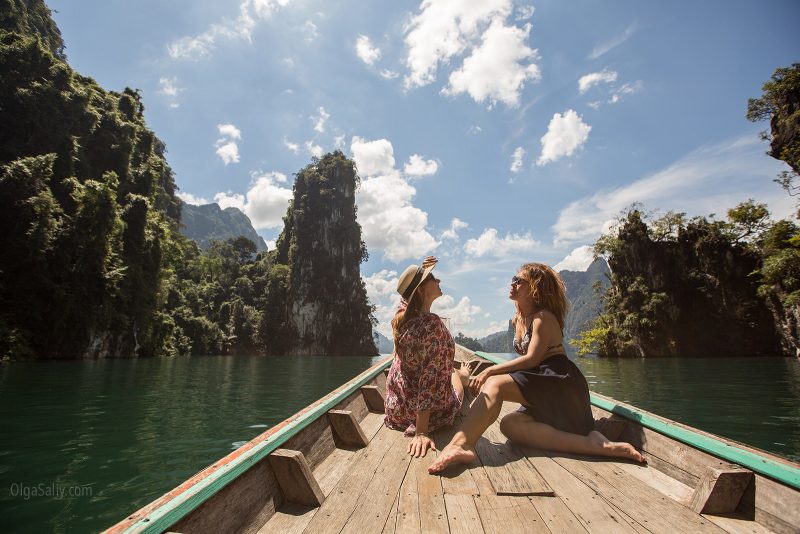 Important notes for independent trip to Cheow Lan
The coordinates, if you travel by car. The pier with boats on Cheow Lan: 8.977489, 98.820347
Overnight stay on the lake. Though it may be expensive, it's worth planning your trip with overnight stay at floating houses. Average price for a house is 1.500-4.000 baht per person, but it includes breakfast, lunch, and dinner, so this meal will be enough for the whole day.
Price. Access to the lake costs 300 baht, boat — 2500 baht (it may carry up to 8-10 people), overnight stay at a floating house — 1.500-4.000 baht per person.
Houses on the lake. If you plan your trip on weekdays, you won't need to book houses in advance, you may come and choose it right on the lake. As for us, we took a boat and headed out to look for a place to stay on the lake because houses at the pier had already been booked. But we found some houses.
How to book a house? Just in case, I leave a list of websites where you can book accommodation (booking.com doesn't work here):phuphawaree.com,
praiwanrafthouse.com,
www.keereewarin.com
There's one place that I like the most, and it's not promoted in blogs and forums yet. I can give you contacts, if you ask me about it in private message.