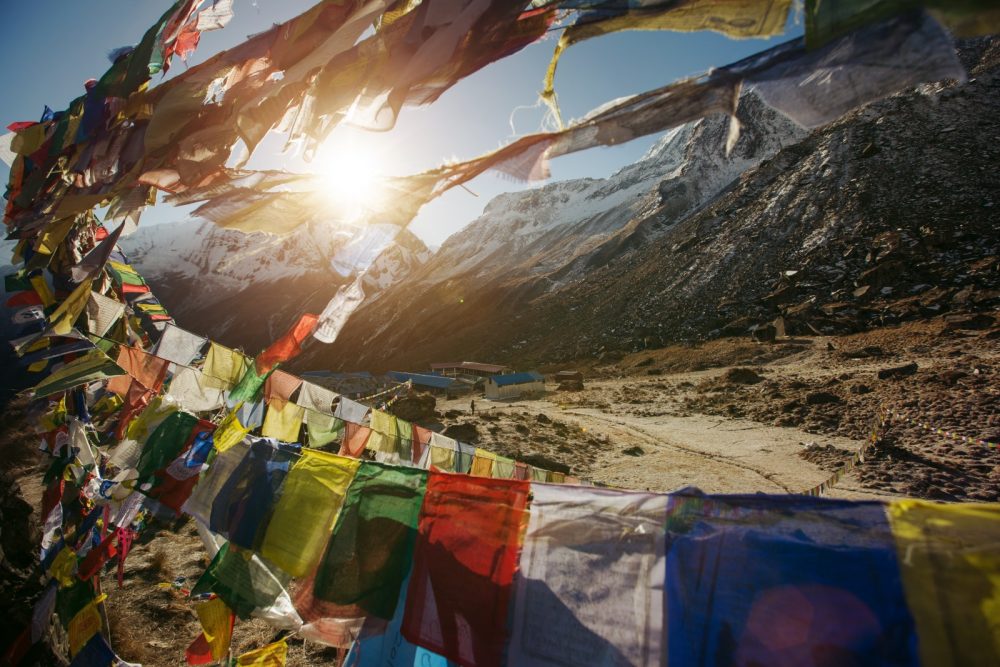 Organizing trekking to Annapurna Base Camp is easy enough. Getting lost is impossible, you just need to buy a map in one of Kathmandu or Pokhara shops or look for necessary information in Google.
The way to ABC
and back is about 80 km. Altitude changes from 1300 m to 4123 m, and the whole trekking takes about 7 days. If you add Poon Hill on the way back, it will be about 100 km (+2 days).
To start ABC trekking you need to get from Kathmandu to Pokhara (by bus — $10, taxi — $100-150, or by plane — $100).
Buy permit and Tims in Pokhara (to get a permission to visit Annapurna area) at any tourist agency in Likeside (Pokhara), or do it yourself. It costs about $50 and takes about half an hour. The official place to get them is here: 28.198867,83.969007, you'll get there in 15-30 minutes walking from Lakeside.
Best time to start from Pokhara — early morning, about 6-7 am. The first point is Nayapul. You can reach it in several ways:
Book seats in a Mini Bus at any tourist shop in Lakeside, Pokhara. The price will be about 700 rupees per seat.
Get taxi (700 rs) to the bus station (you need "Bus Station to Nayapul in Pokhara"), then take a local bus (200 rs).
By taxi from Lakeside Pokhara to Nayapul (3-5 thousand rupees depending on the situation with gasoline).
Other expenses:
Taking an offroad car from Nayapul to Siwai (it will make your way a little shorter) — about 1000 Rs per 1 person. You can also take a jeep car from Pokhara to Siwai per 7000 Rs.
Food in Pokhara and Kathmandu is cheap. While trekking it will be more expensive (but still cheap). Prices for guest-houses on the trek are about 100-500 rupees per room, but average price including meals will be about 1,500-2000 rupees per day (depending on your preferences).
What to take to Nepal Trekking:
Boots (I usually wear my Palladium Boots on the whole way, but feet may get a little cold when wearing them on snow): it should be comfortable, sturdy hiking boots giving good support to your ankles. Preferable are the higher models with a good profile sole.
Sleeping bag (possible to rent in Pokhara): if you want to have it in addition to blankets at guest-houses. I usually don't take it.
Backpack with a good waist belt: about 30-50 liters for you and 60 liters for an assistant guide (porter) to carry your belongings (possible to rent in Pokhara).
Hiking sticks (possible to rent in Pokhara). I usually don't use it.
Lightweight shoes or sandals to wear at night and for shower.
Socks: 2-3 pairs of outer socks, 1-2 pair of liner socks, and 1 pair for night.
Loose cotton trousers.
T-shirts, long sleeved shirts.
A cozy shirt for evenings.
Thermal underwear (I don't use).
Warm lightweight sweater or fleece jacket.
Hat (sun protective and for cold nights), gloves or mittens, scarf.
Raincoat, for you and for backpack.
Down jacket for about +/-5C (evening time and morning on ABC).
Sunglasses, sunscreen and lip balm.
Quick-drying towel.
Small flash light.
Water bottle with a carry strap.
Pokhara, Fewa Lake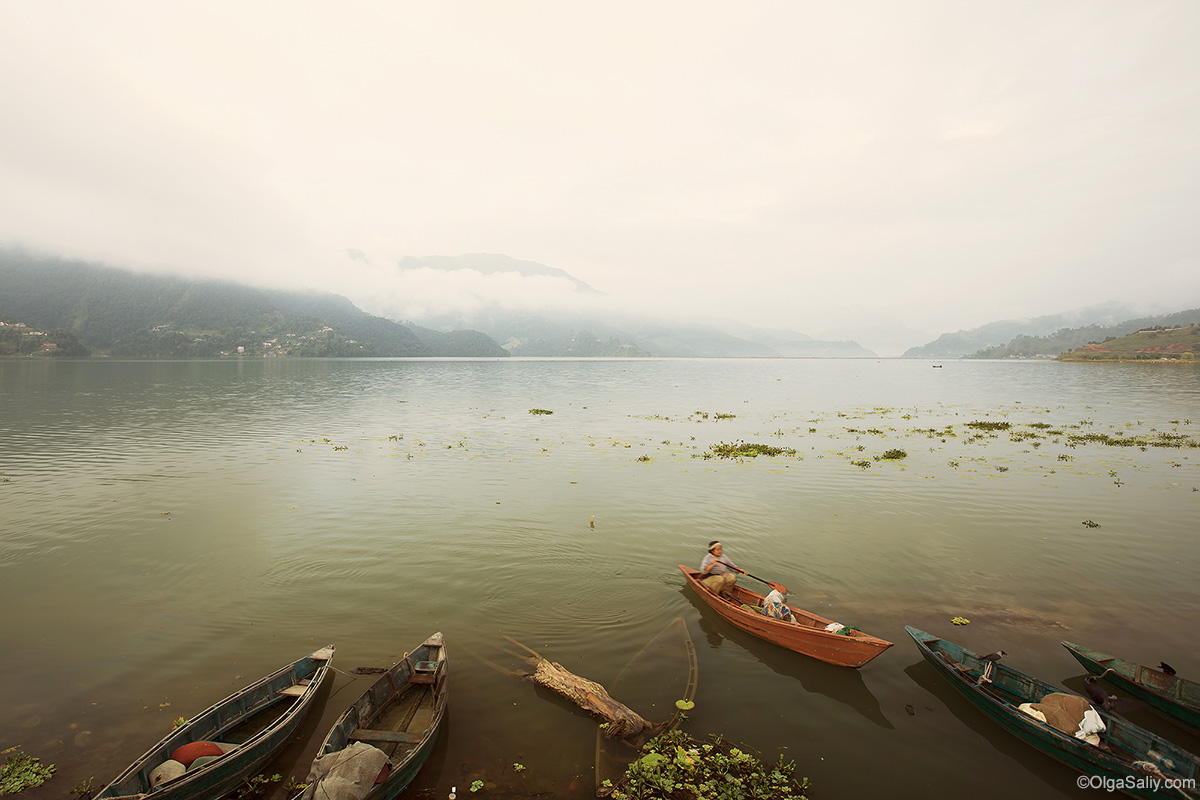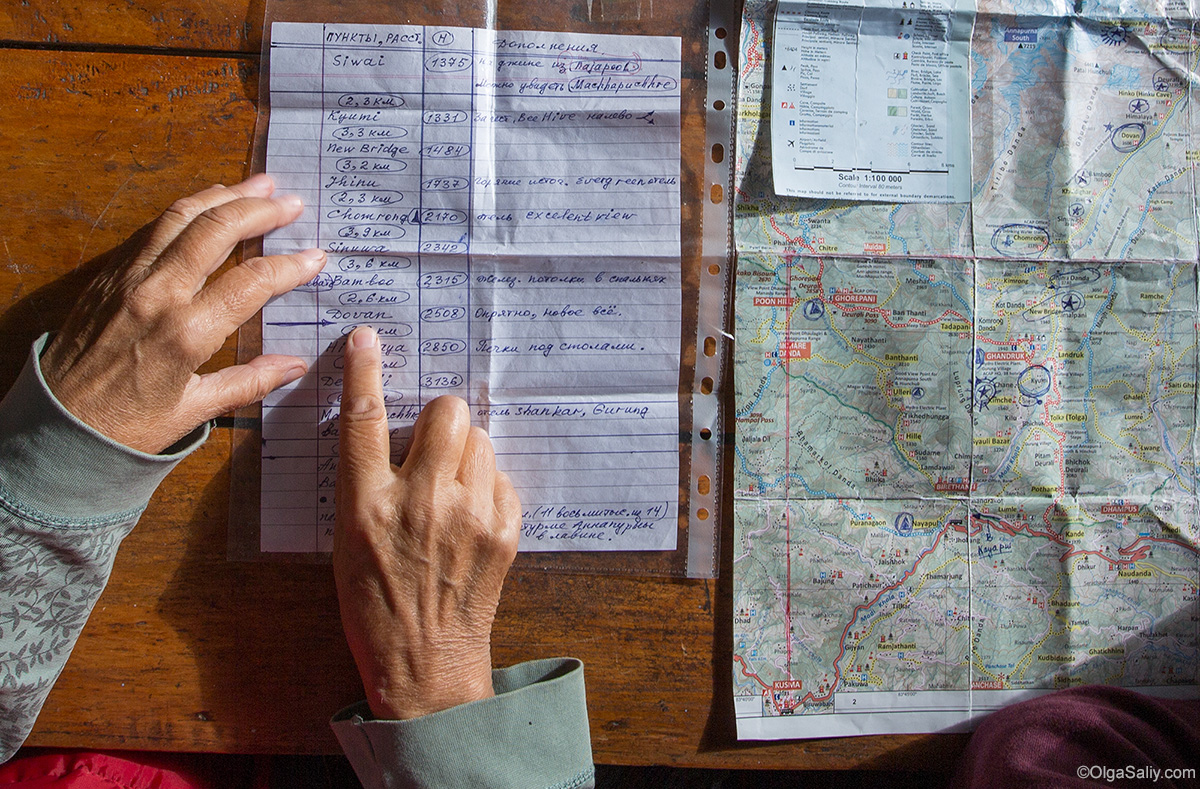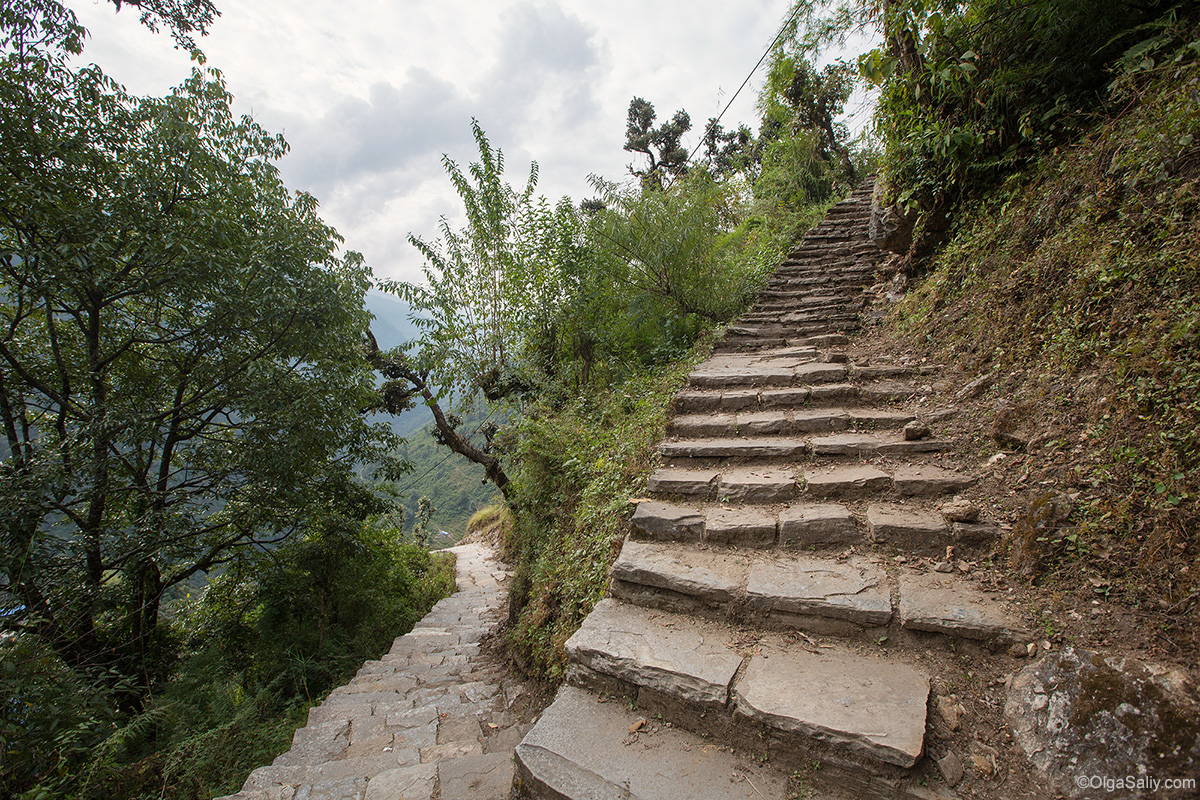 Stone steps in the Himalayas appeared before tourism in Nepal.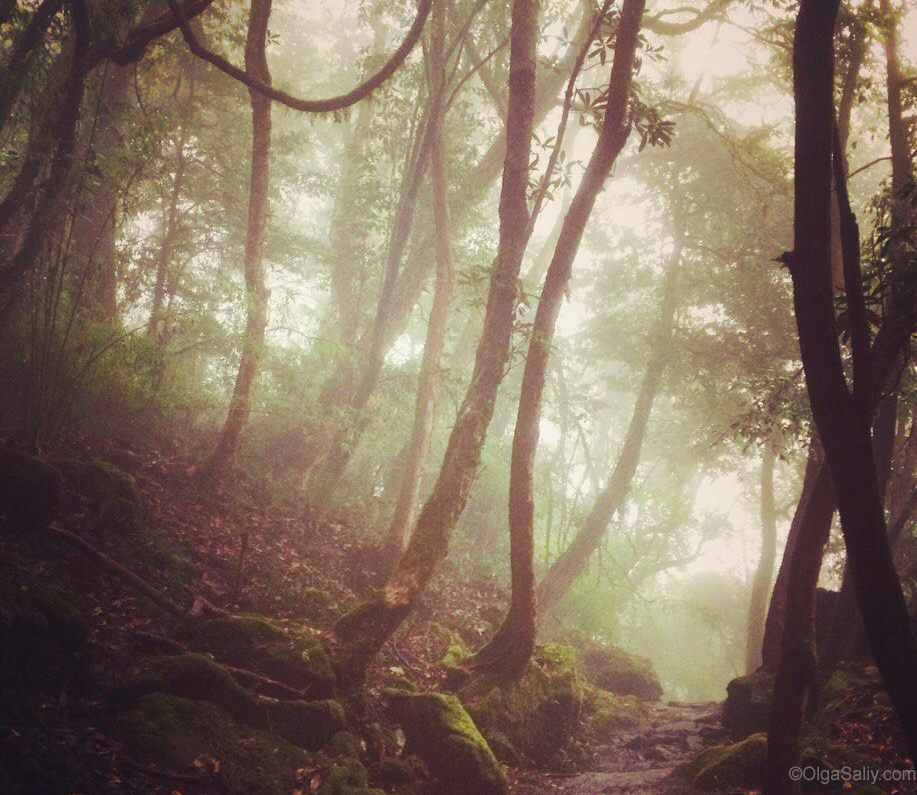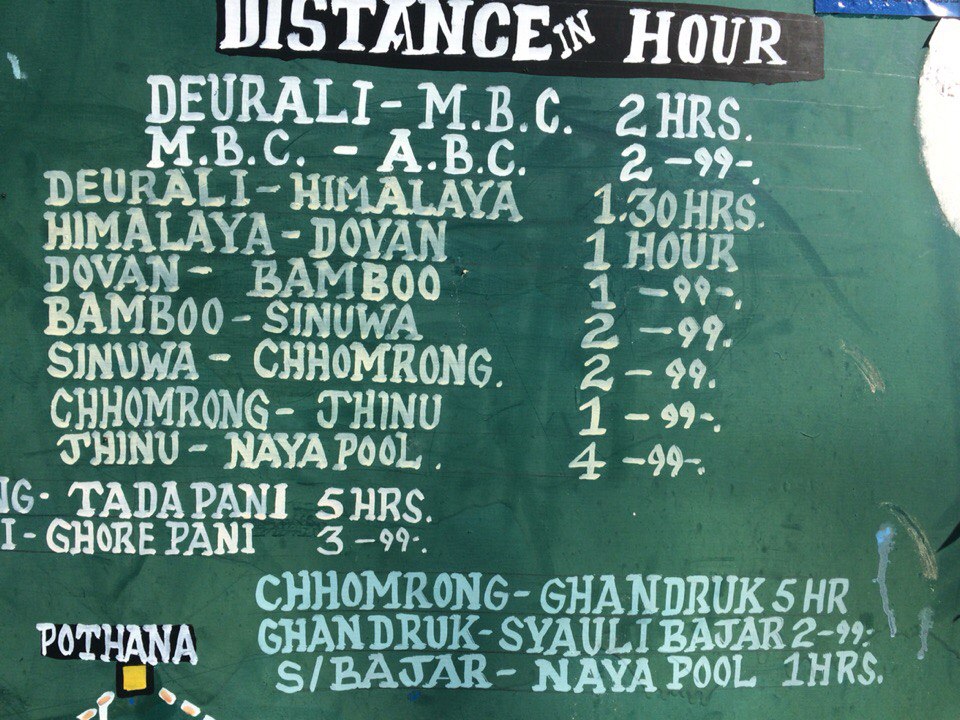 Guesthouses in Nepalese mountain treks are about the same.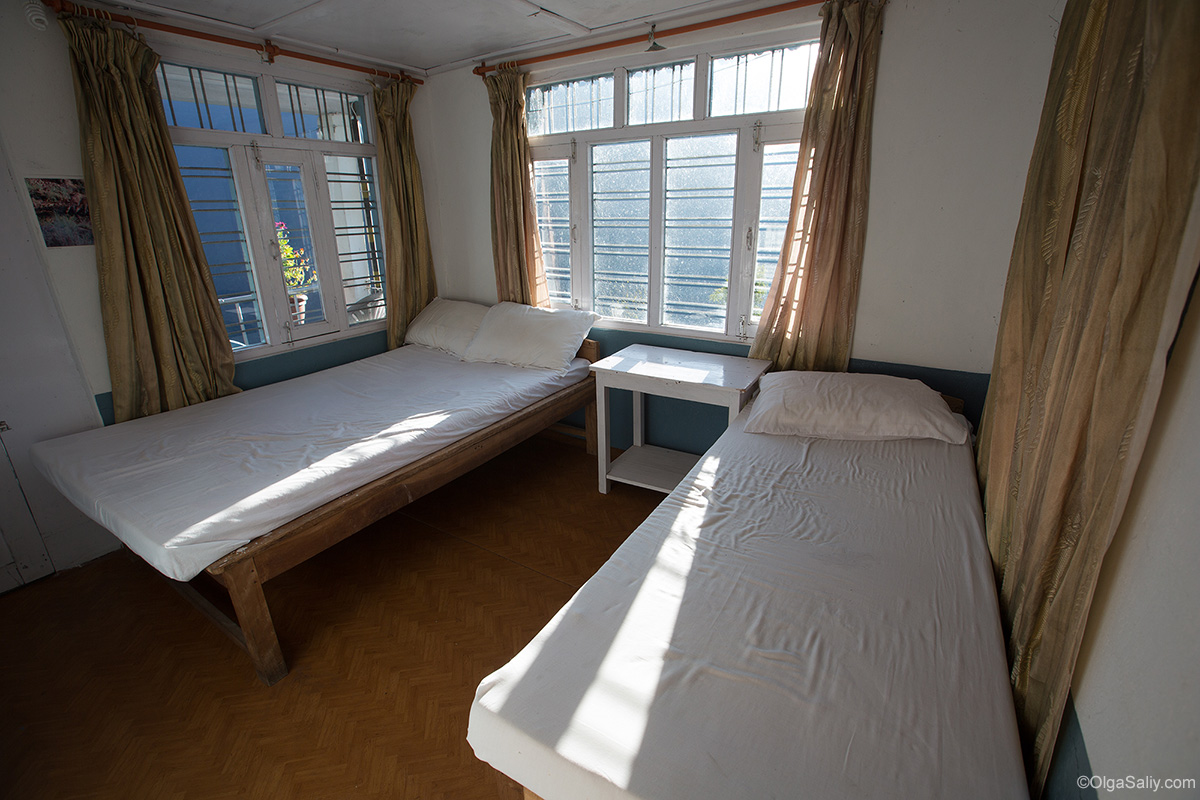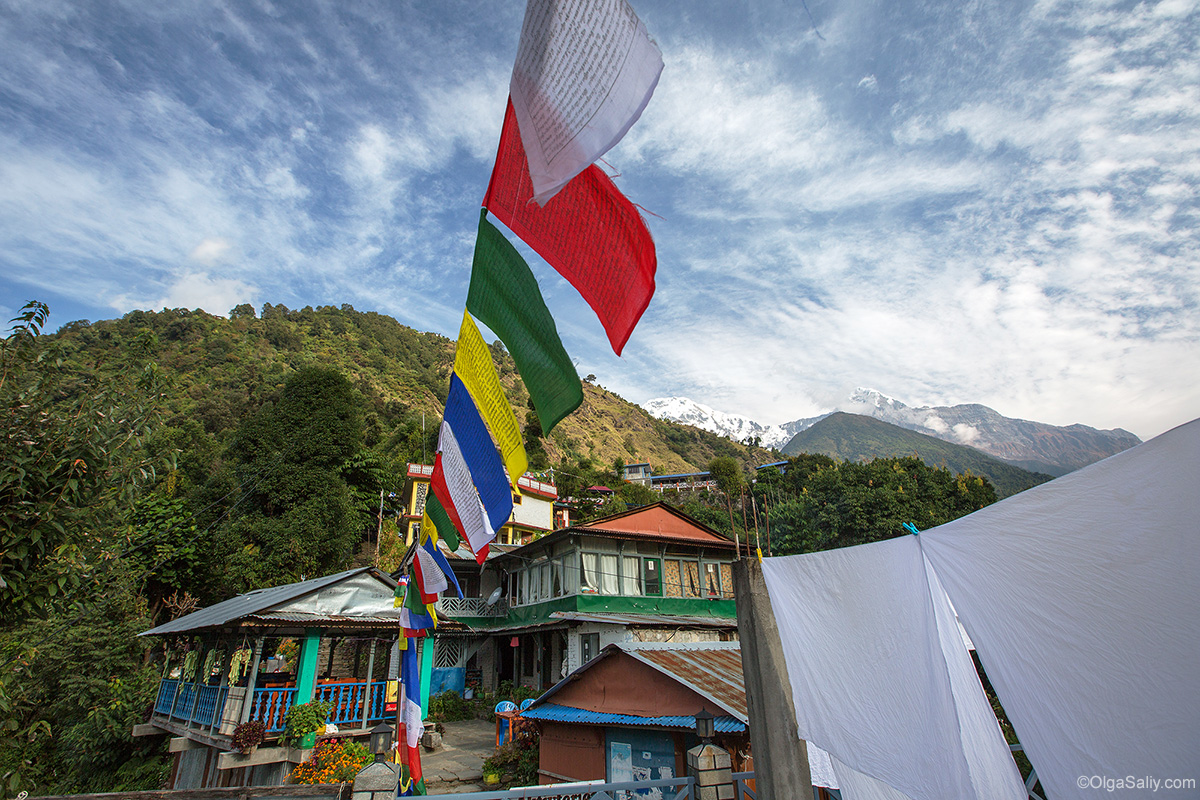 Food.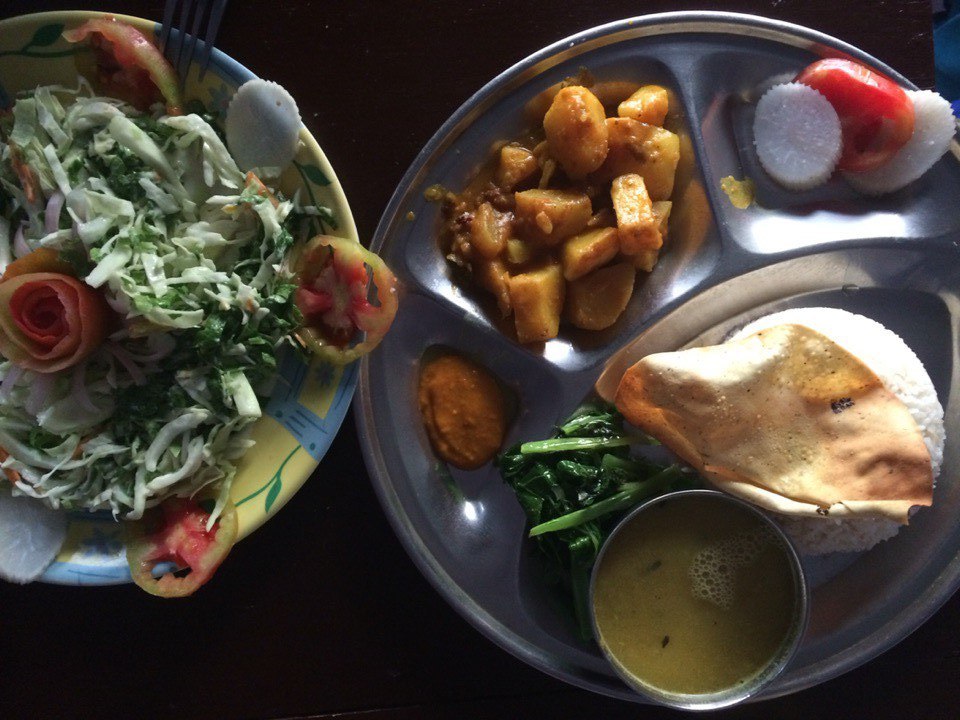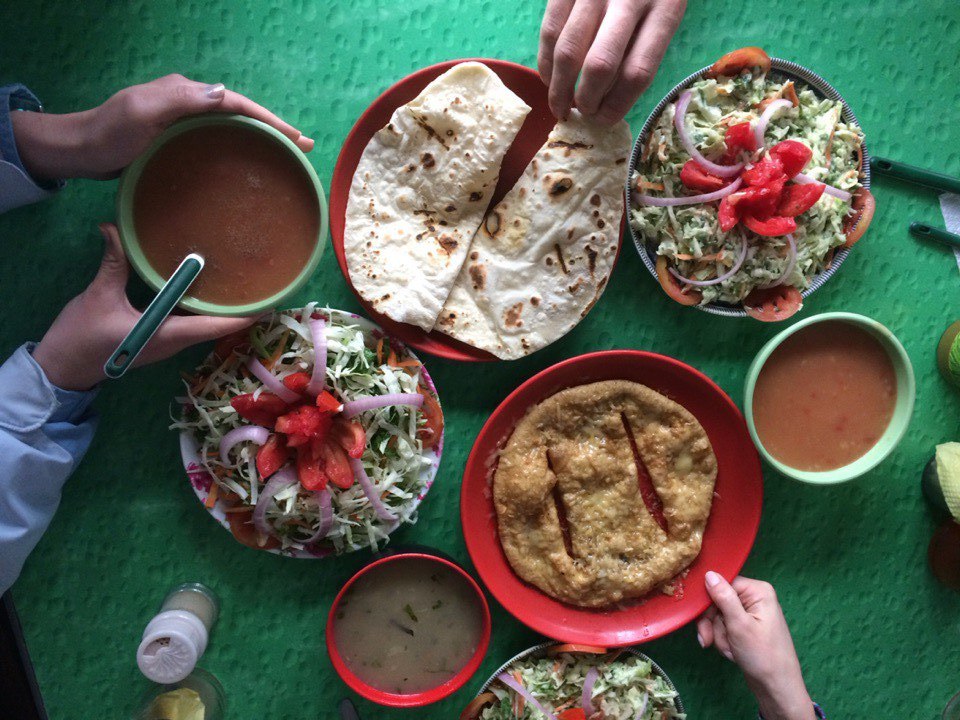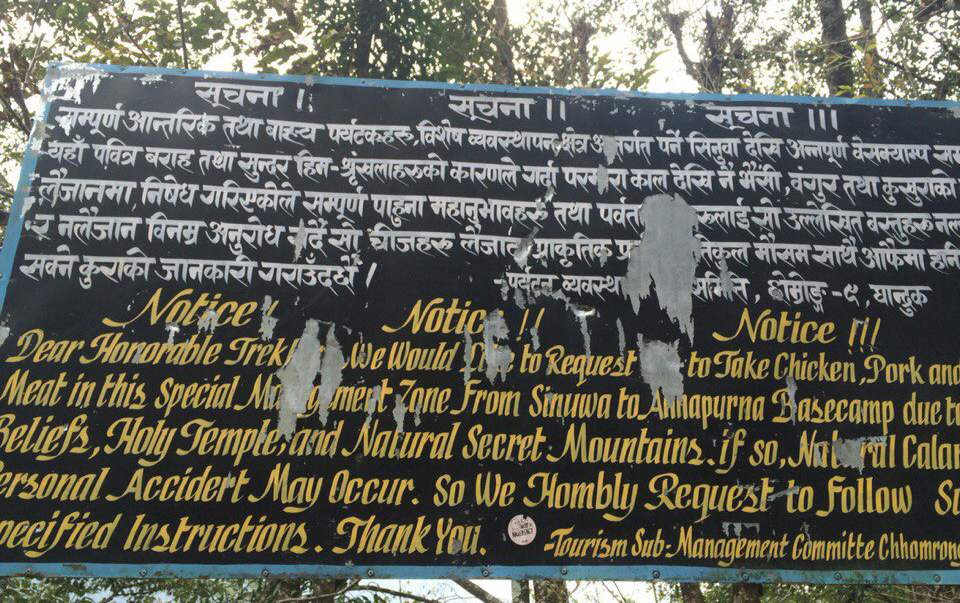 After 2000 meters you will see the plate with recommendation not to eat meat as it will make you feel better in the mountains.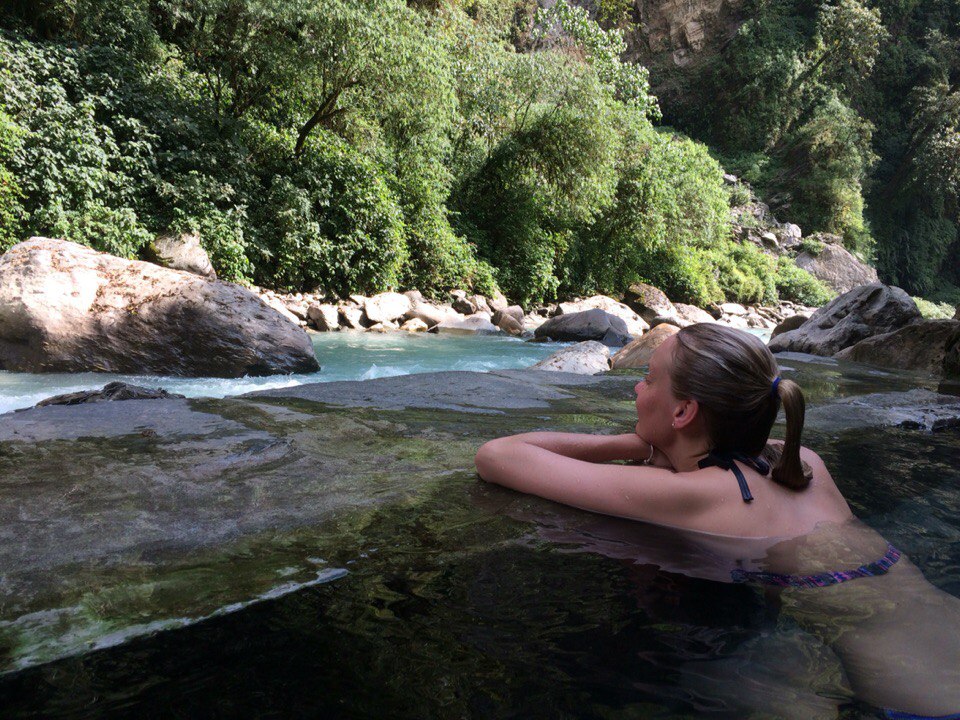 In the middle of ABC trek, at place called Jinu, you can can take a dip in the hot springs. It is especially nice on the way back.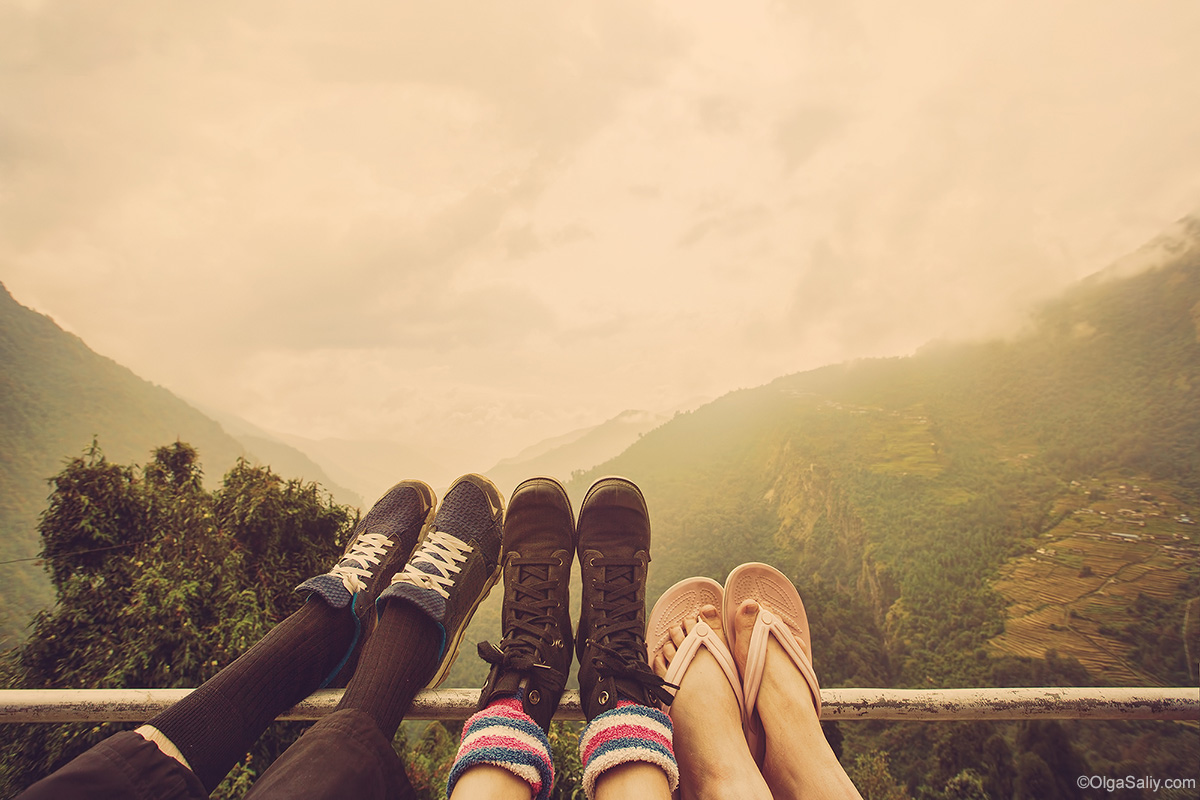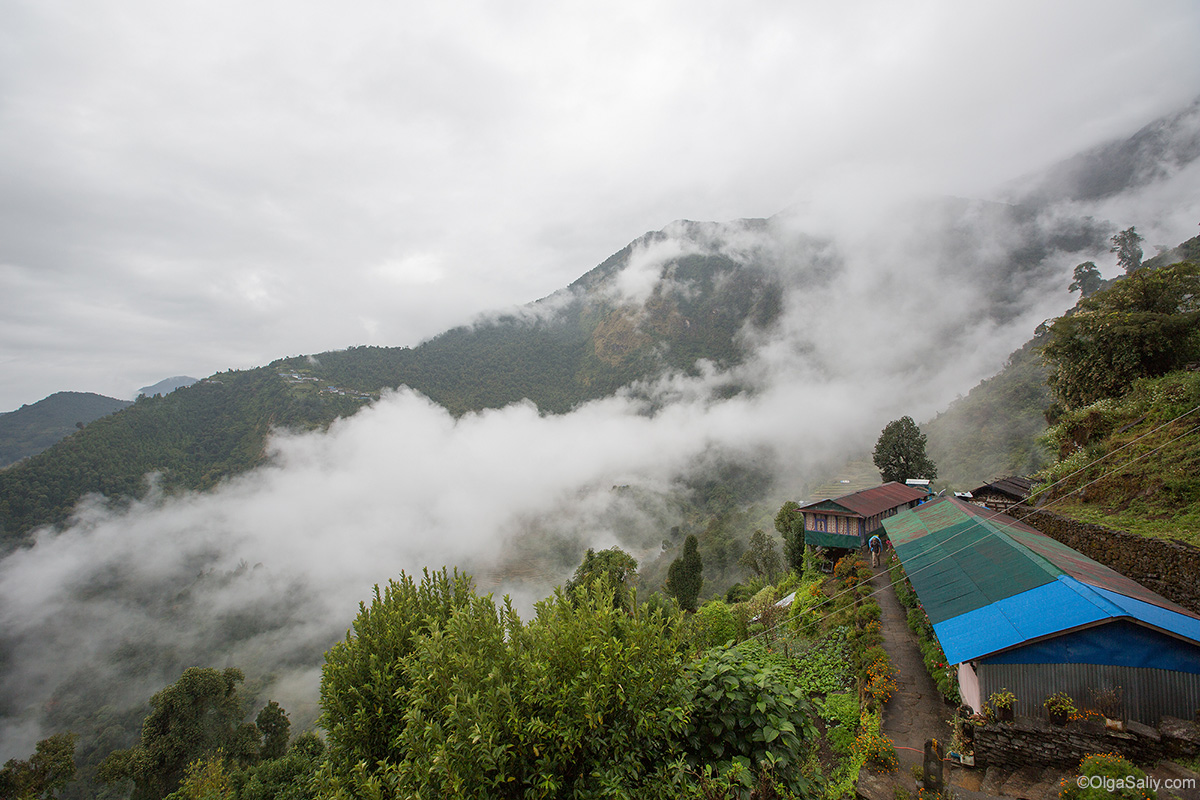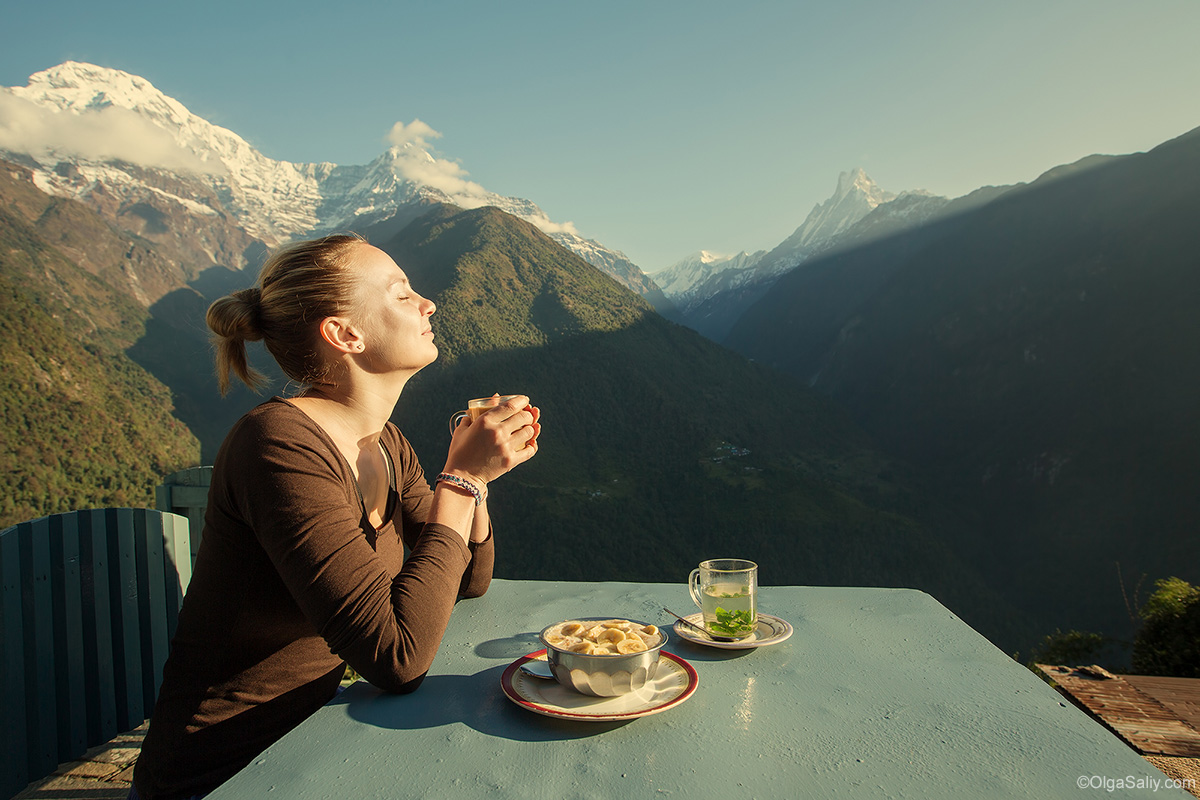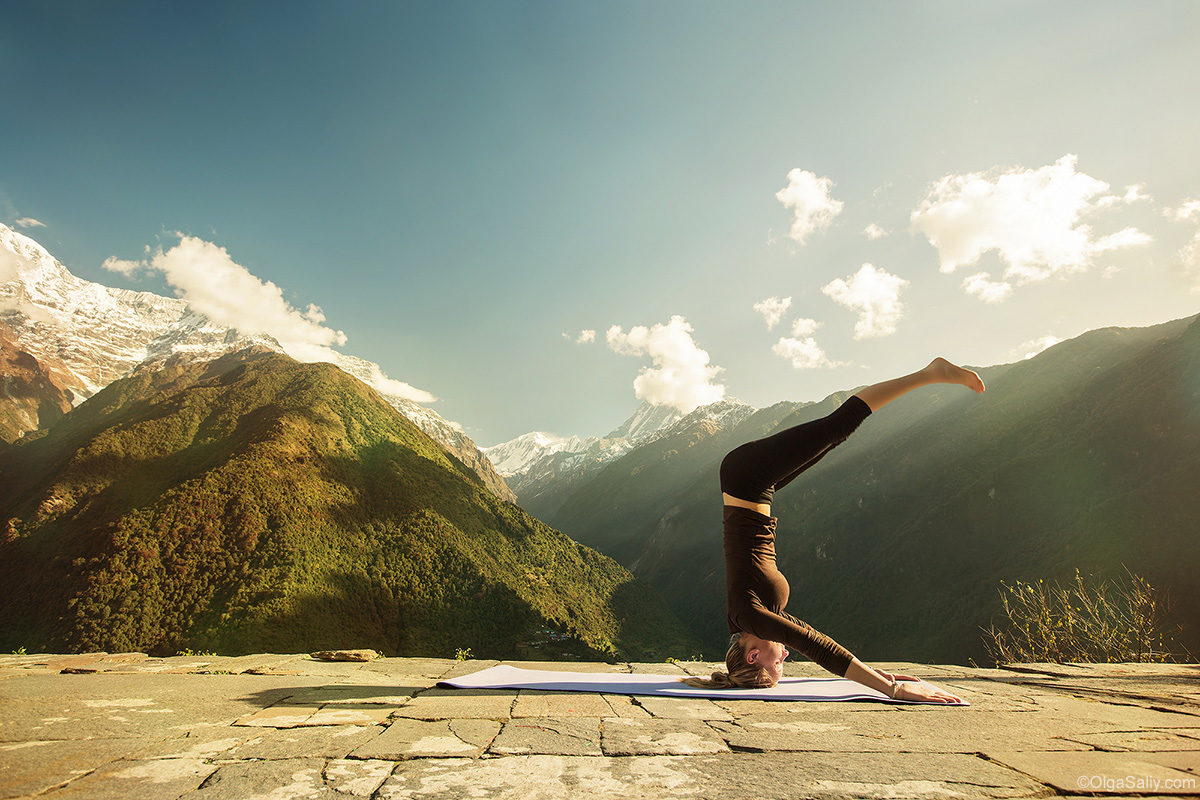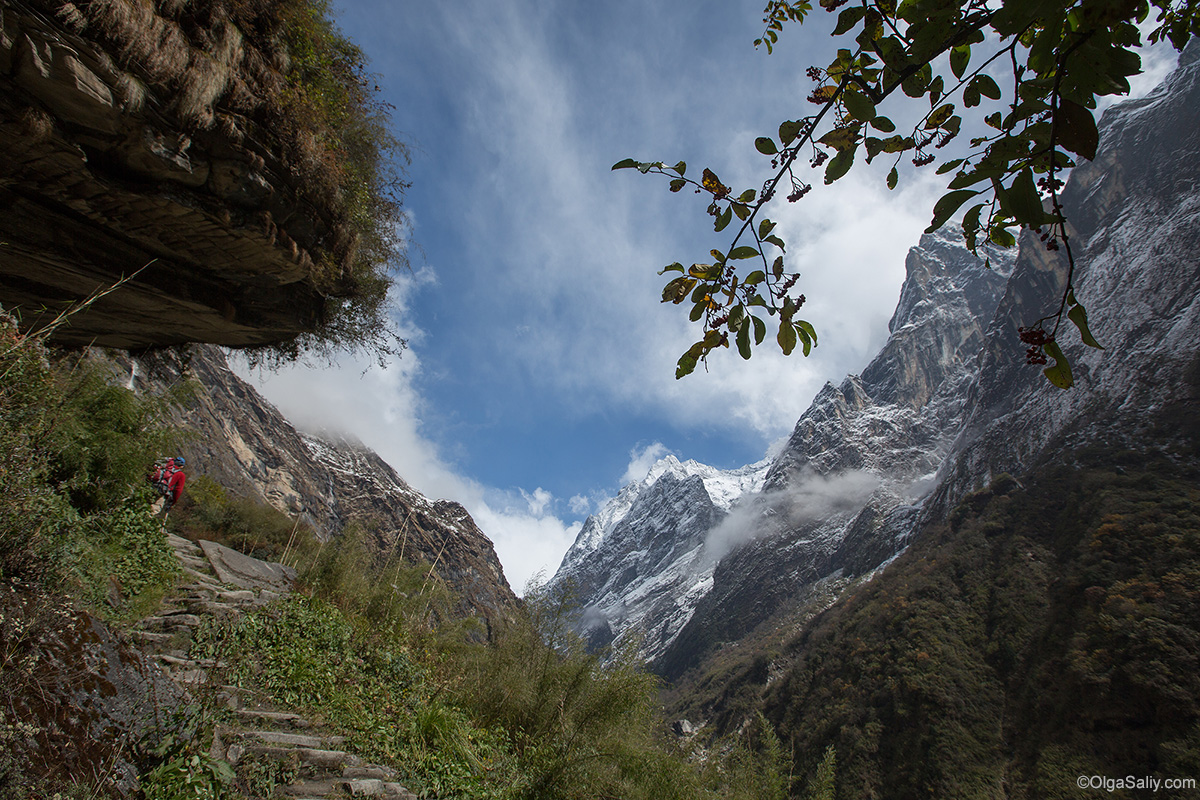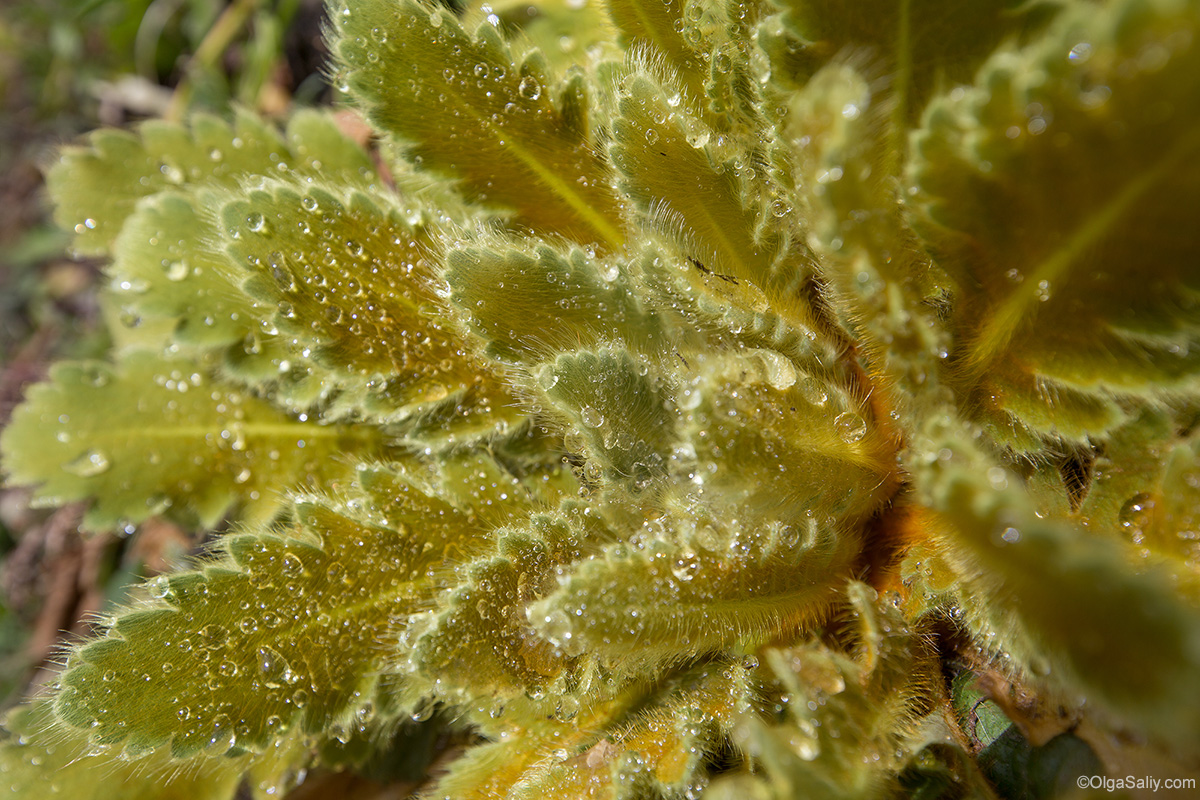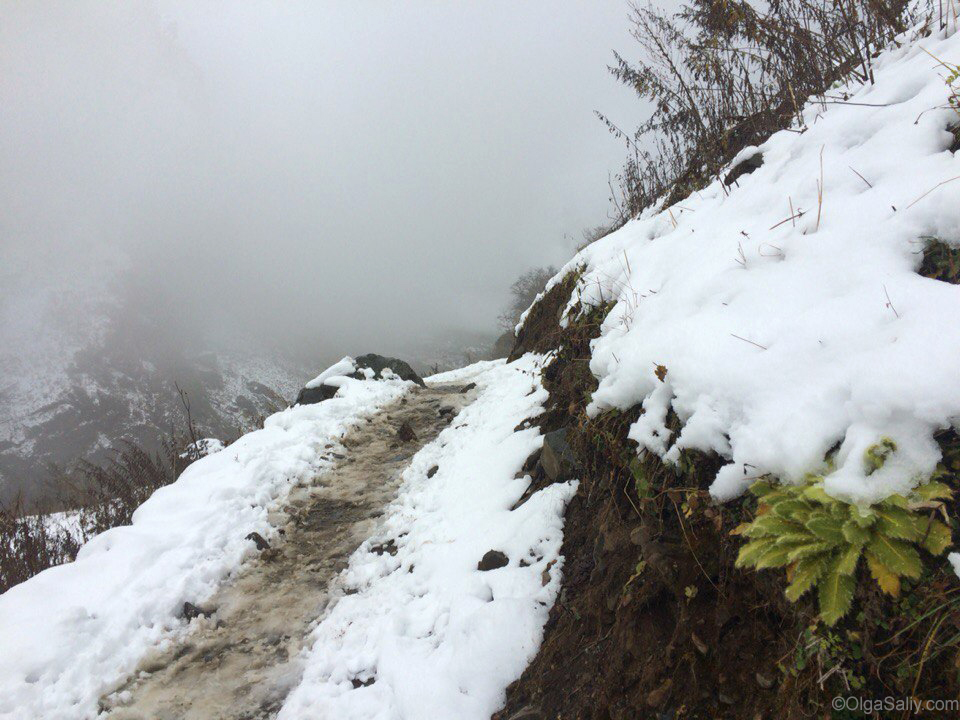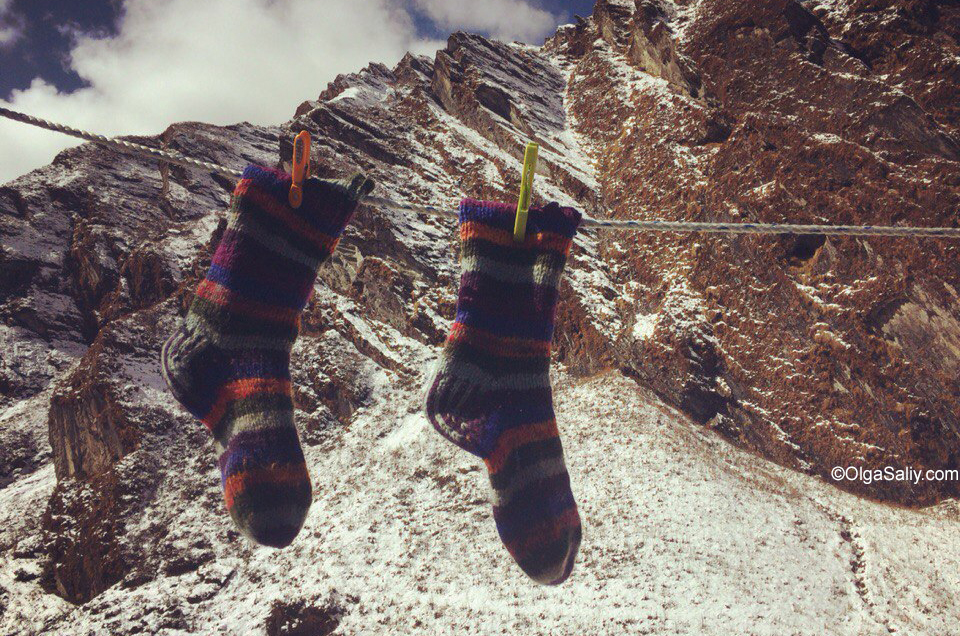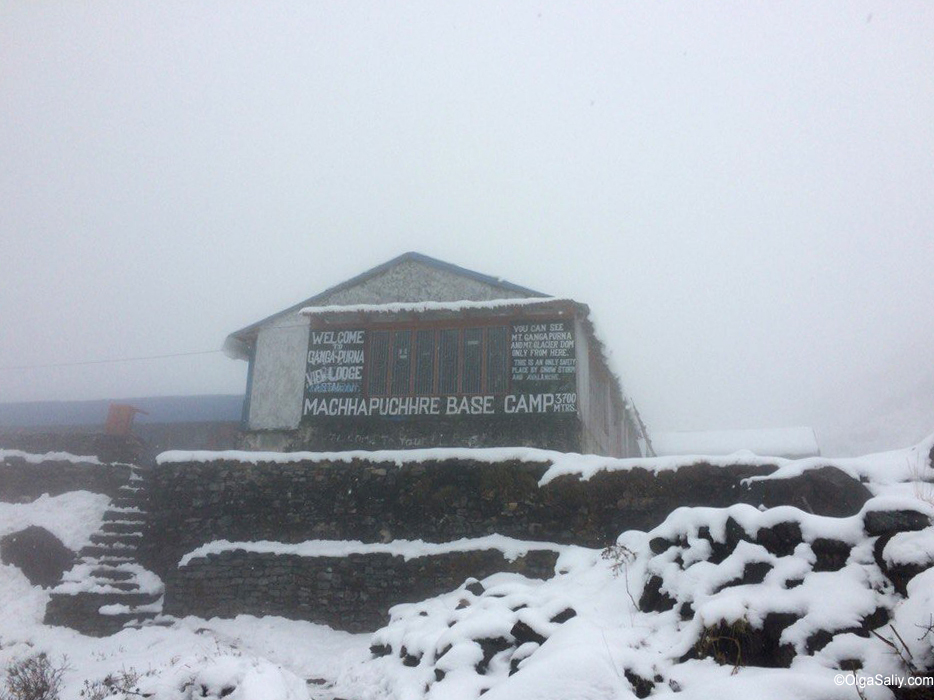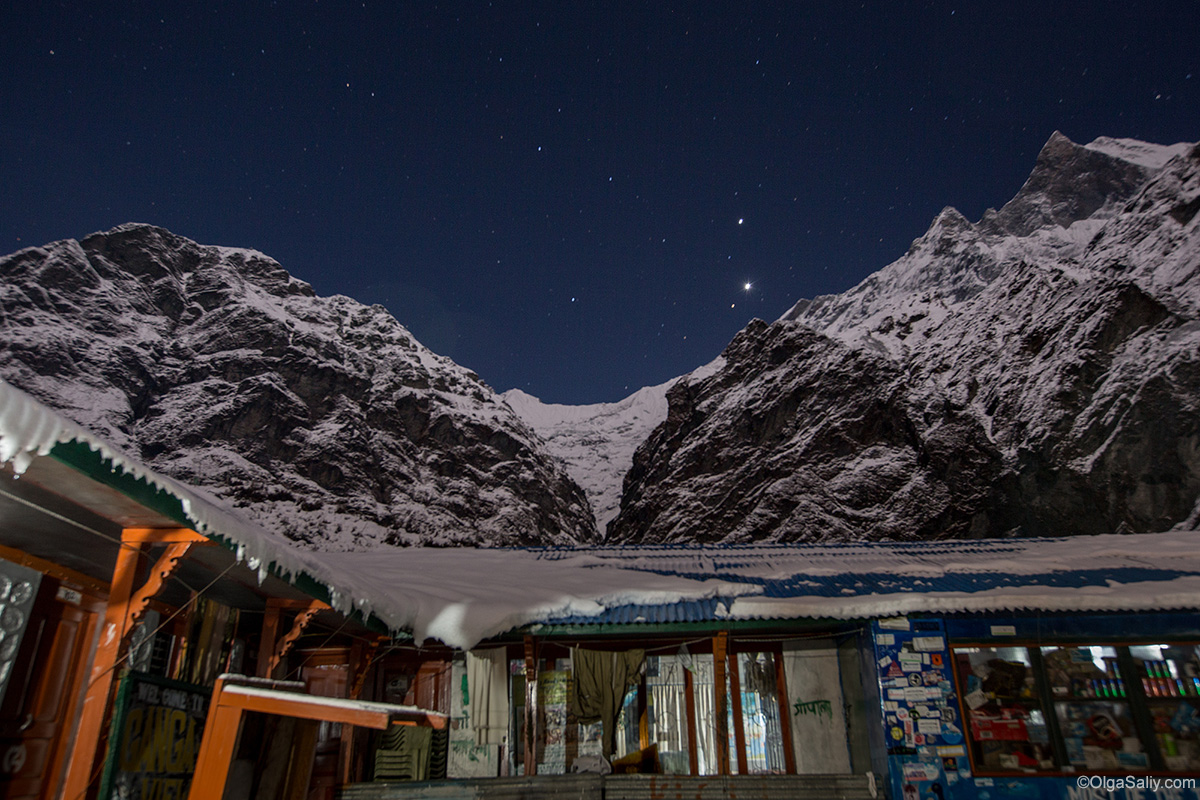 It is the main point on the whole track. You wake up at 5 am and walk from Machapuchare base camp to Annapurna base camp. Amazing feelings.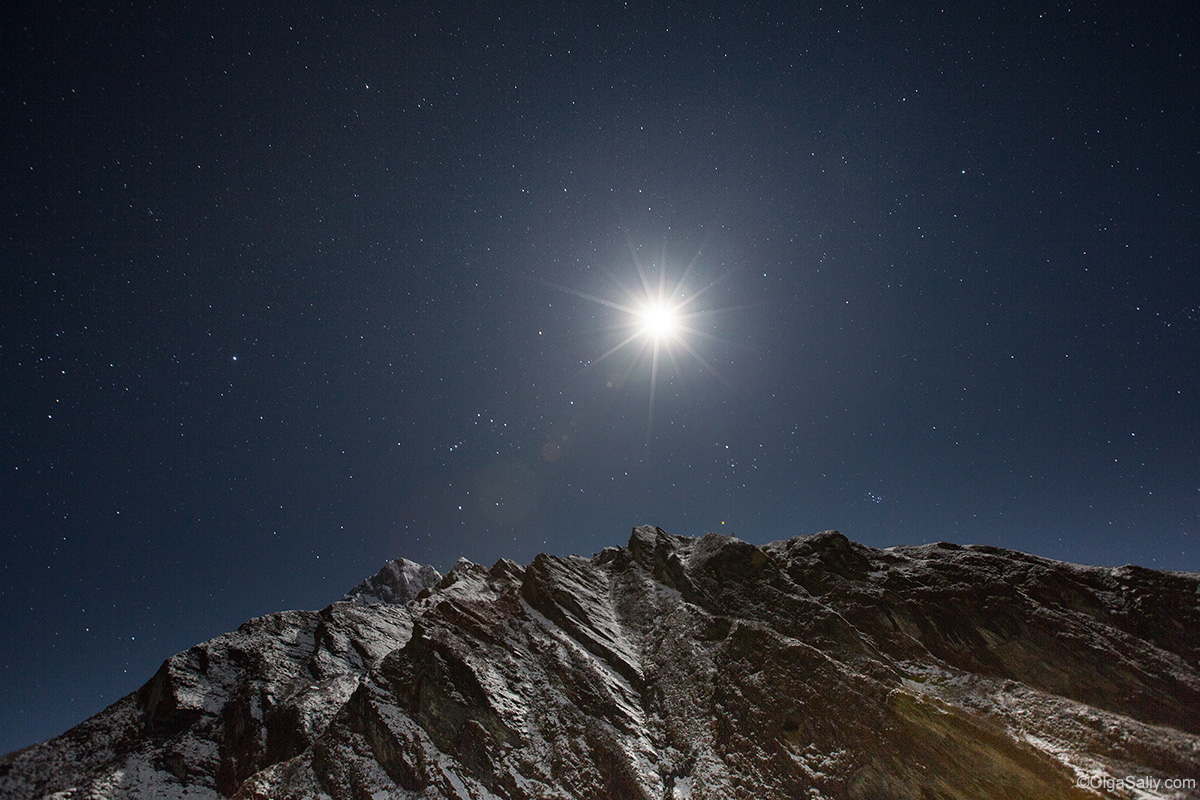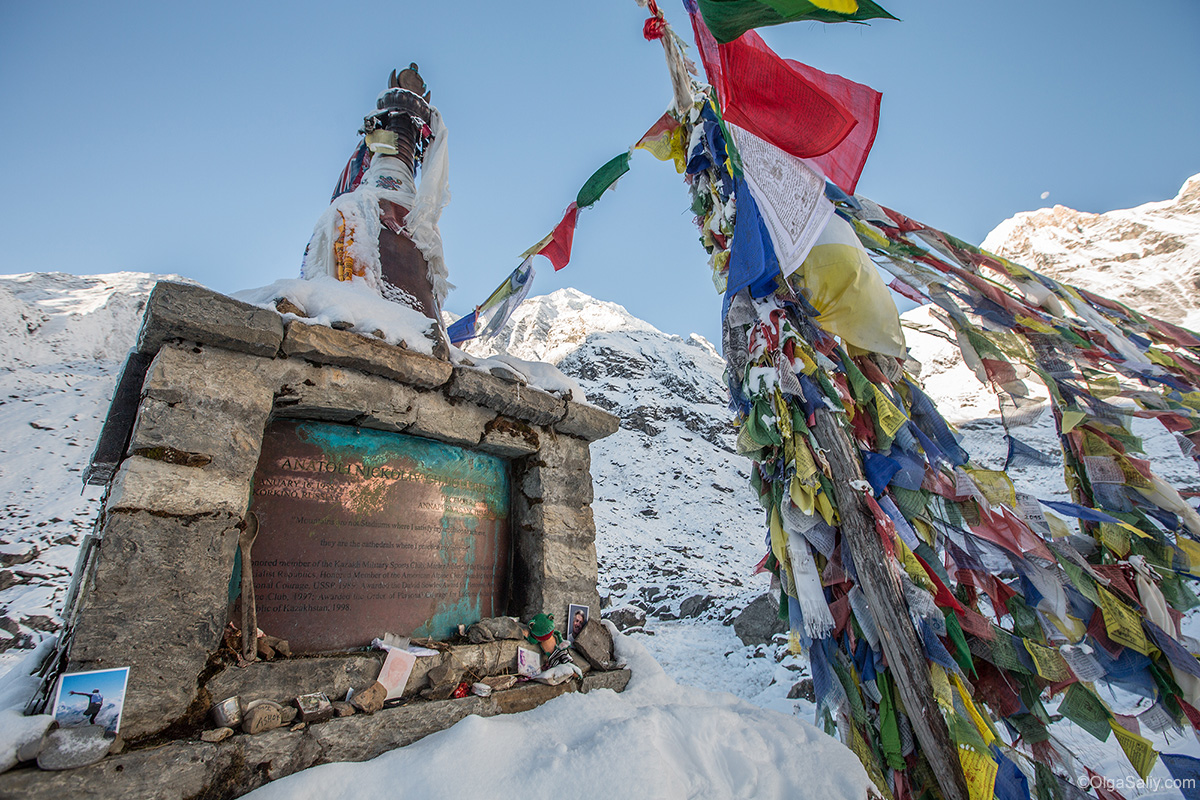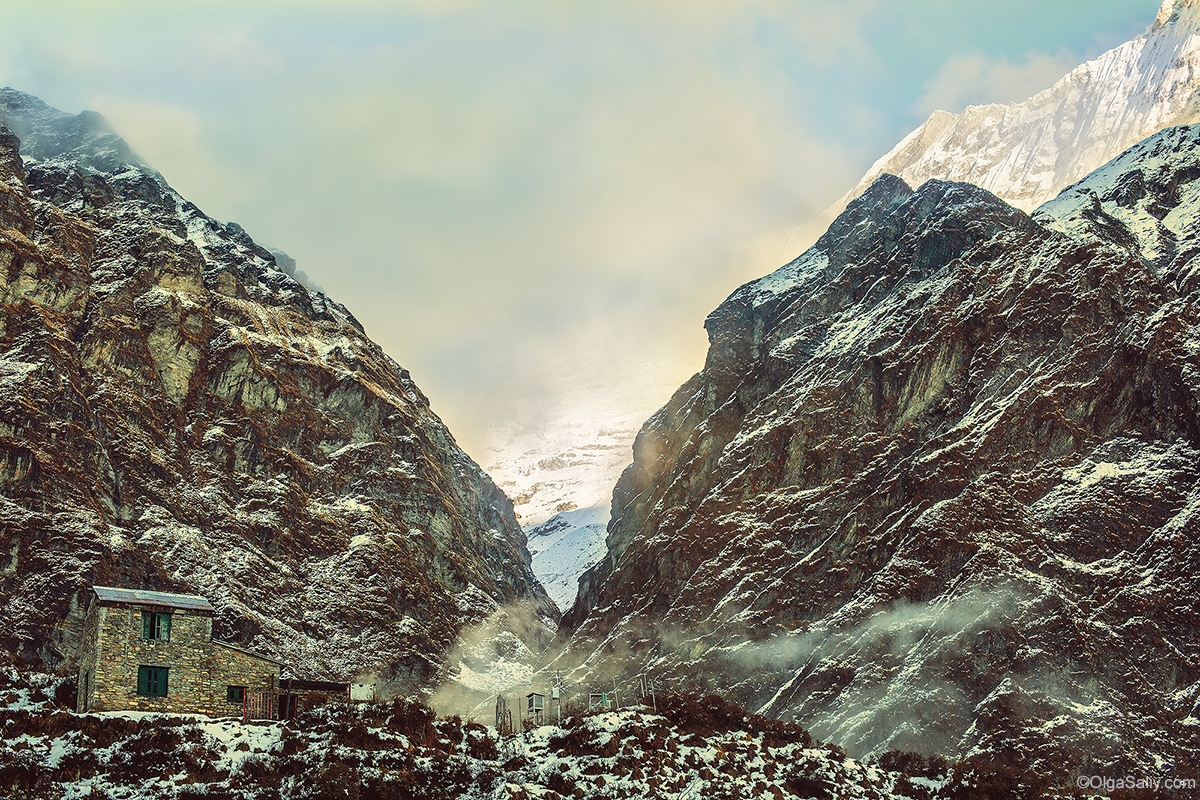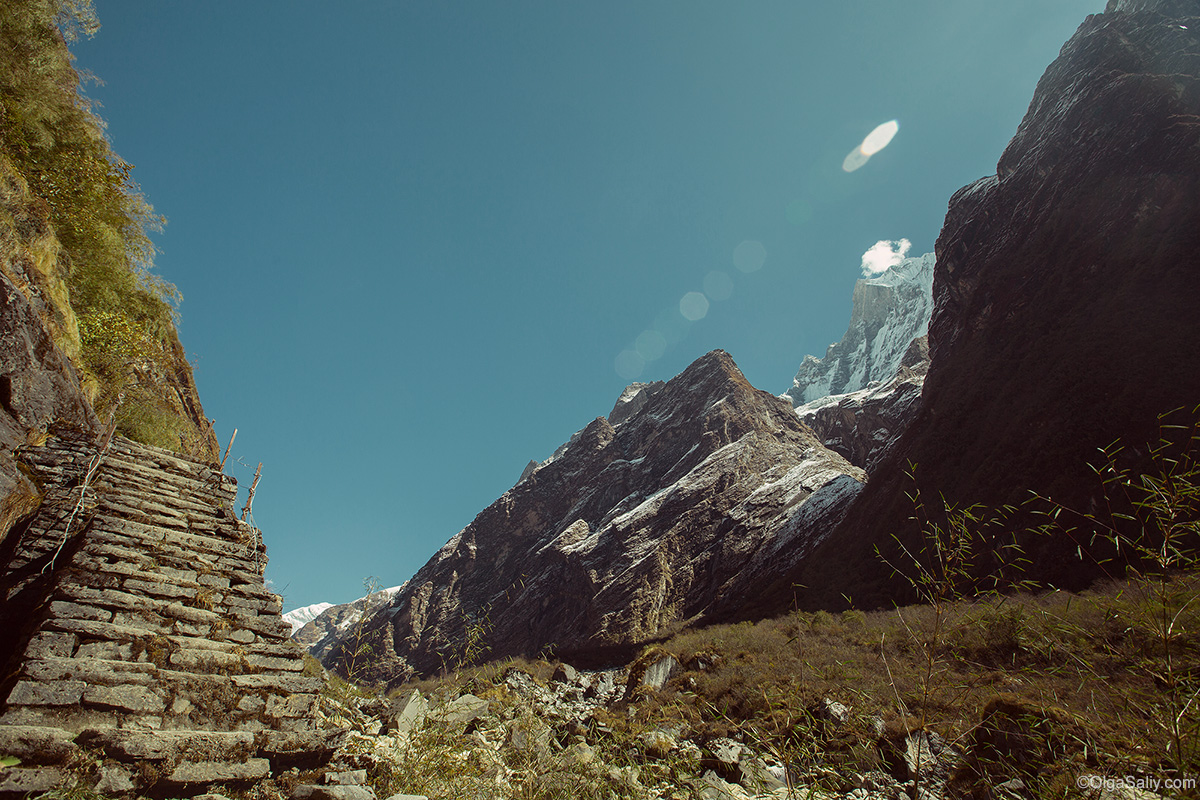 If you go to Poon Hill, you'll see sunrise like this: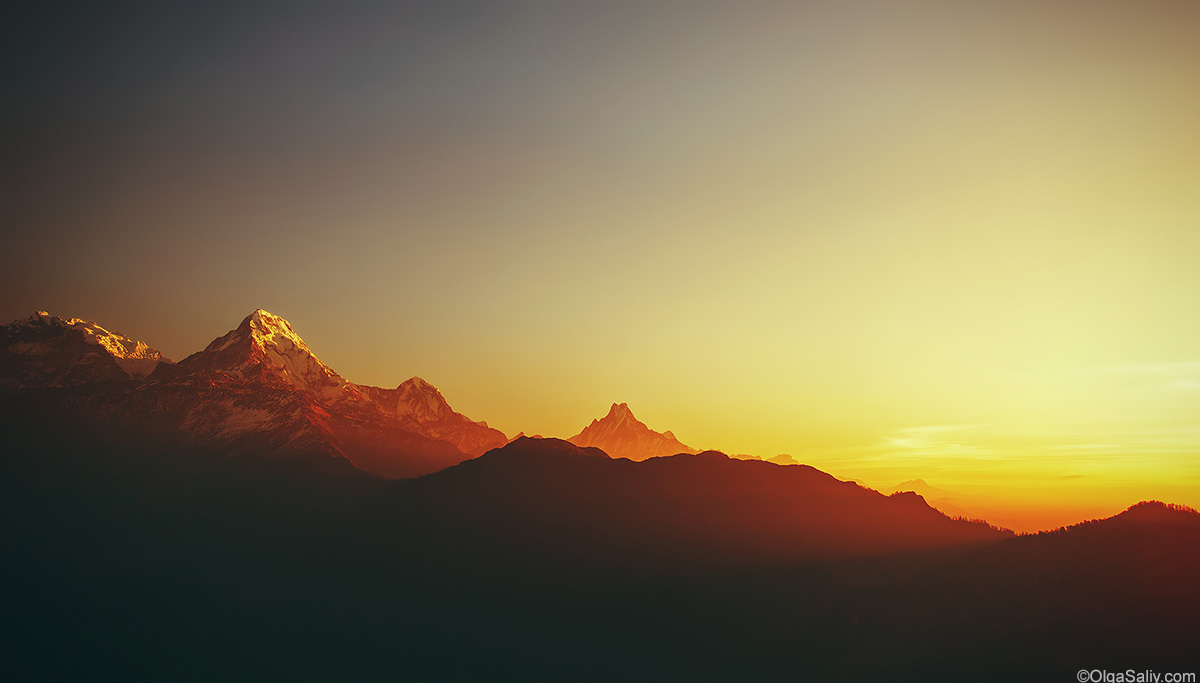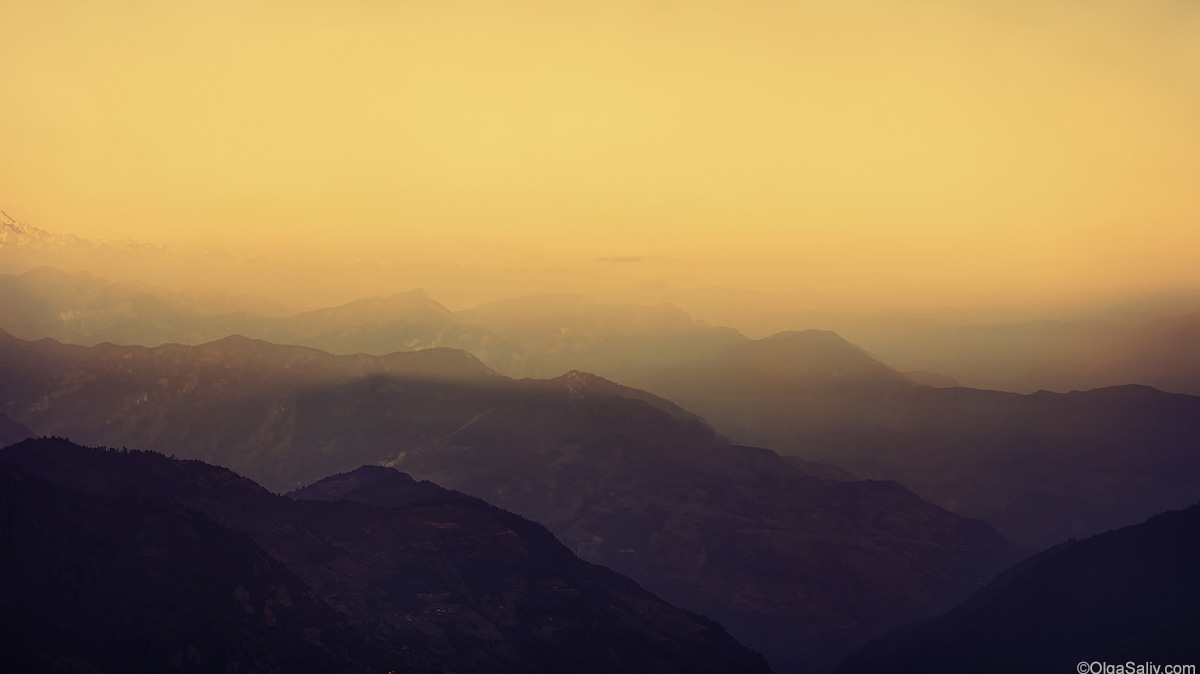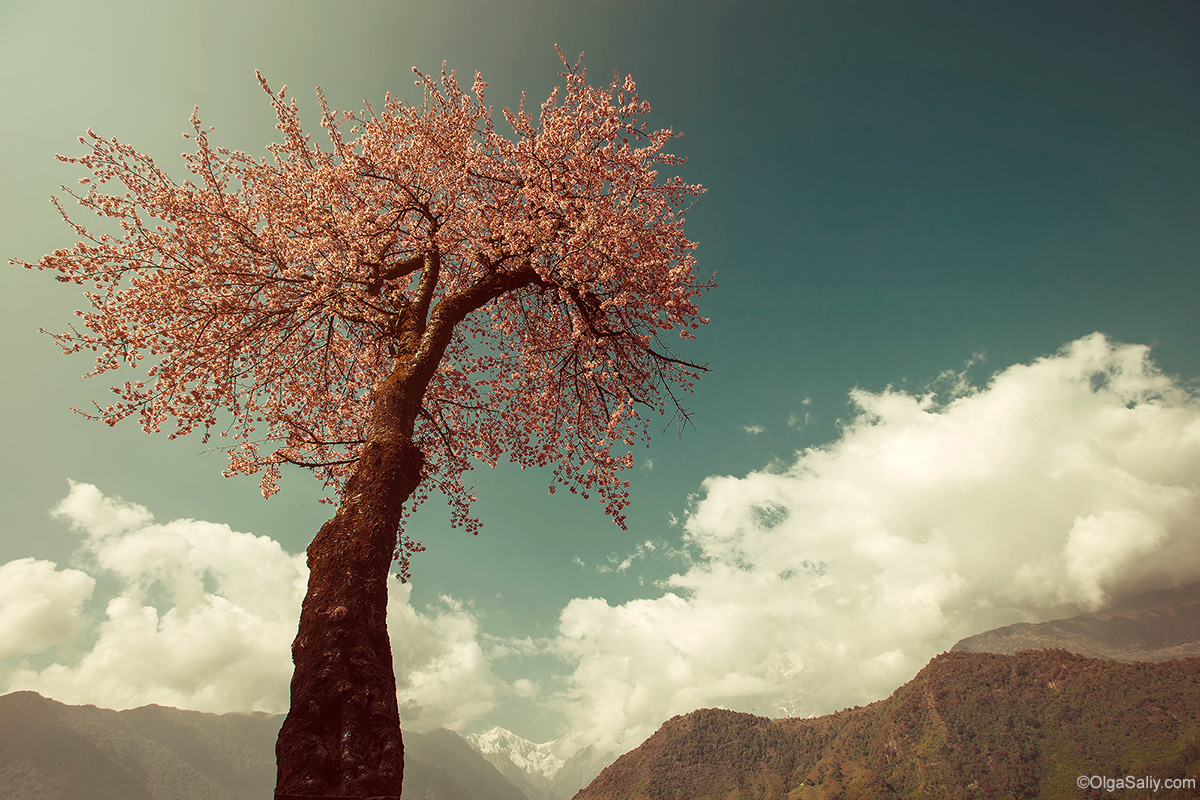 © Olga Saliy. All rights reserved. No part of this article may be reproduced without prior written permission of author.