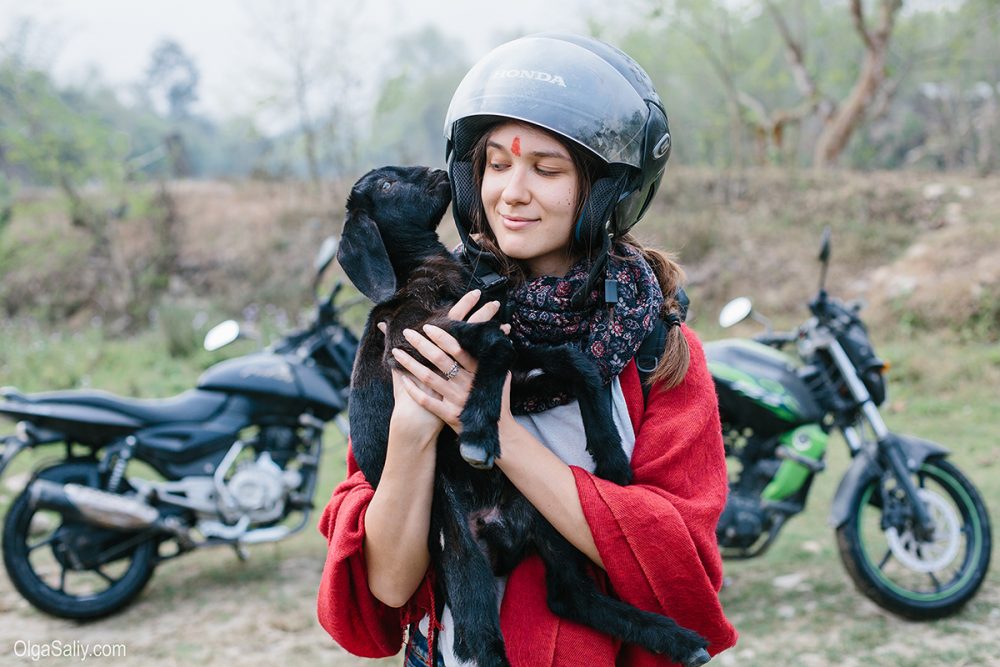 I'll start with what really matters for me — with my feelings, while they are still fresh, because then I'll continue with plain facts and photographs that, as I think, don't reflect what was happening in fact.
And in fact it was HELL.
It was my first trip riding a manual motorcycle (before that, I've had 7-year experience of scooter driving): 5 falls during the first day on rough offroad at the mountain pass, endless narrow and steep serpentine roads, and Nepali traffic mainly consisting of SUVs.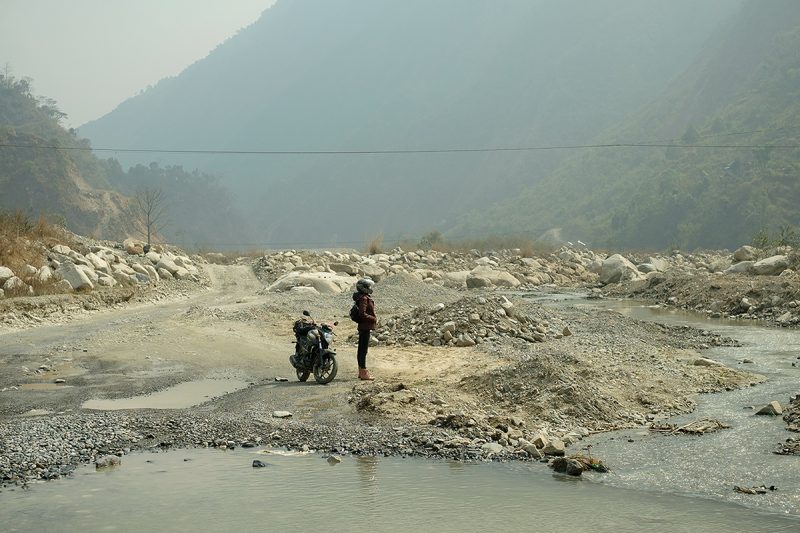 The main points I've learned from this trip:
Falling off a motorcycle may be fun, if you fall not under the wheels of a truck
"If a tractor managed to drive through this, we can either".
It's awesome, if there's asphalt on your way.
If there's asphalt and no Nepali traffic or steep slopes, the road becomes a paradise for motorcyclists.
Evidently, people in Europe and the US are really good and have clean Karma.
Driving on a gravel or Kathmandu roads is relaxing.
Everything what makes people worry and strain in their life is actually disguised happiness.
Those who understand it will find zen and enlightenment even without vipassana and starvation.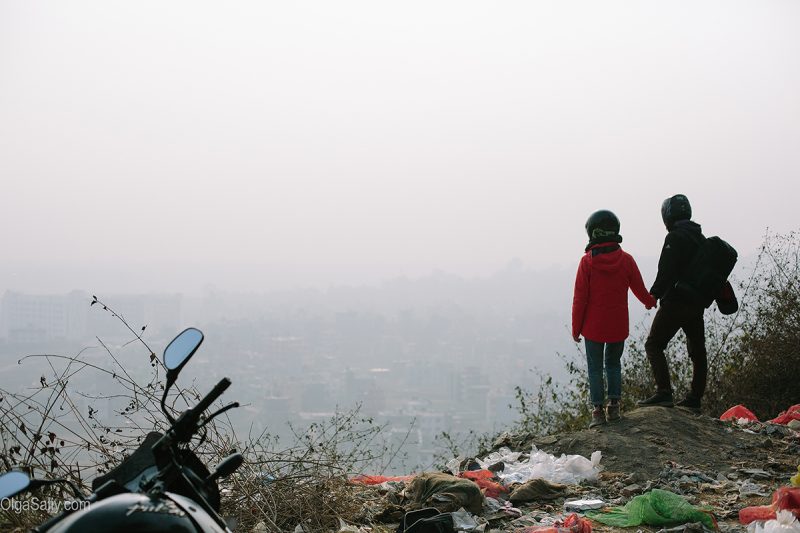 Every evening I thought that I wouldn't take the handlebars anymore. Before every steep descent with stones I didn't understand how someone can ride there. Artem was my saviour saying in calm yet convincing voice: "No worries, you'll handle it. You're driving well". But every time he found a new shithole where I got a new level of relaxation in extreme conditions.
Now, when everything is done, I'm writing this text and already plan when and where I'll have the next offroad, or at least distant, motortrip.
Because in fact it was AWESOME.
It's been a while since I became obsessed with adrenaline, and motor-adrenaline is one of the best I tried. And yes, you can contact Artem (Instagram @nomadicrussian) and get through this yourself.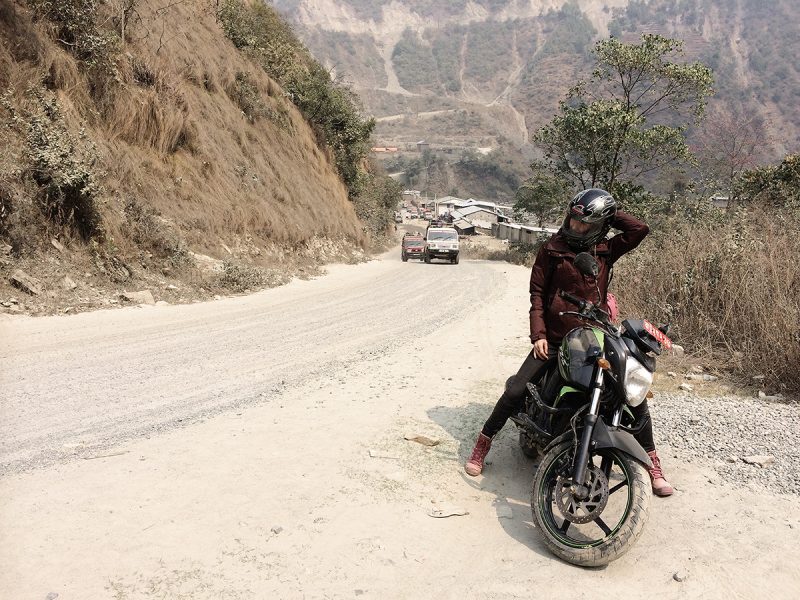 First day. Kathmandu – Chitwan through mountains
There're four roads leading from Kathmandu to Chitwan. The longest one follows the Pokhara route. If you go this way, you'll have an opportunity to see a couple of sights — Manakamana temple and Bandipur. The road is fine, except a big section under repair on Narayanghat Mugling Highway.
We left Bandipur for the way back and went through mountains. Three ways going through mountains are almost the same, one of them is recommended by Google (the way going through Daman). But we chose the one that looked thinner, the average one. To be exact, the way chose us, so that I could taste the delightfulness of such trips during the first day.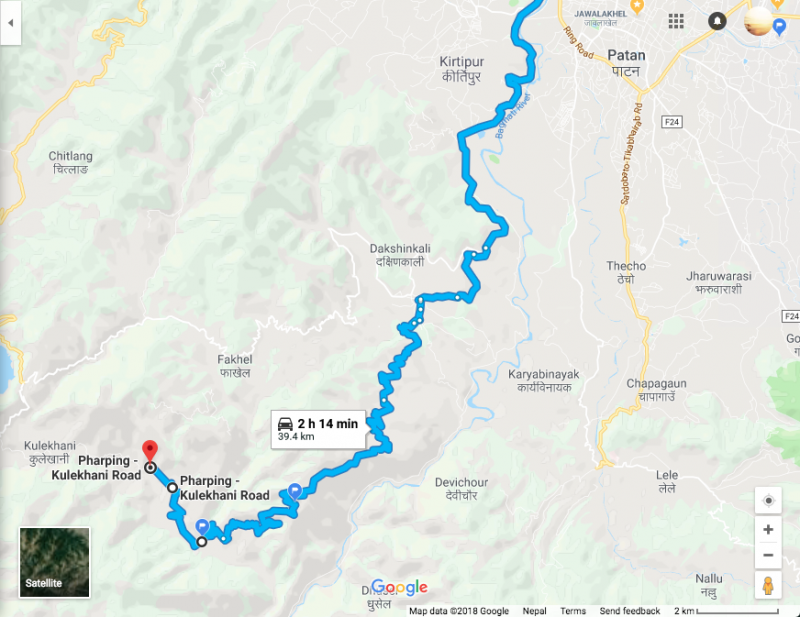 We didn't take photos during this interval because there was fucking hell. And every photograph I didn't take now captured in my mind.
For example:
 Awesome roaring bike that's just fallen on the sand.
Or awesome valley view, when you're standing on the mountain trying to hold a motorcycle on a steep slope, and you realize that you can't move because the bike doesn't go and cramps up, burying itself in the sand and sliding on the stones.
The moment when you got a cramp in your hands because of constant attempts to hold the brake without pressing it too much.
How white and beautiful you are because of dust left after the rushing-by trucks.
Later there were some fords, then narrow serpentine road with high traffic load. It was primarily asphalt-paved but somewhere broken-down and steep, so it was hard enough for me to ride there.
Then the endless paradise began, because we reached surreal Chitwan. After that — bright, high and medieval Bandipur. Riding on a gravel road and flat areas, even broken down, now seemed awesome.
National park Chitwan
Chitwan takes up big area, it's a National park and there're some important facts worth mentioning about it:
Entry to the National park costs 1600 rupees, you'll see there birds-of-paradise, deer, crocodiles (we saw them), rhinos, tigers (fortunately, didn't see) and other animals. In theory, you can wake up and see these animals walking outside your window.
We've never paid for entry to the park and went it through on bikes. Actually, we reached booked hotels, or homestay, and got a temporary ticket for free entry.
Moving from one hotel located within Chitwan to another took a whole day (because of long distances and quality of the roads that were mostly not asphalt-paved).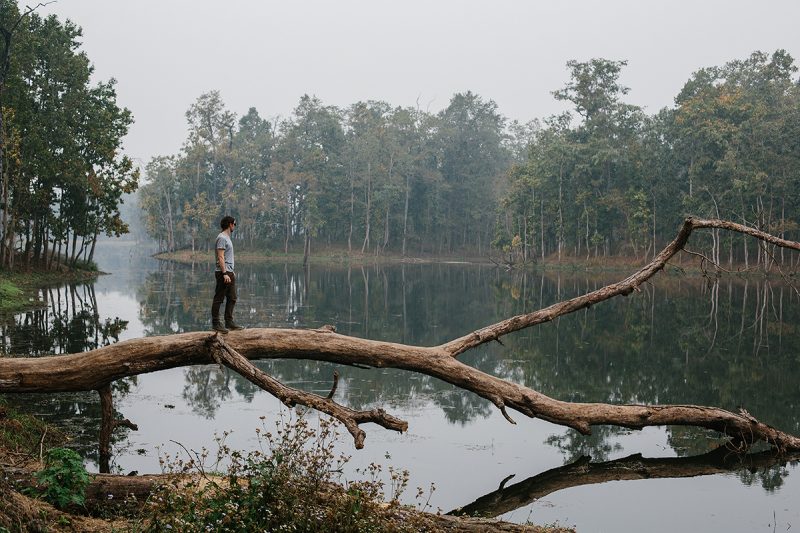 Where to stay in Chitwan
Now I check hotels (rooms, hostels, villas) here>>
It's the best one for me today.
We spent some strange and both magic days in Chitwan, and every next day was more and more surreal. It was no longer real life: we were in paradise wandering around, looking at deer and crocodiles, admiring strange flowers and fog, and we couldn't return to reality.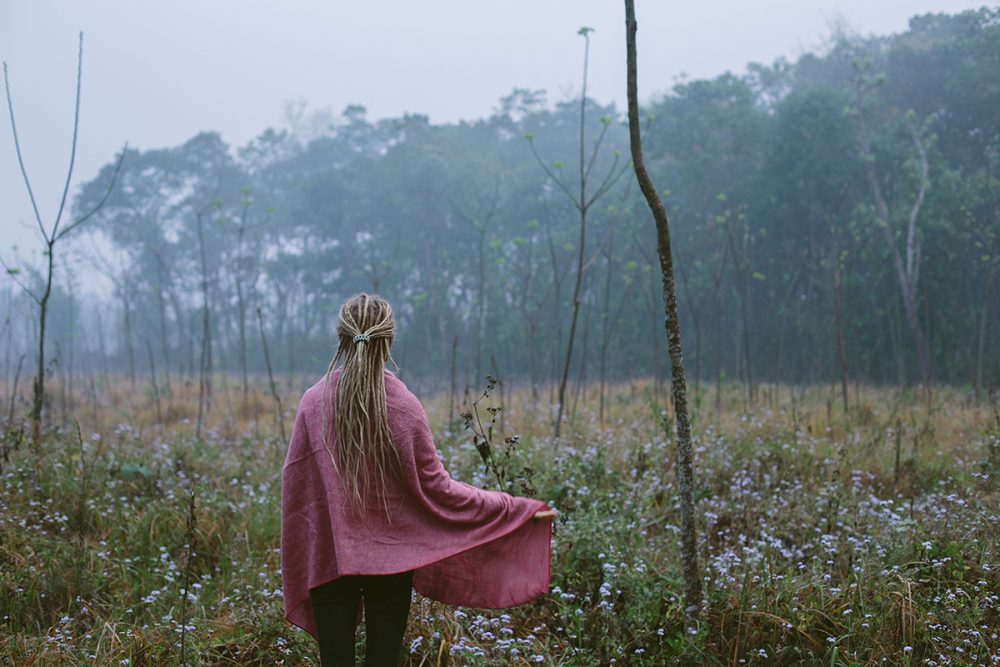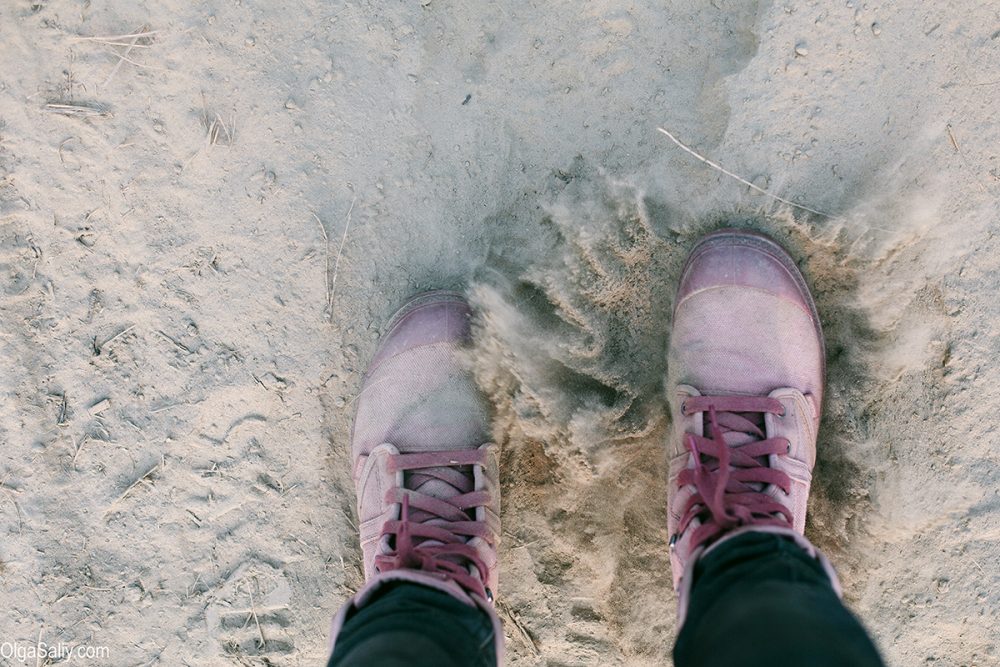 After Chitwan paradise we had another hell of a road, this time to Bandipur. The road was being repaired and closed throughout the day, but all people were driving down this road. Enlightened and white with the dust.
Bandipur, the Newar town among Nepali mountains
Bandipur is an ancient Newar town located 140 km away from Kathmandu towards Pokhara. The Newars are one of the most numerous people in Nepal mostly living in Kathmandu valley. Long time ago, Bandipur was a point of trade that connected India, Tibet and Nepal.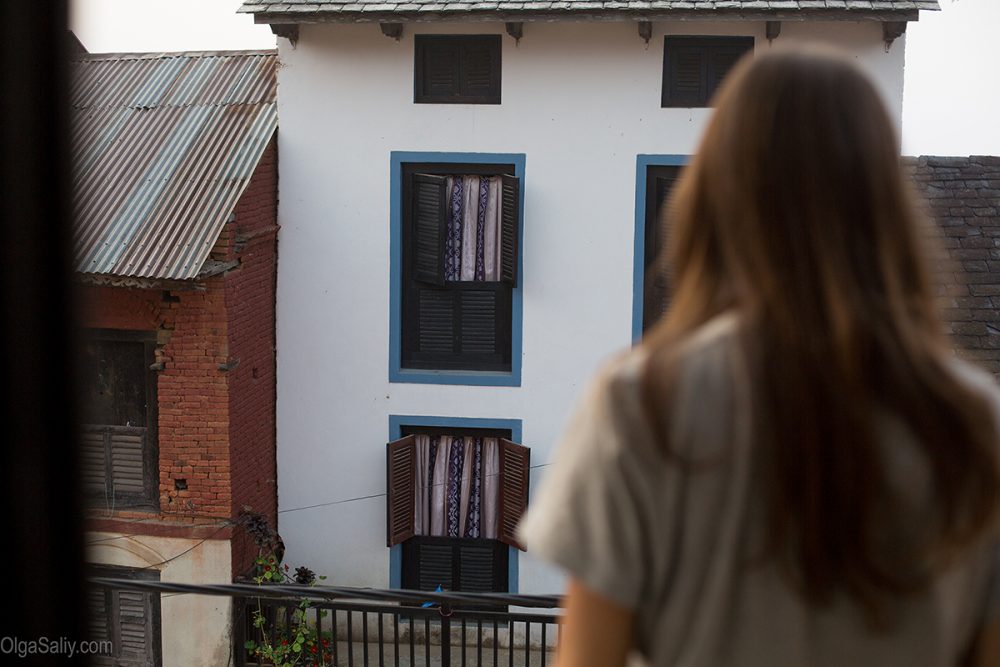 Nowadays, a couple of main Bandipur tourist streets are cozy and full of tourists from all over the world. The town's located on a mountain, and we were riding there across the thinnest serpentine (if you ride there, a horn should be in order) that was asphalt-paved almost everywhere.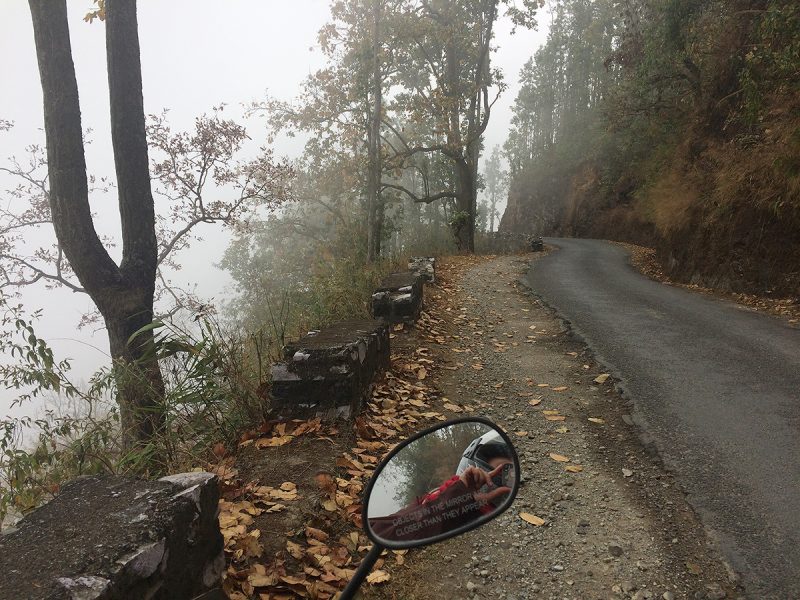 In Bandipur we caught tasty food, relaxing and Holi festival.
The way back also … happened. A couple of times, reaching Kathmandu, I thought that I wasn't able to ride anymore and tried to call for help, but help was already occupied. That's why now I can proudly say that I got all the way myself. Riding across Kathmandu was fine, easy and joyful.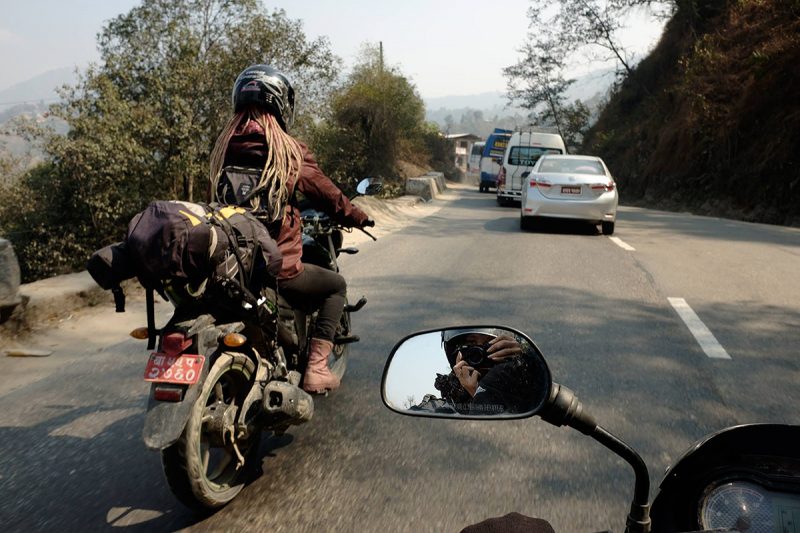 Motorcycles for rent in Kathmandu
Motorcycles like Yamaha cost 800 rupees per day. My bike never stalled under my unexperienced foot, and I think that's great because changing gears wasn't always smooth.
We returned motorcycles without difficulties, and even my bike, that has fallen five times, turned out "unharmed". Then we got to know that this rent company is popular among cool guys using these bikes in serious expeditions. That's why my falls were drops in the ocean. The company's located in Tamele, and I recommend these guys for sure, their Facebook community: facebook.com/citymotorbike.