"Pokhara is a place unique by its unaffected beauty. It's located at 827 meters above sea level and blah-blah-blah…" — it's a common Pokhara description you'll find at tourist websites. And it is usually followed by words about incredible beauty of Phewa lake. Here it is. And it's indeed beautiful.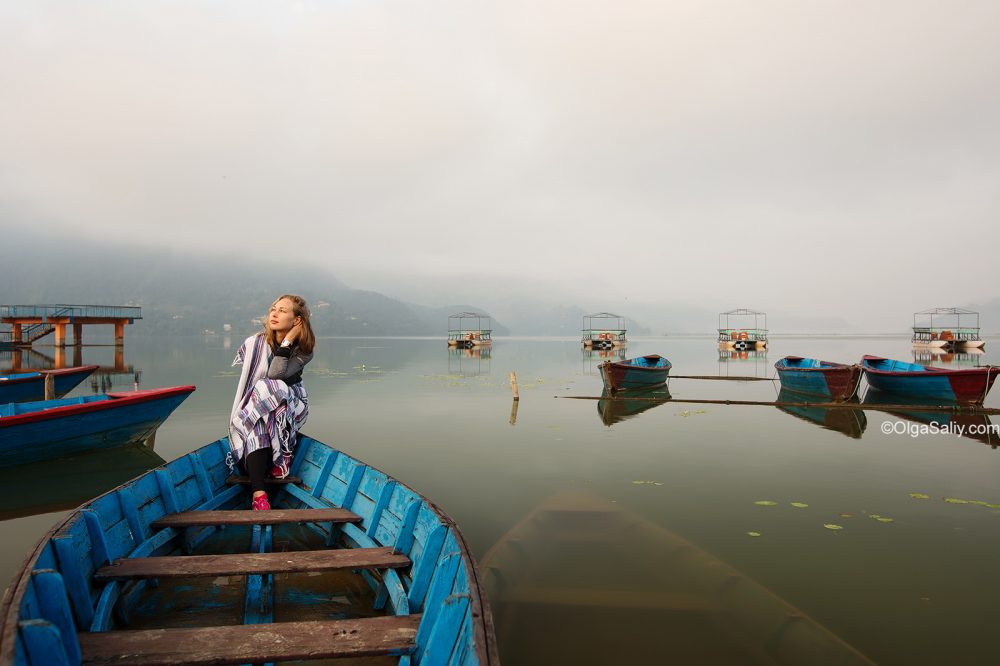 But such descriptions seem too boring and unreal. I think all the beauty of local identity consists in other things, not mentioned in the tourist descriptions. I love Nepal too much, and Pokhara is one of my favorite places in the world. That's why I want to tell about it through alternative photos.
I live in a hotel with windows looking to the lake. It's a contemplative view, especially at night with the mist and lights appearing at the mountains. You don't see mountains, only lights. And they look like liners and ships hanging up in the sky above Phewa.
I like walking around the lake in the morning. While walking you enter an absolutely different world: here you can't take photographs, but eyes are strangely connected to your imagination that draws bright and big pictures of all happening…

Going to the lakeside, I leave that artificial piece of civilization and sometimes find myself in Bible scenes where women carrying a pitcher on their heads go to take on water, wash clothes and head in the lake. Water along the lakeside became white because of clay, soap and washing powder.
At the bottom of the lake, one can find amazing sunken boats that used to be beautiful and multicolored. It's fascinating.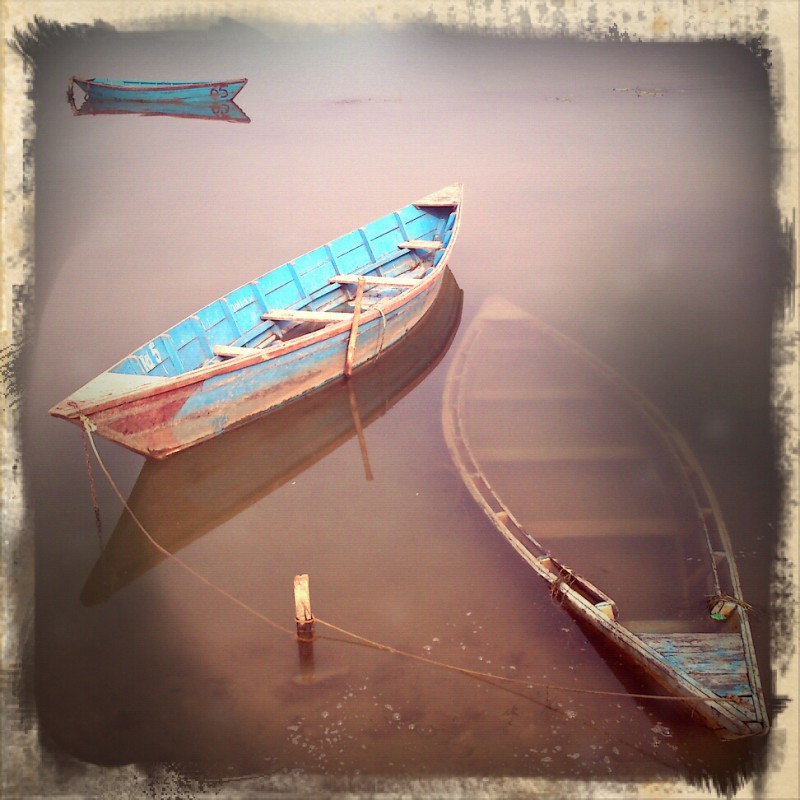 There also live small froglets jumping really long distances and ribbiting in well-coordinated chorus.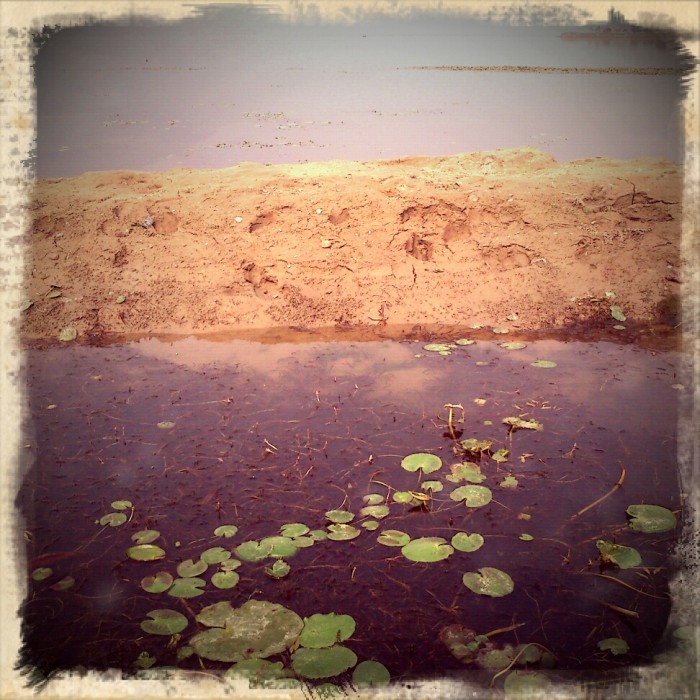 Cow in Nepal is considered a sacred animal, and it can go to the toilet anywhere. Hitting a cow on a road leads to death sentence or long term imprisonment. Animal often walk along the lakeside to drink soap water and wash their feet, that's why the most part of the lakeside looks like a heap of dirt. When the weather is fine and sunny, the dirt hardens and you may walk on it.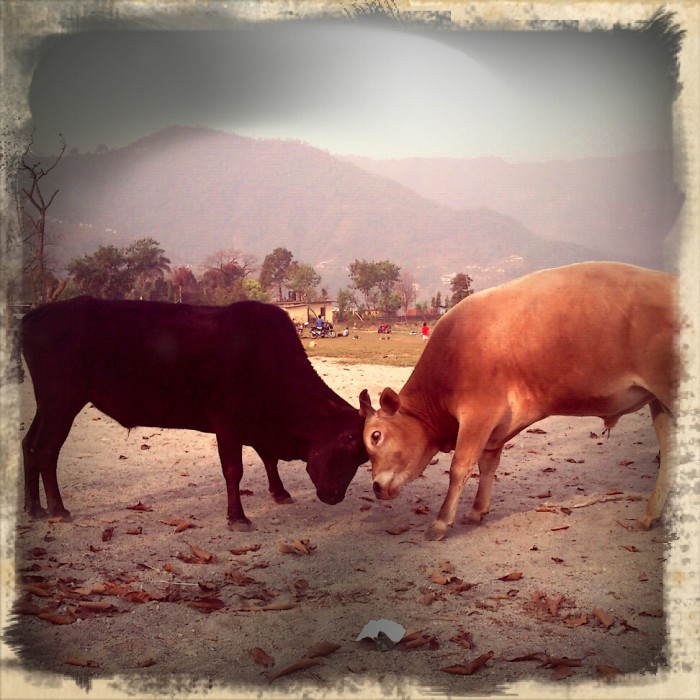 To get home, I find the pipe pouring white water into Phewar — it's not a milky river, it's the same soap water from the channel leading to my hotel and then to Pokhara. It's all along occupied by women and used as a place to wash clothes. That's why the water inside this channel is even whiter than in the lake.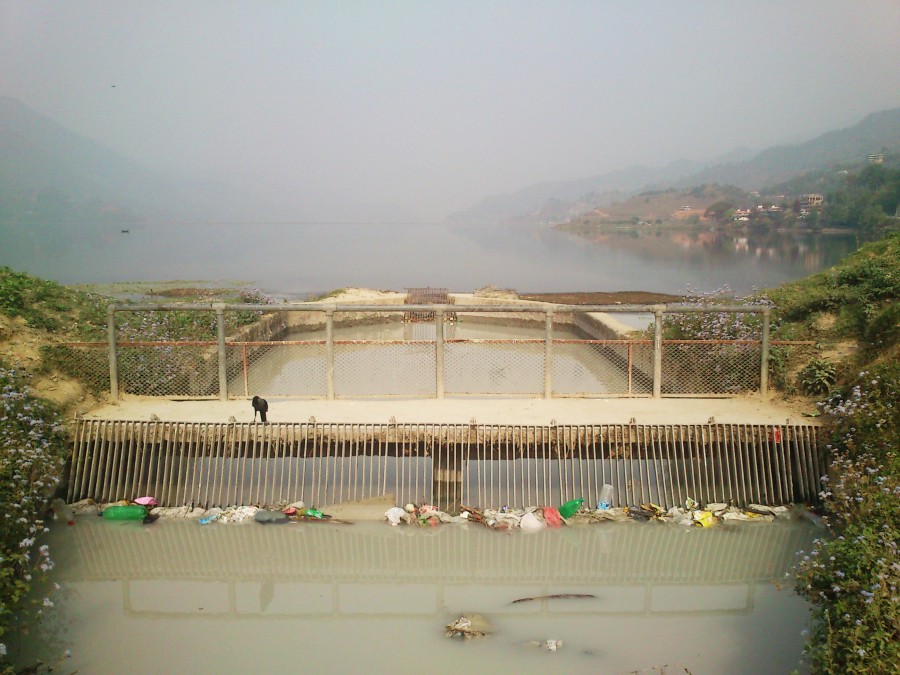 Pokhara is a big municipality in comparison with the majority of Nepali towns. Numbering 200 000 people, it's the third most populous city in Nepal. Lake Side is a Pokhara tourist area located at the Phewa lakeside. The district is fully composed of hotels, restaurants, guest houses and tourist shops selling clothes and souvenirs. Here you can come across few Nepali houses but they will stand out against the most part of buildings.
That's an ordinary view at the central street of Pokhara: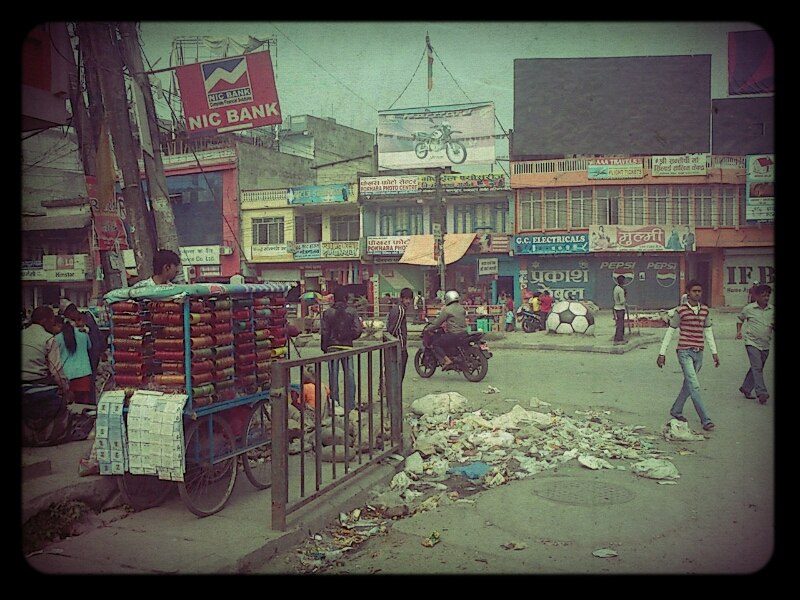 The river flowing through the town: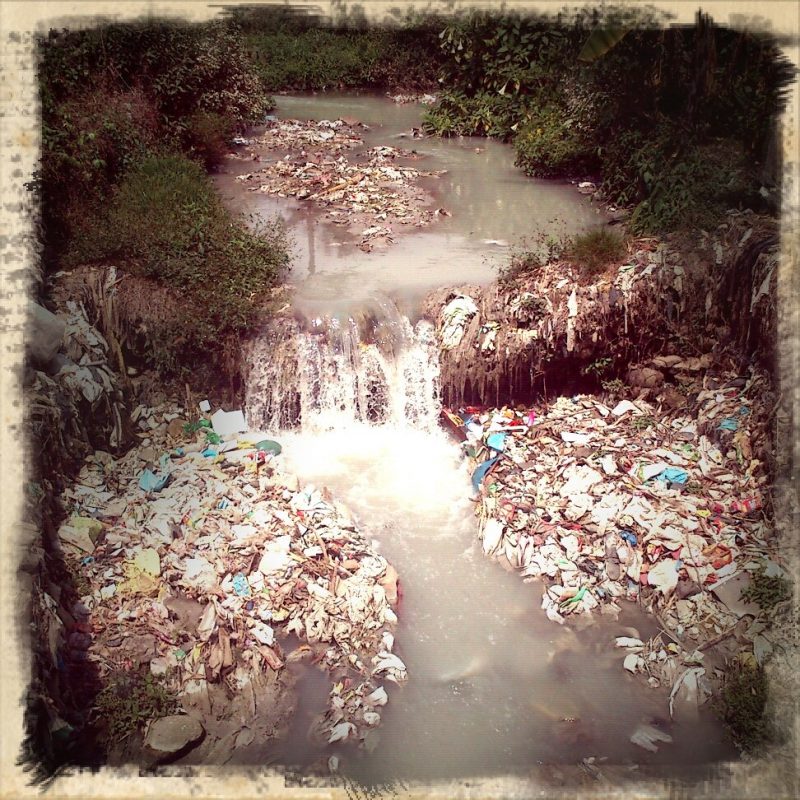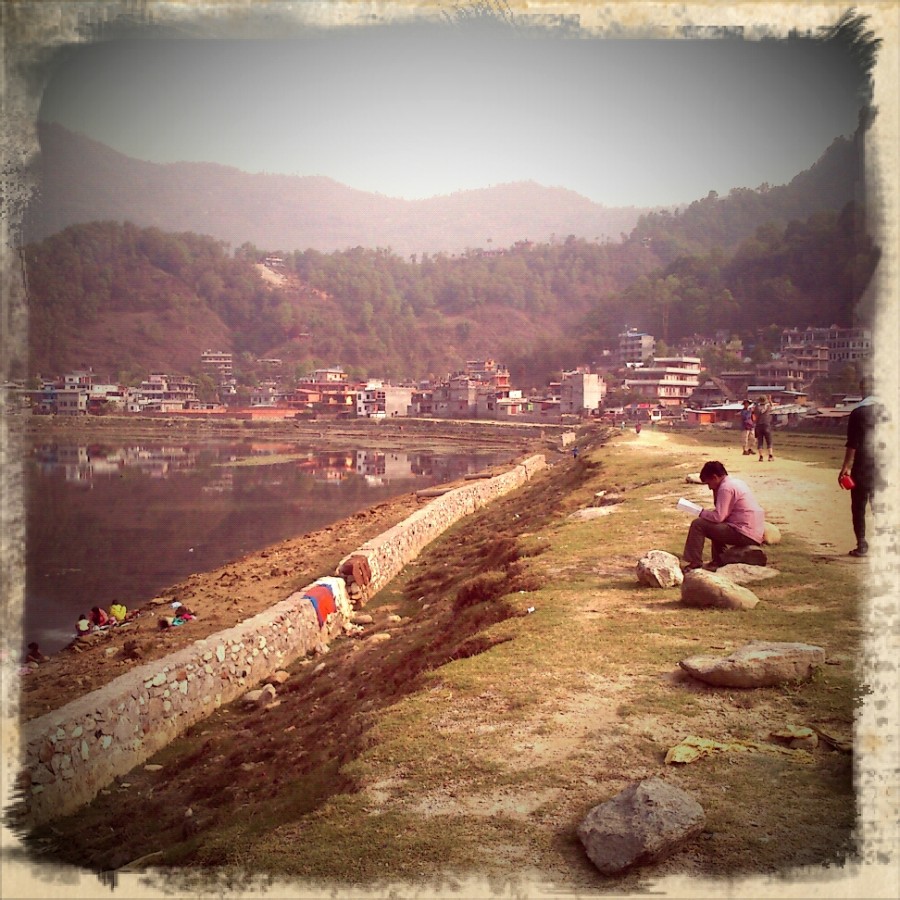 We live a bit aside from the Lake Side center and often see it from a different prospective. We like this place as it's calm and natural. All day long you can observe through the window something like a public bath and people gatherings with beer and discussions. It's an ordinary brook where our Nepali neighbors take a bath.
The hotel territory looks this way: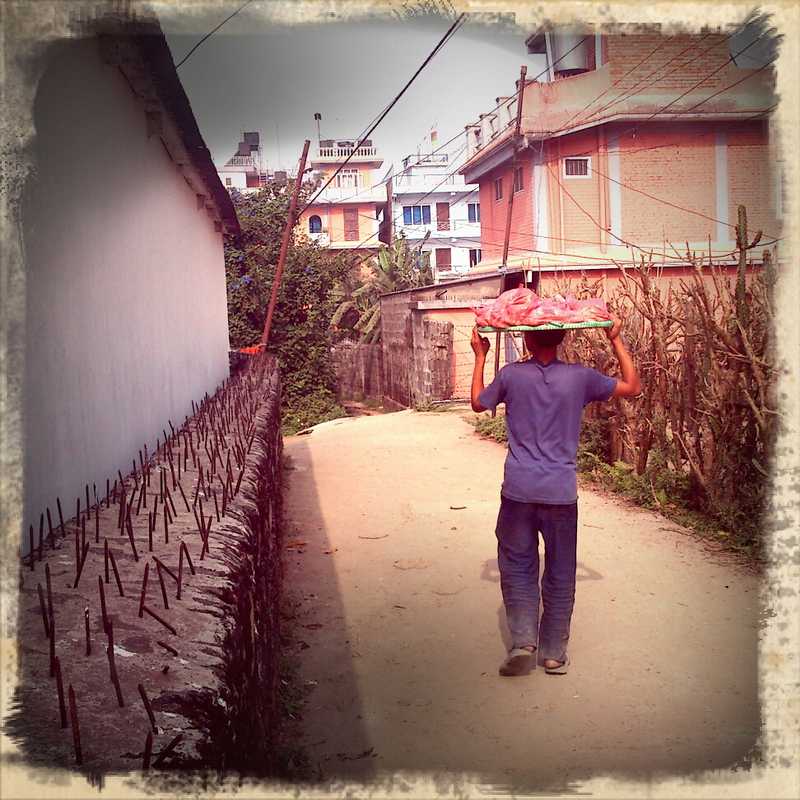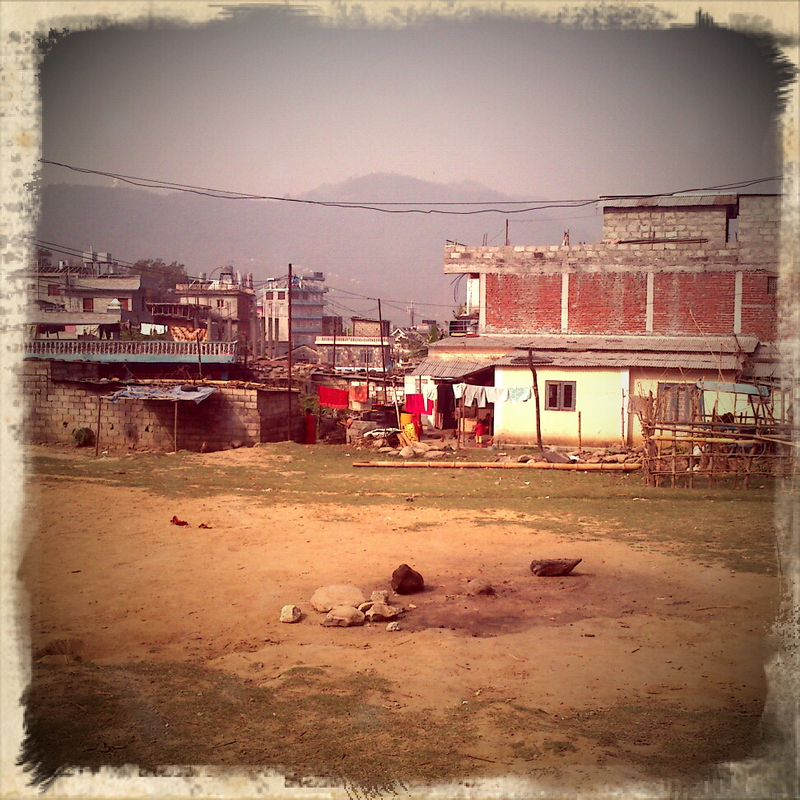 Here is our breakfast and my favorite drink in Pokhara — hot sea-buckthorn juice.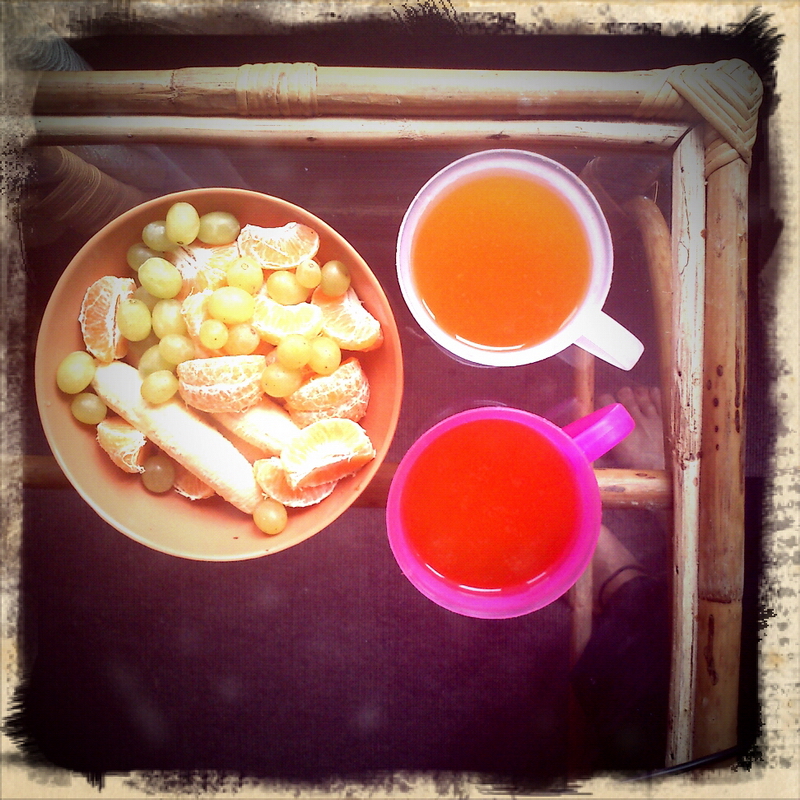 When I find myself in the center of Lake Side, it seems like everything around me is unreal, like I'm on the island surrounded by a drop. Life outside Lake Side is absolutely different. And what is inside is an artificial world created for tourists and separated from the real Nepal by invisible screen. Nepalese don't live this way, they just play certain roles and create homelike atmosphere for European tourists to be satisfied.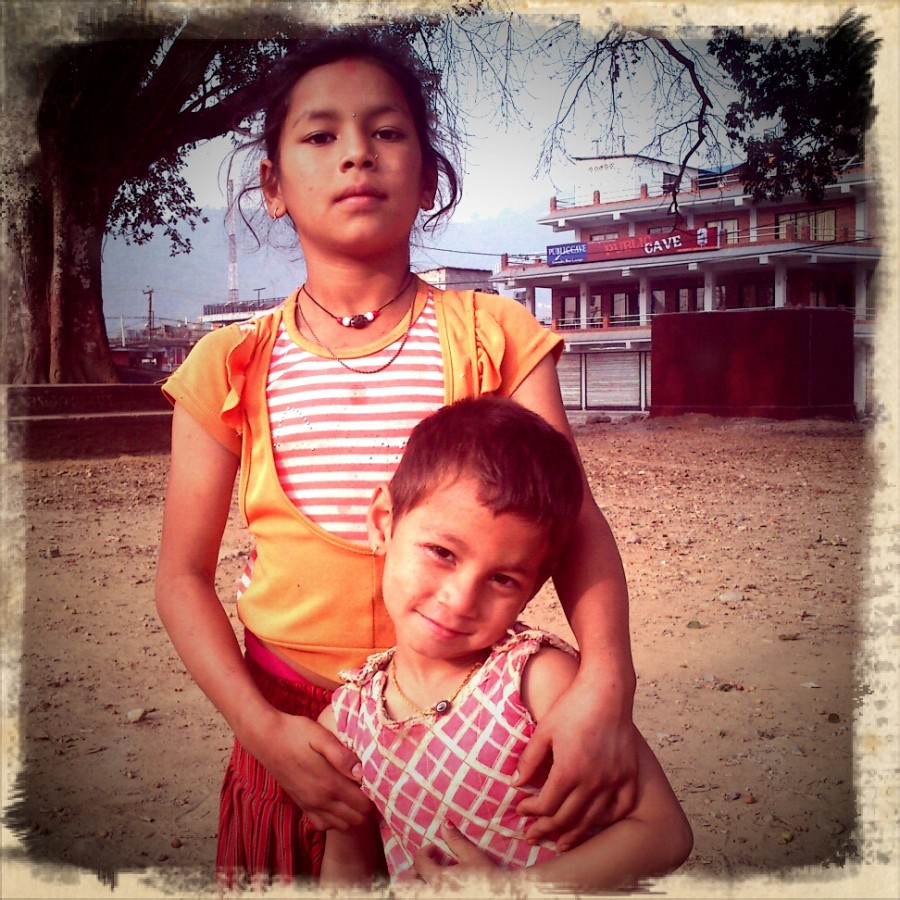 Of course, there are sightseeing attractions in the Phewa area. Honestly, I haven't visited all of them, but found a place with the tastiest momo, where I can sit in the morning and observe children and adults being happy about something that our gadget-oriented mind will never understand. These people live among real ruins. They could undertake simple actions to make life better, but they don't care. Women walk in bright sarees and long skirts right among these ruins. It looks beautiful. Nepalese like to sing — playing a guitar or without it. Cows may stand for hours and listen to their songs…They smoke Mary Jane and they're happy. Why do they need civilization? They don't need to make anything better as LIFE is BEAUTIFUL anyway.