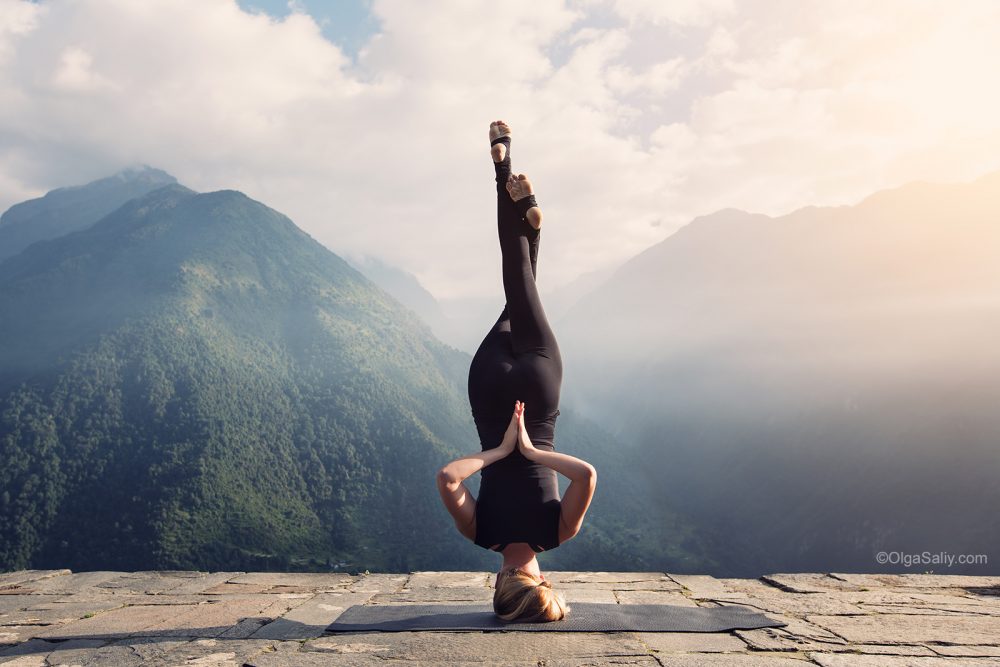 Yoga retreat and trekking course "Yoga for Health" is carried out in Nepal, Thailand, Russia, Kazakhstan, and led by 69-years old yoga therapist and mountaineering instructor.
Yoga for reinstall my health
If you've ever had to reinstall system on your computer, you'll understand me. Imagine that you reinstalled the system in yourself, not in a computer. How does it feel? Everything is clean and feels like a "new leaf" – system's running fast, a lot of memory on a hard drive, and you're full of energy.
I feel exactly the same after detox yoga workshops. Six hours of yoga per day, meals without salt, sugar and flour, a lot of fresh juice — all that makes you stronger and more flexible… After a week of training you feel reborn, and after a month… Actually, when I came here in a really bad condition, it was like a new life.
It's "health improving yoga", and people come here for a month to recover from serious illnesses (like multiple sclerosis, breast cancer, uterine fibroids, back problems, etc.) or to get really good progress in yoga.
Now Yoga Detox  workshops take place in Pokhara, in Nepal Yoga Camp and in Moscow, Russia. The workshops are led by 69 years old yoga teacher and yoga therapist Tatyana Maryna. She goes trekking and practices yoga so easily, like I can't. I visit this yoga camp every few years and I think it is the best course to reborn.
Here are my notes describing everyday impressions left by one of the detox courses.
The first day of yoga training
Yogatherapist: "relax, feel how your muscles are flowing"…
Everyone in the class is awkwardly bending and puffing in a yoga pose. At that moment Alex says, "Oh, then what I feel must be flowing muscles?"
That day Alex said some more memorable phrases. For example, "Pashchimatanasana without the bridge – money down the drain."
Or: "I've been training in a gym really hard, but to be honest it was a lot easier than here."
The fisrt day was relatively easy for me, but it helped me realize how weakened my muscles and joints are. I decided to practice yoga intensively during the next days.
The third day of yoga. It's terrible. My every muscle aches, groans and pretends to be wooden. I try to relax, get distracted from the pain and engage in training. Don't miss exercises.
I think this course may be called "Shaolin yoga". Here you learn to fight your weakness, and every day someone from the group gets skilled at something that he or she used to consider impossible.
The fourth day. Finally the energy comes to me. Something starts happening inside my body, muscles almost don't ache.
That day a new person joined our group. It was one of the participants' wife, she came here to get through this course together. Now I know why husbands send their wives here. After this awesome yoga-course we become thin and wiry like teenagers. The energy inside starts singing and dancing all the time. It's beautiful.
The fifth day. That day my body waked me up at 5.30 and carried away to run on the beach. It was a fairy tale! After jogging I swam in the sea and had five hours of yoga. There was a beautiful sea, cool breeze and singing birds…
Then I stopped counting days and writing down my experience. My body started working and practices became calm and smooth.
One day I paid attention to a new feeling — sitting in a tuk-tuk I realized that I can sit with a straight back for a long time. It was strange feeling, like my muscles were made of iron. Something kept me like in a corset.
Daily schedule in Yoga Camp:
7.00-8.30 — Pranayama, kriyas, mudras, meditation.
8.30-10.00 — Asanas, basic practice (suitable for one-time visit).
10.00-11.00 — Individual practice in asanas, Nidra.
19.00-20.30 — Asanas practice.
Contacts of the yogatherapist:
e-mail: t.yogatherapy@gmail.com
Instagram Page >>
Facebook page >>
And more information in her blog.
And some Instagram photos from me and the teacher (Nepal and Thailand trainings):