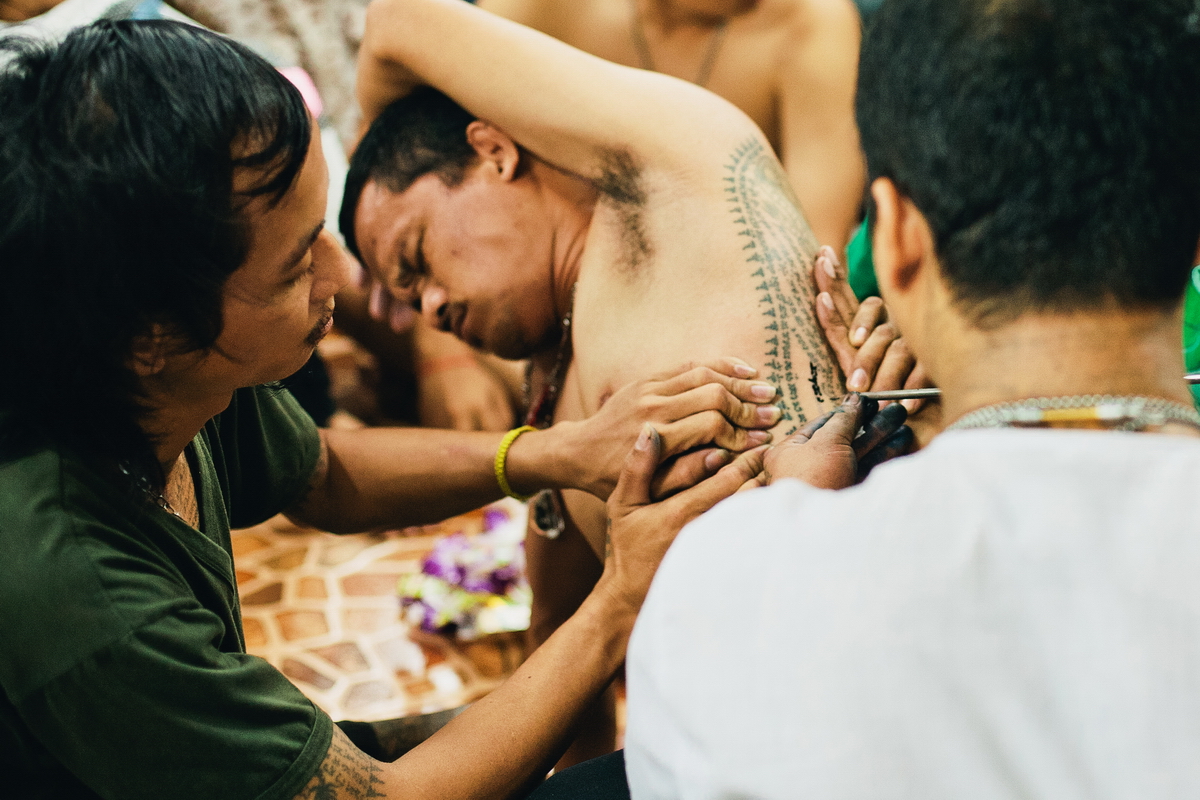 What is Sak Yant and why do people make them?
Sak yant is a form of magic tattoos that appeared more that 2000 years ago among Tai people in south-west China and north-west Vietnam. Sak Yant depicts holy geometric figures, animals and deities accompanied by phrases written in Pali. Thailand borrowed this tradition from Cambodia in early 17th century, when Siamese and Khmer troops fought together against Burma. Now Sak Yant is most popular in Thailand, and less in Cambodia, Laos and Myanmar.
Sak Yant is believed to bestow protection, power, wealth and charisma to its owner. The tattoos are traditionally tapped with metal needles, but nowadays people began to use tattoo machines, especially in places popular with foreigners who worry about sterility.
Meanings of characters in Sak Yant. Yant, the part that's not a drawing, consists of Buddhist prayers and phrases from Pali spells. As Pali language itself doesn't have a written form, they are written using Khmer or Thai alphabet. In central Thailand, yants are written using Khmer or Shan alphabet, in the north — northern Thai or Tai Lü. Some Yants were borrowed from shamanism practiced in Southeast Asia before Buddhism.
Animals. In addition to inscriptions, tattoos may depict animals (tigers, monkeys, geckos, etc.) that bestow certain qualities to their owners (details at the end of the post).
Colours. Sak Yant tattoos may be black, red or transparent.
In contrast to western culture, where tattoos are considered a simple way to decorate a body, Sak Yant is full of spirituality and superstitions originating from animistic ideas and characters. There is a belief among Thais that western people will never understand and realize the value of Sak Yant. One more important note: for Eastern people, head is the most sacred part of a body, what is below — less sacred. That's why foreigners with Buddha tattooed on their legs will provoke a negative reaction from Thai people.
Magic features of Sak Yant and prohibitions for their owners. If you believe in Sak Yant magic, it will change your life. There are three principal actions of sacred tattoos. The first one: Sak Yant bestows useful skills to its owner, like eloquence. The second: tattoo protects a person in a dangerous situation, that's why Sak Yants are popular among policemen, soldiers, taxi drivers, etc. The third: Sak Yant allows its owner to influence other people — to scare them or inspire respect. But along with that, there exist rules to follow for Sak Yant owners. If you ignore them, Sak Yant won't work for you.
The rules are comparable to religious dispensations — you shouldn't kill, lie, steal or sleep with another man's wife. Prohibitions of drinking alcohol and eating meat are also common among the rules. Every monk has his own list.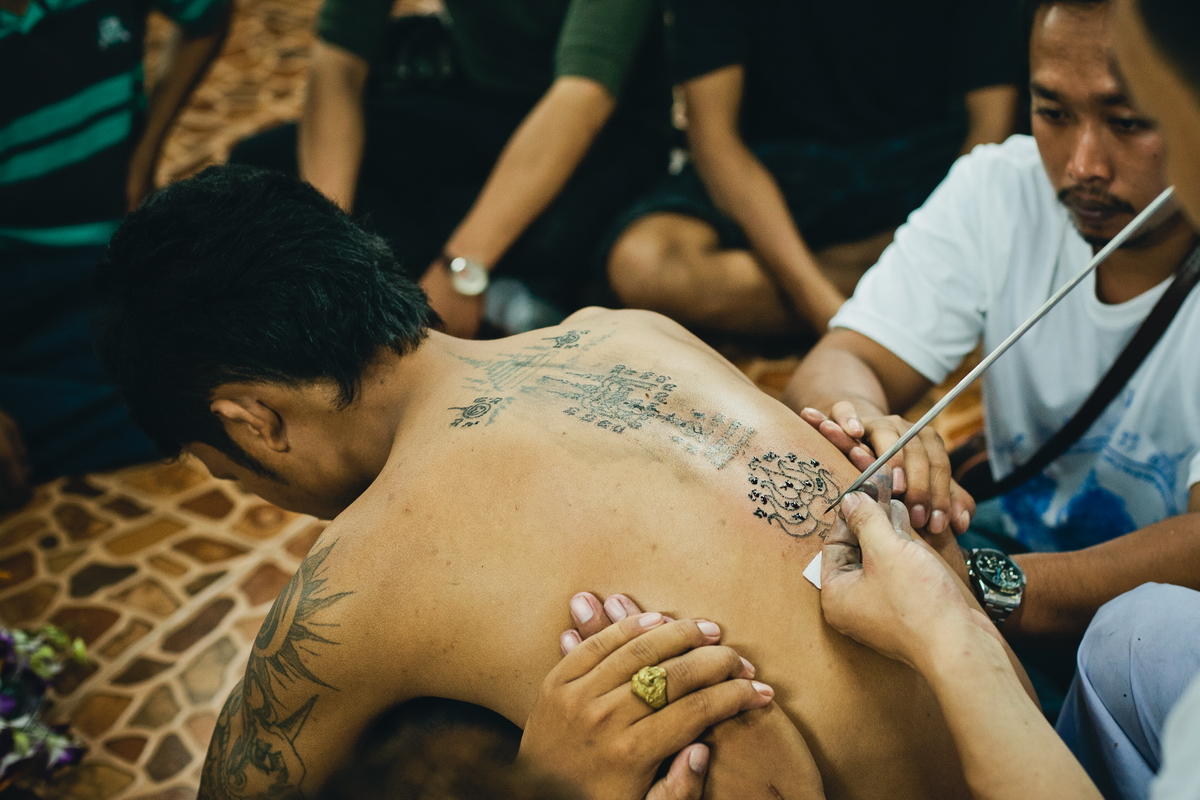 Where to make Sak Yant in Thailand
There are many different masters making Sak Yant, but they are like dentists: you won't know him until he taps a tattoo on you.
Some of Sak Yant masters are very expensive and popular; others, who don't like or don't want to hype oneself, aren't. And it should be obvious that Internet popularity doesn't mean quality.
It's easy to choose the master you know about because only the lazy didn't say anything about him. You just call and get the place.
You can choose one of the most expensive master known for tattooing famous people, like Ajarn Noo. He lives in Bangkok and takes about $1000 for Sak Yant.
Alternatively, you may come to a temple or to unknown adjarn and meet him in person. In Wat Bang Phra you can make a simple Sak Yant for free, the only fee will be 100 Baht donation.
Everyone has his or her own criteria to evaluate master's skills…
Sak Yant masters
Ajarn Kob, Ayutthaya is one of the most popular masters among foreigners, lives in Ayutthaya. You can get there from BTS Station "Victory Monument". You come out of the station and ask anyone about bus to Ayutthaya. Passersby will show you the direction to mini-bus station where you should take one of the mini-buses and go to Ayutthaya. There everyone will show you where to find Ajarn Kob, or you can take a taxi right to the Ajarn's place. Ajarn's phone: +66 8155-77-958, his assistant: +66 8660-81-749. Price for Sak Yant starts with 1000 Baht.
Ajarn Tong. Master lives and makes tattoos in Bangkok and Singapore (Sultan Plaza in Singapore). You'll find him there: 42 Soi Therdthai Phasi Charoen, not far from Talat Phiu. Phone: 02-869-1425. Price for Sak Yant starts with 100 Baht.
Ajarn Tueng Kongton. The master makes unique tattoos that nobody will make you. You'll find him in Bangkok, not far from Baan Pra pin 5 village, address: 109 Soi Ekachai Bangbon. Phone: 081-496-0076
Information about other masters you'll find here: sak-yant.com/samnak-sak-yant/ajarn-kob/ — it's the Ajarn Kob web page, but you can choose another master in the right column list.
Or as I've already said, you may come to a temple and choose "your" master there.
Choosing master and Sak Yant Festival in Wat Bang Phra
If you want to choose a master in person, then it's easier to visit Magic Tattoo Festival held every spring (usually in March) in Wat Bang Phra, not far from Bangkok. That night the temple is full of masters (monks and ajarns) and you can choose the one you like.
  Actually, Wat Bang Phra is one of the most famous temples where everyone, man or woman, can make a Sak Yant, and you can come to the temple on any weekday. But the annual tattoo festival gathers a great number of masters there. Simple designs are free but you need to donate 100 Baht. More complex designs (birds or animals) are paid, cost about 2000-3000 Baht (within $100).
Needles are sterilizes for the only sake of appearance (you'll see that process). Usually there's a line of people wanting to get a tattoo from a particular monk. If sterile tools are important for you, ask who can make a tattoo using a tattoo machine. Now it's also possible at the temple.
How to get to Wat Bang Phra
Coordinates of the temple: 13.903211, 100.198342. You may get there by taxi from Bangkok (about 30 km from the city, and about 900 Baht in one direction), by rental car/bike from anywhere in Thailand or you may try hitchhiking.
Annual Magic Tattoo Festival in Wat Bang Phra (photos)
Now let's turn to the festival, a real show. It begins the night before the official part, when people come to make a new Sak Yant or refresh an old one (Sak Yant is believed to lose its power over time, that's why you need to refresh your tattoo from time to time).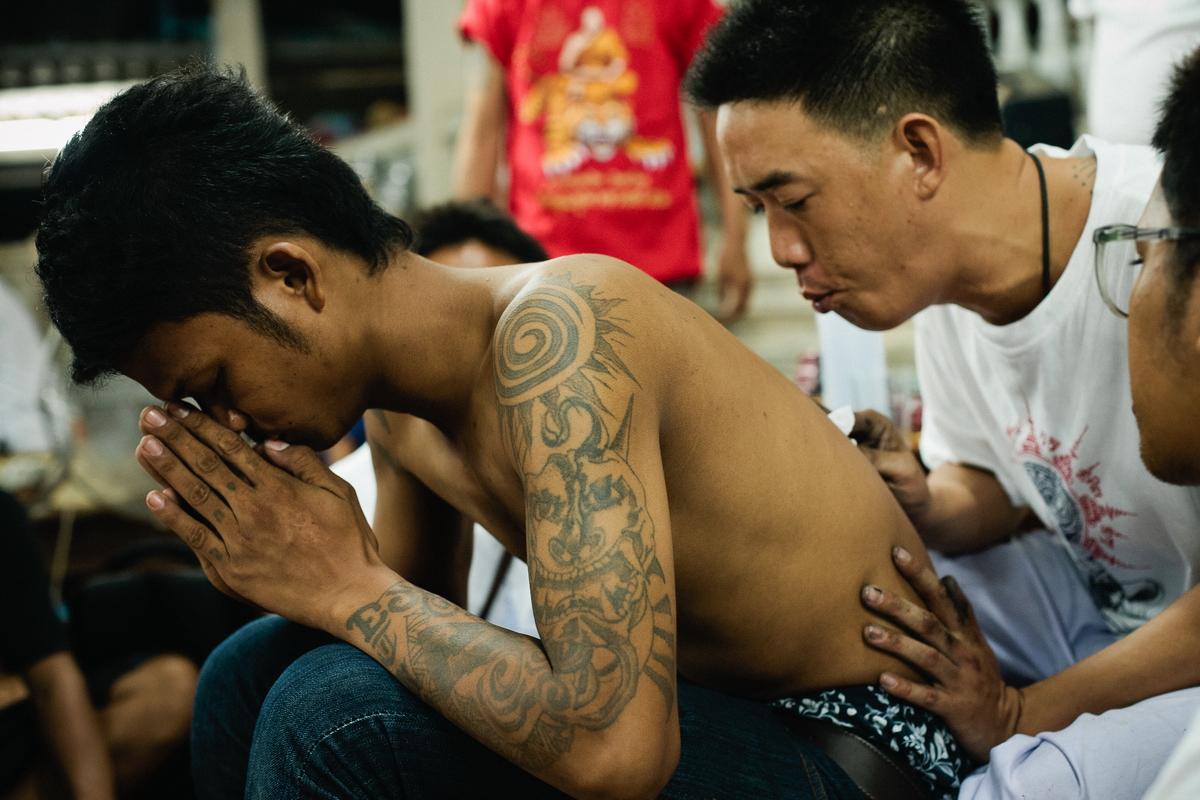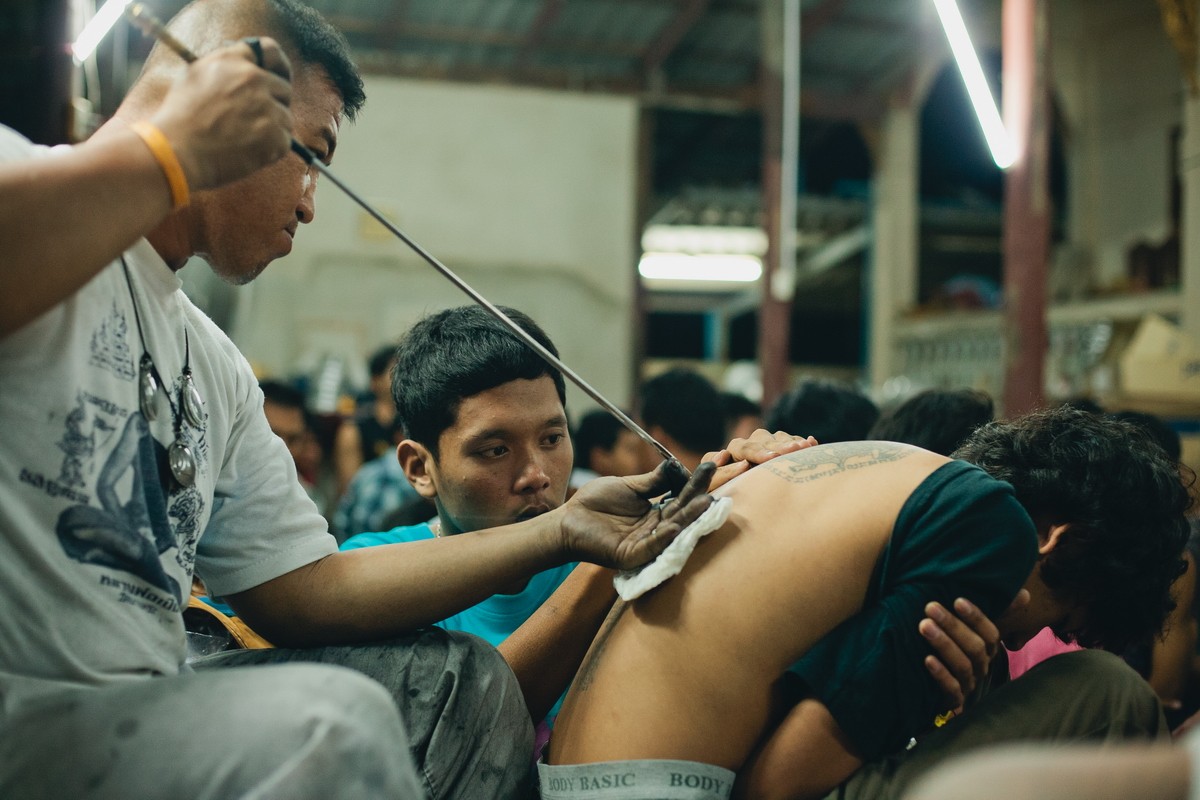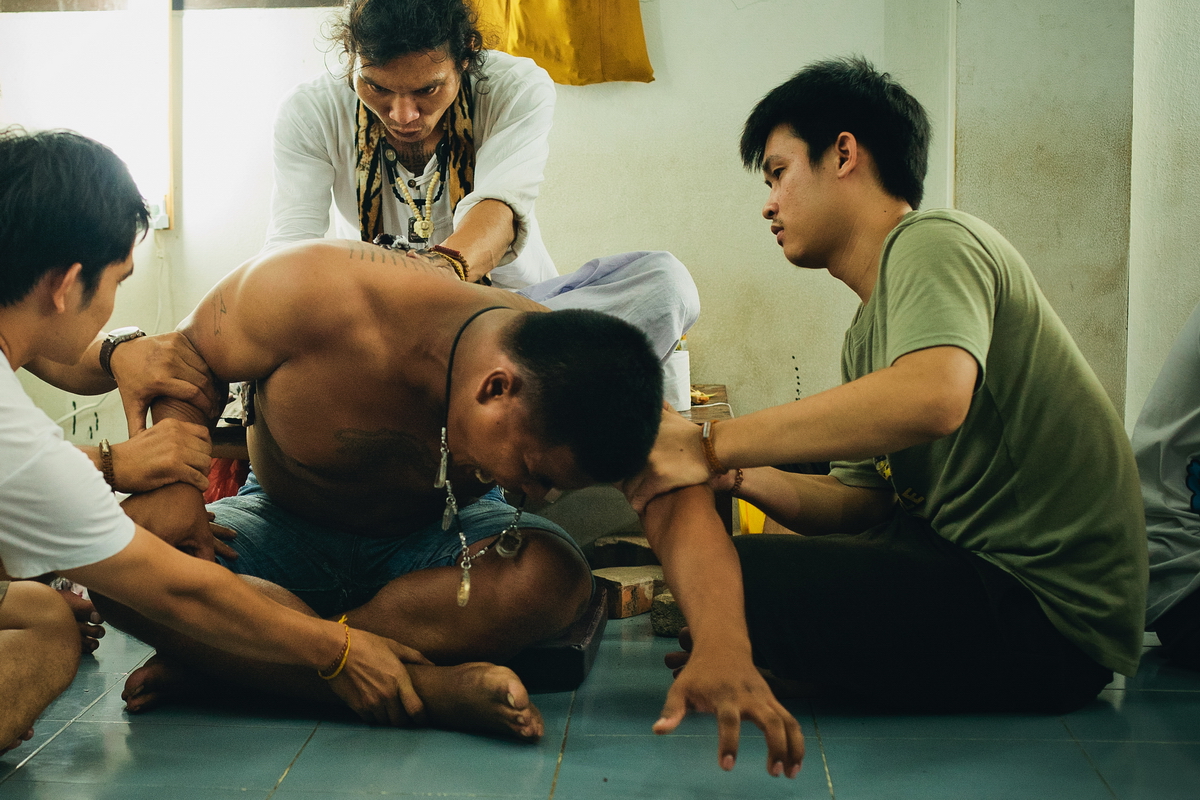 While some people are getting tattooed, other are sleeping. Everywhere. In the rooms, stairways, outside, in tents in the street, on the ground…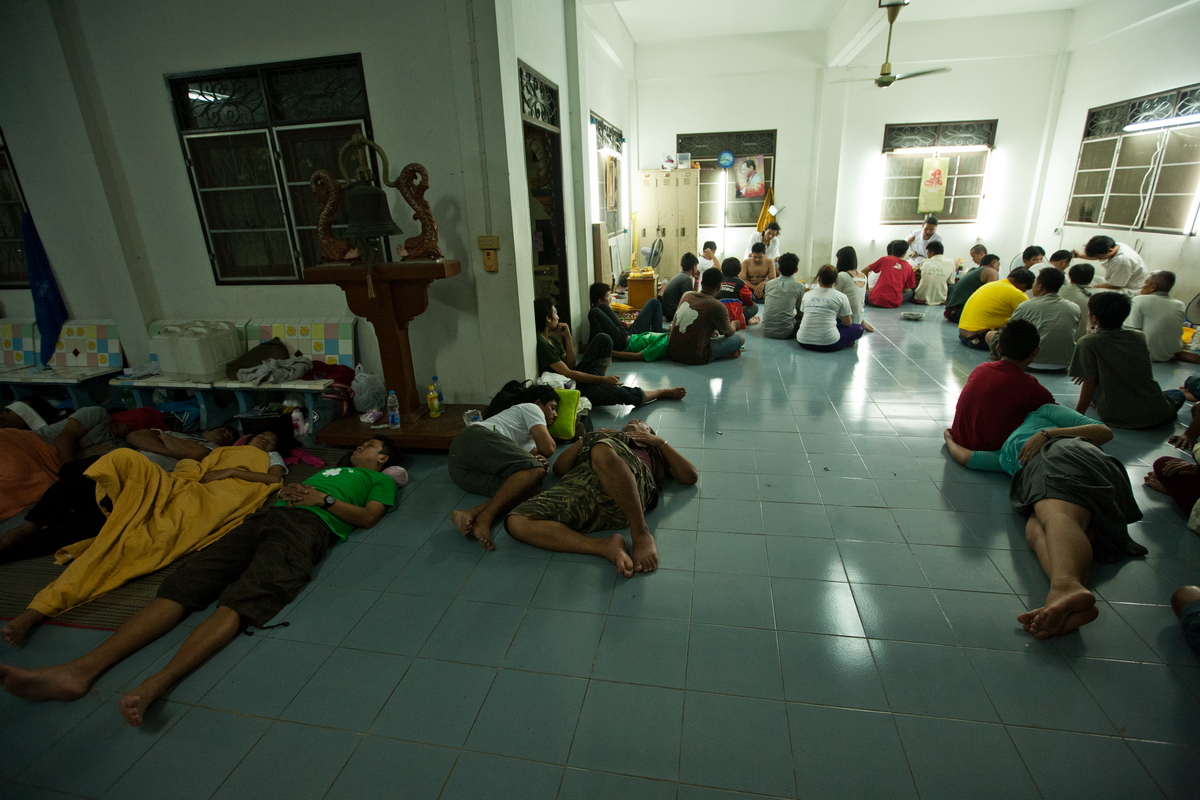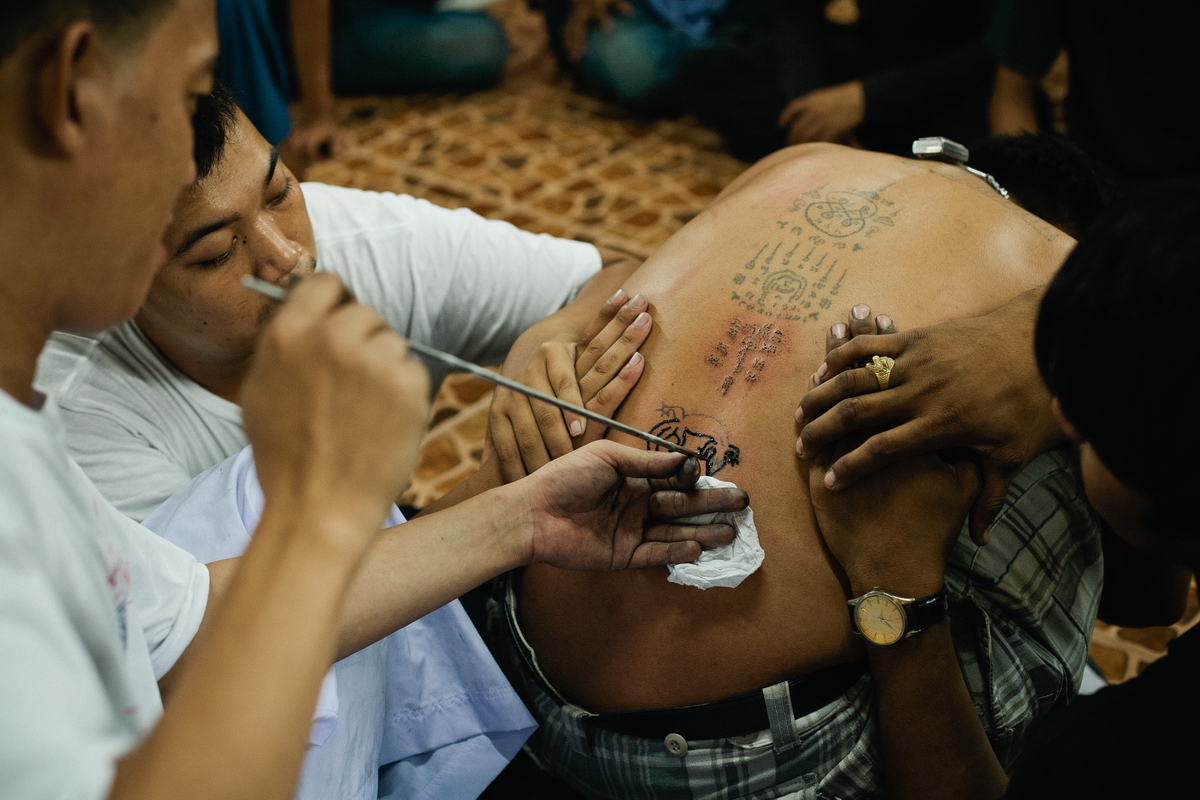 While getting tattooed before festival, people start falling into trance and obtain qualities of depicted animals: a tiger tattoo turns a man into a tiger, a monkey endues a person with monkey habits, etc.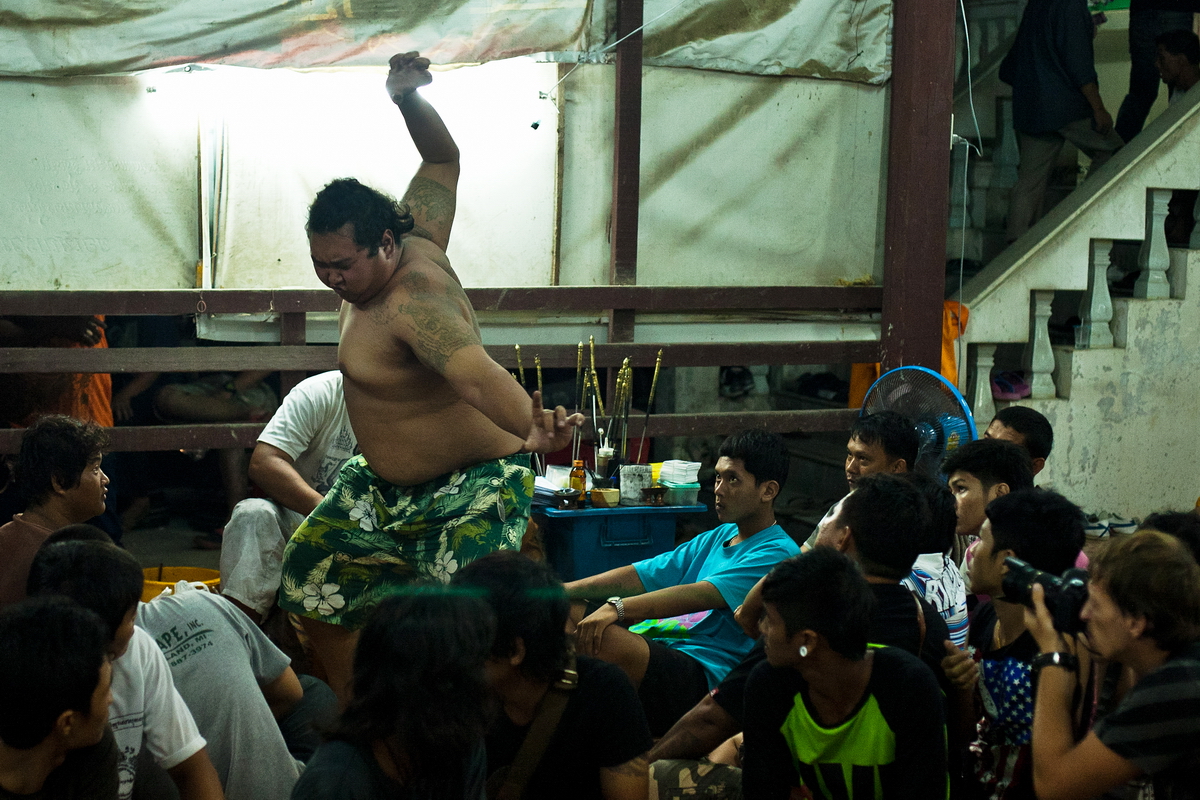 In the morning there's a lot of free food for everyone. At that moment the official part begins.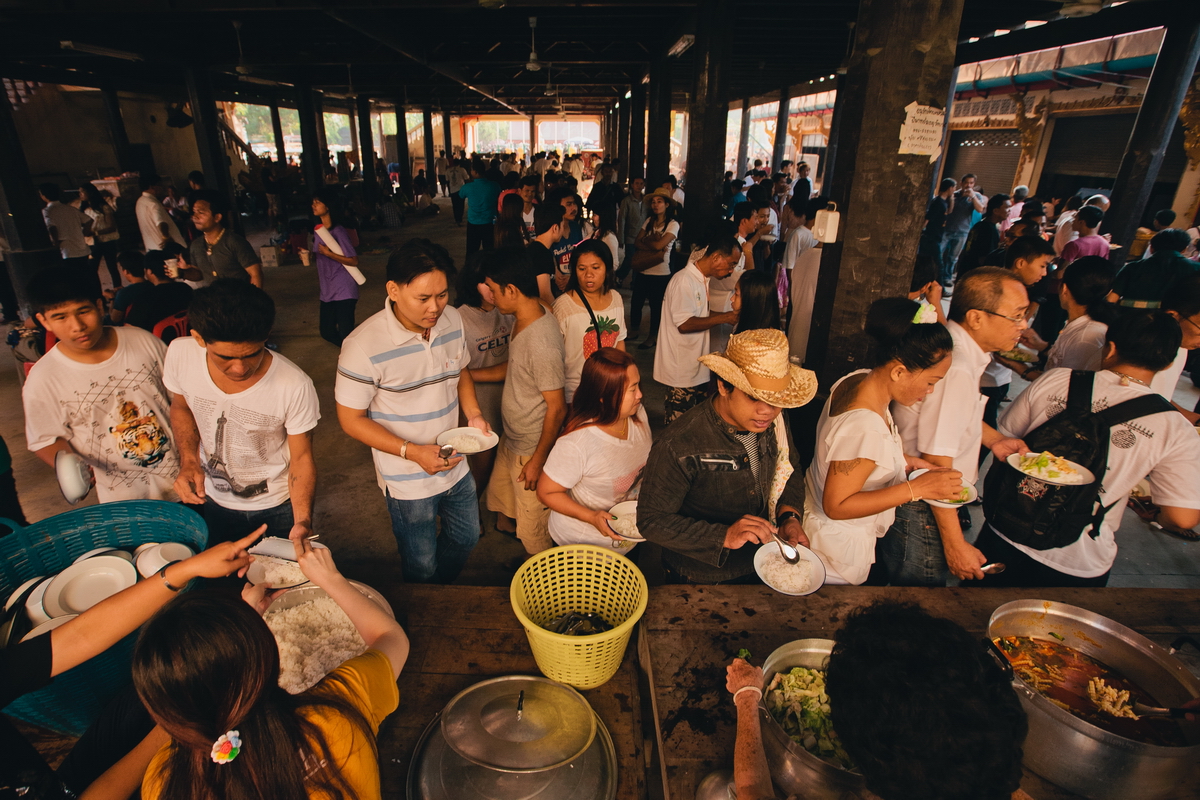 Everything happens in the square on the temple grounds. Hundreds of people are sitting under the boiling sun, some are falling into trance and running to the stage (or crawling, depending on the animal depicted on his or her tattoo).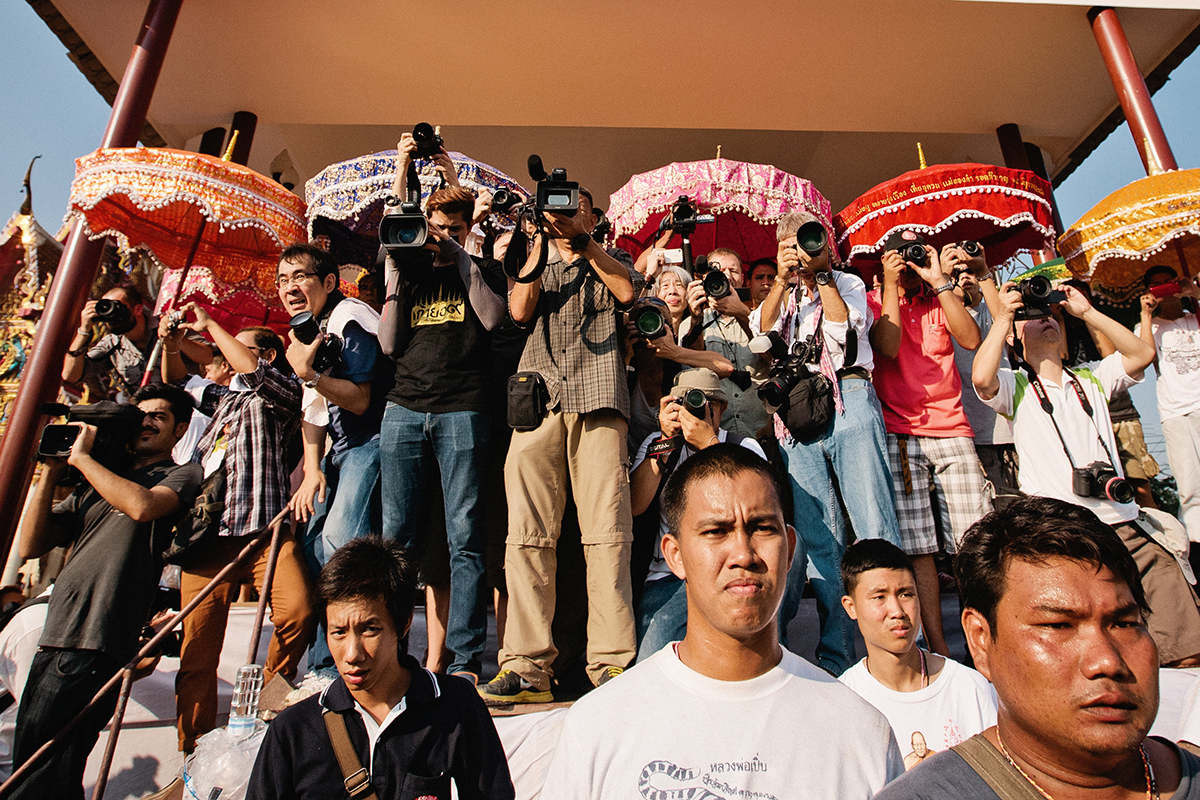 At first, there are more photographers looking for impressive images than participants, and you feel like in the hunting field.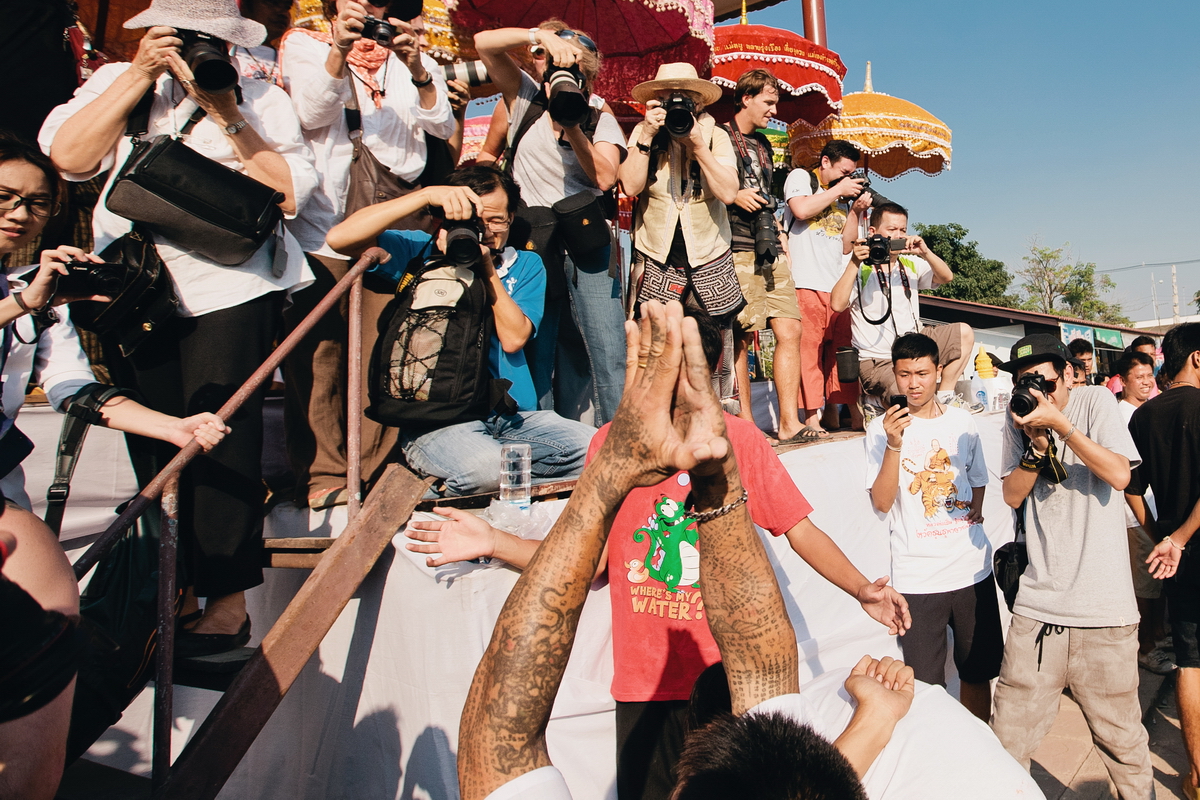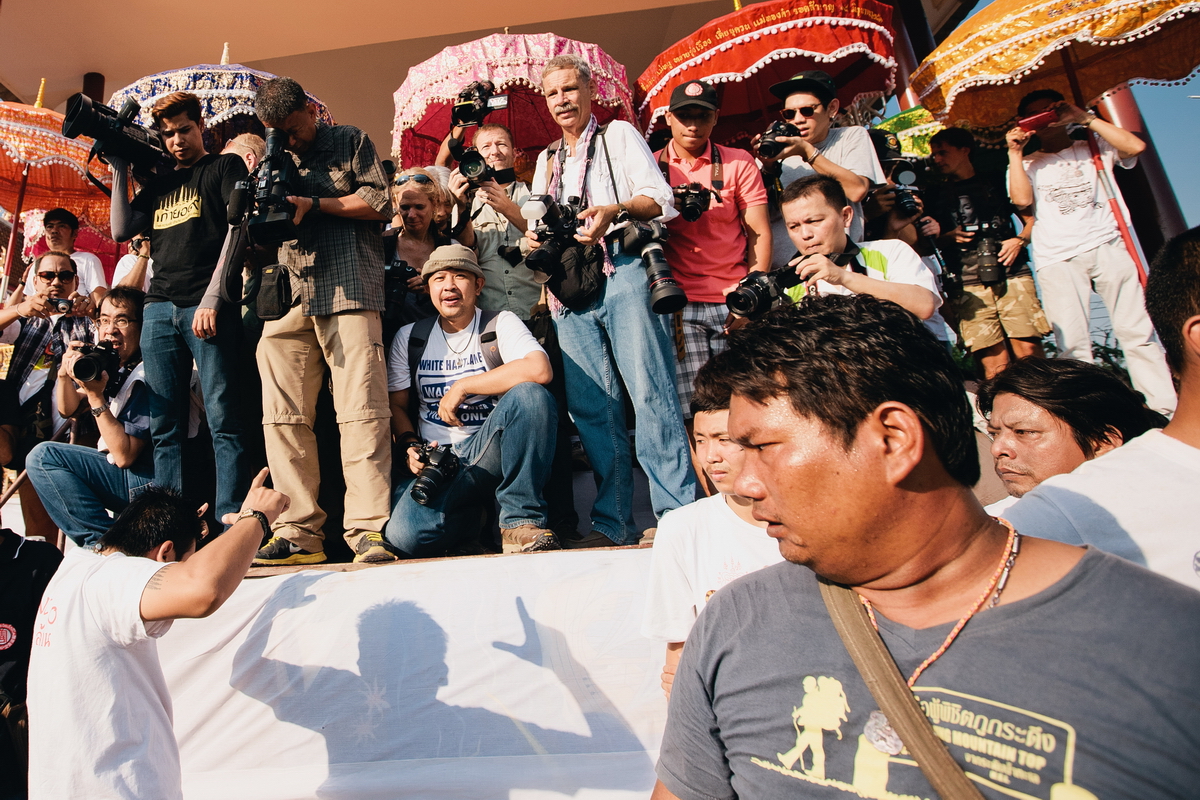 And suddenly people start going mad…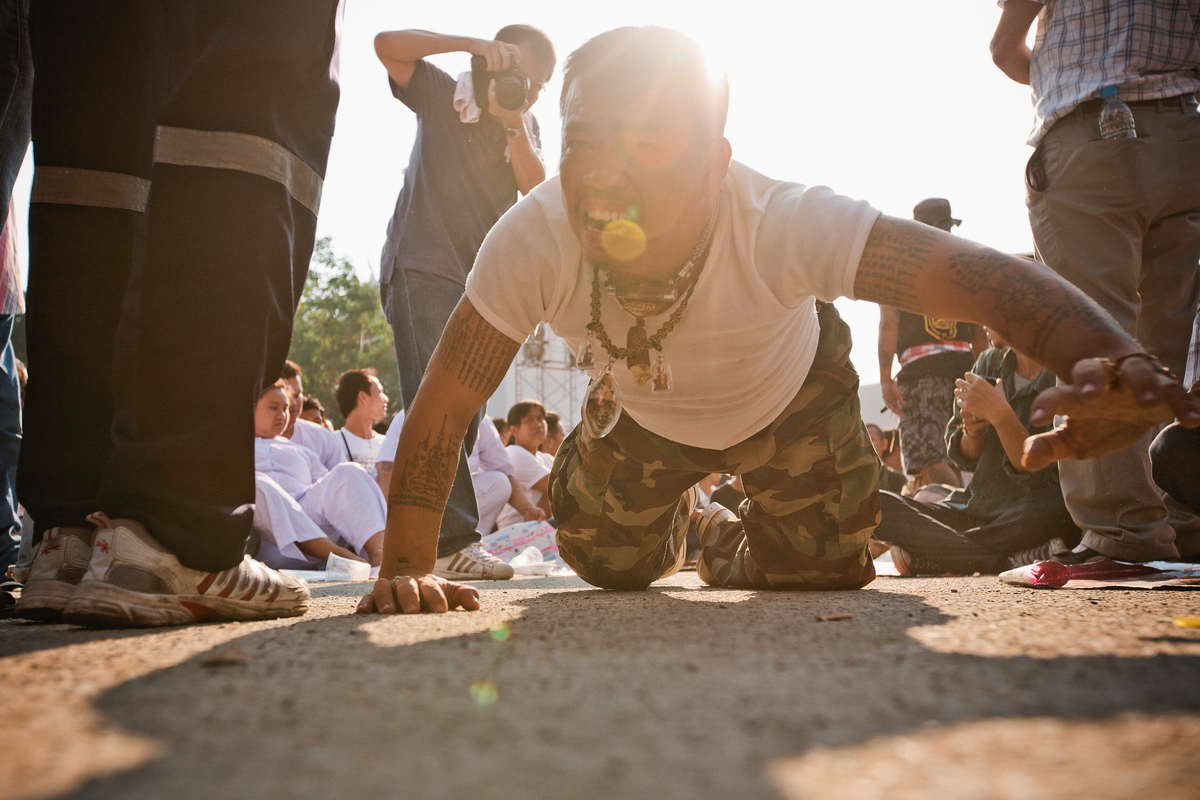 They are turning into crocodiles,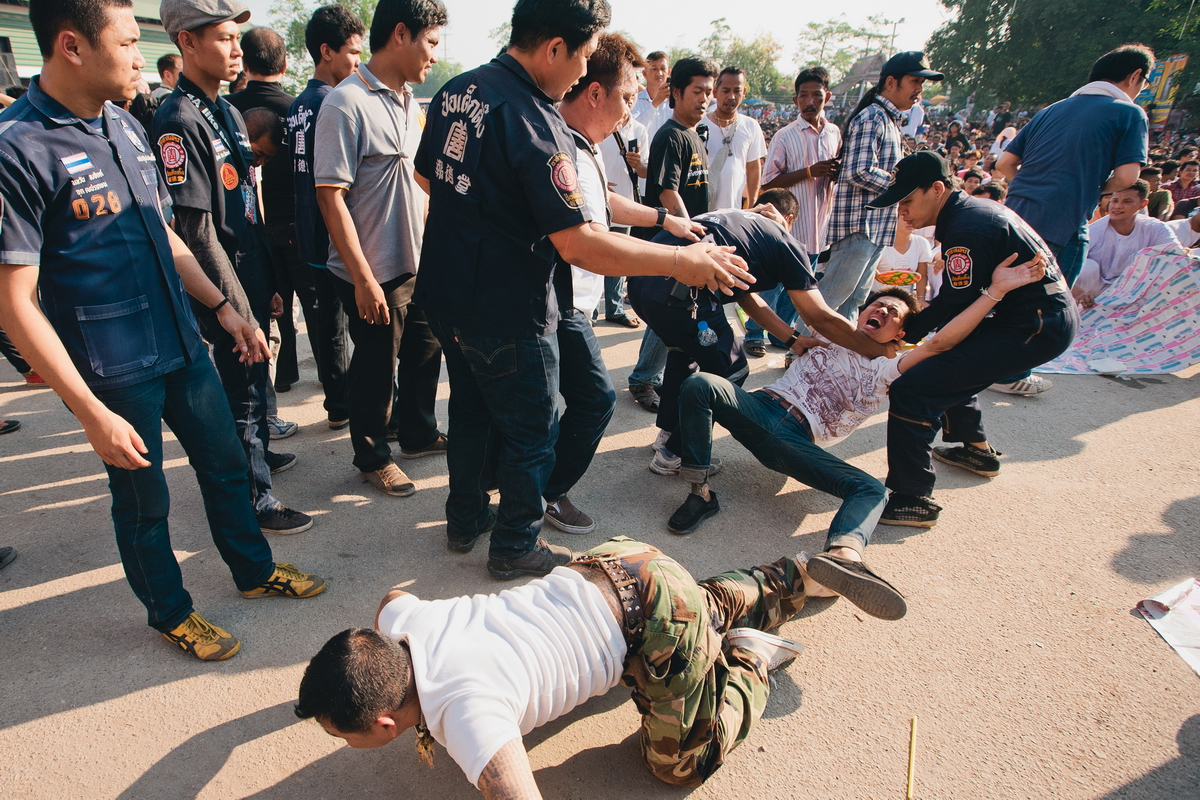 tigers…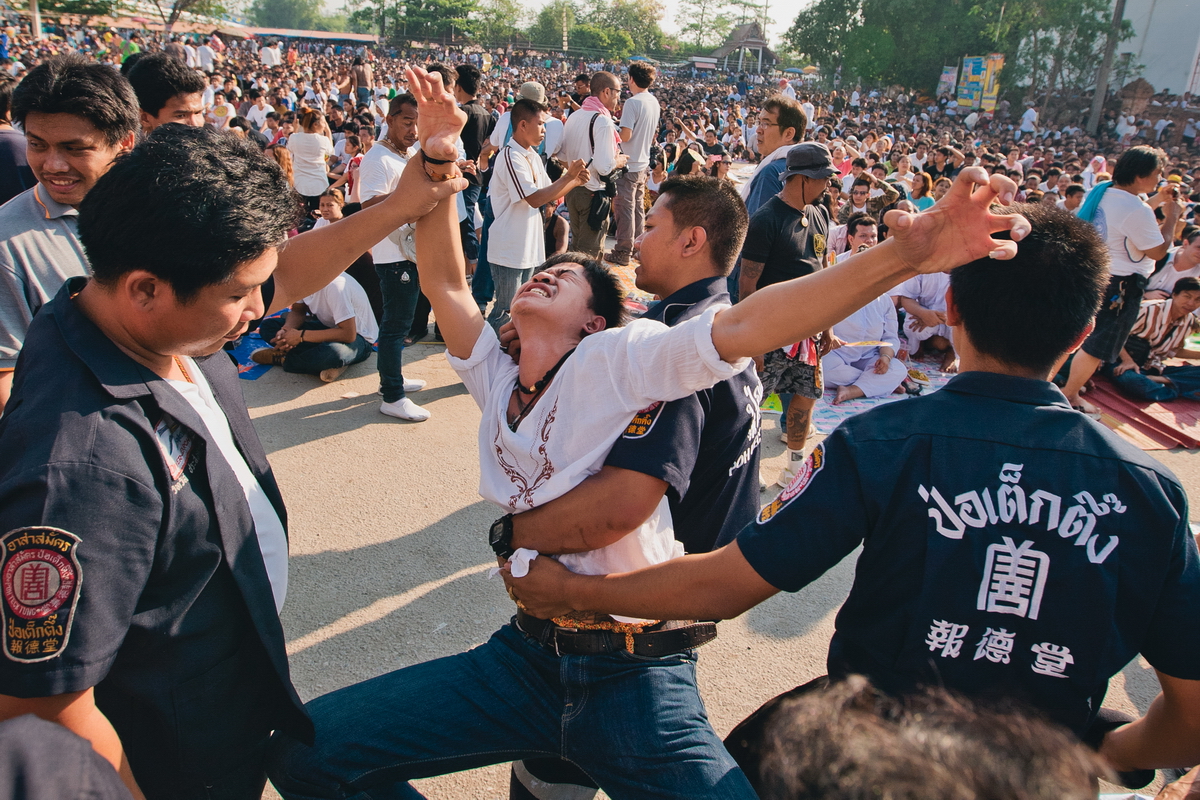 … monkey kings.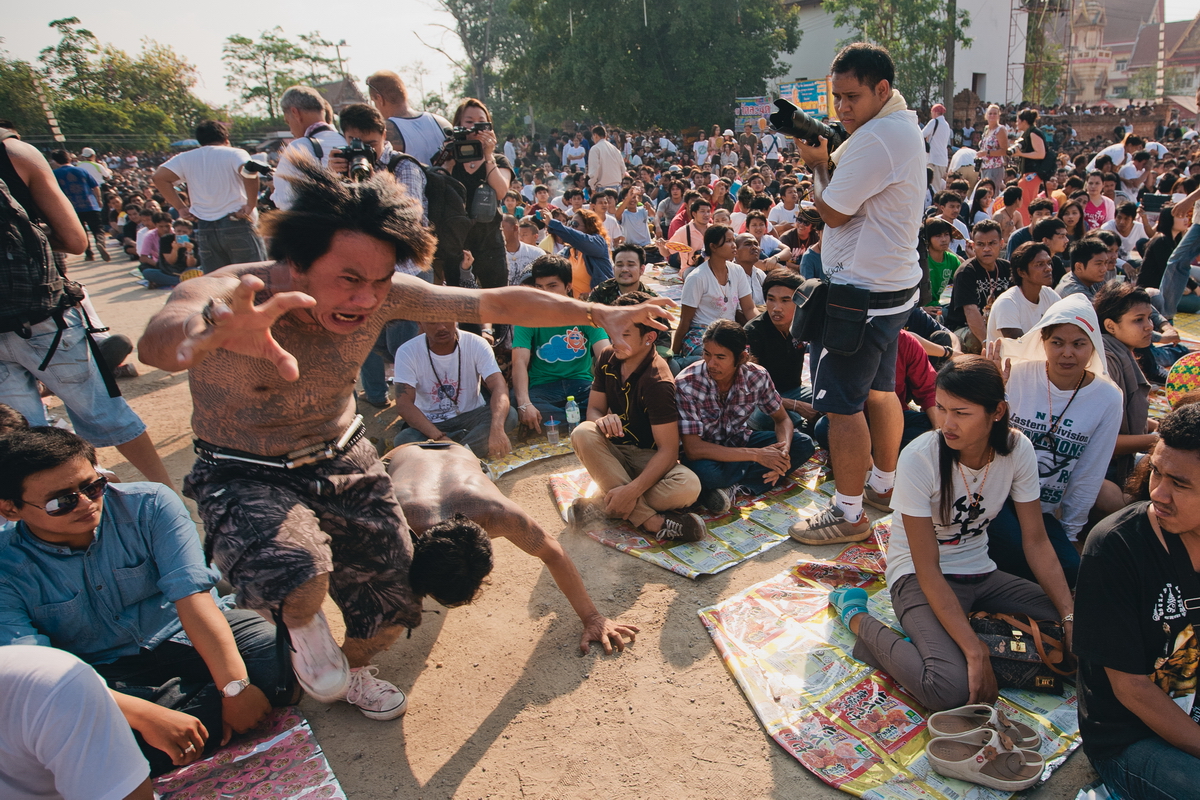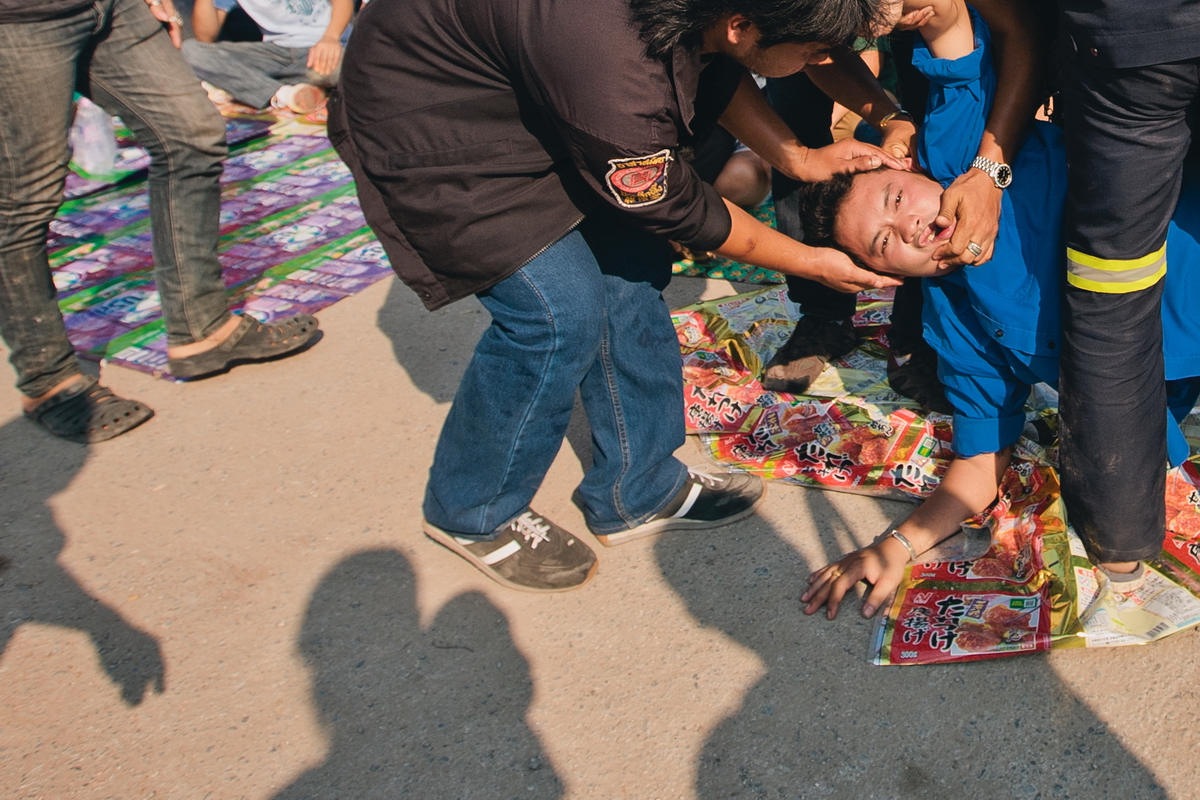 Toward the end, when the main monks should get up on the stage, there appear more and more people in trance. Sometimes the situation gets out of control and people start running from all sides simultaneously. It's really scary because you're in a crowd with only dust before your eyes. It seems you'll be trampled in a few moments and you don't know from what side exactly.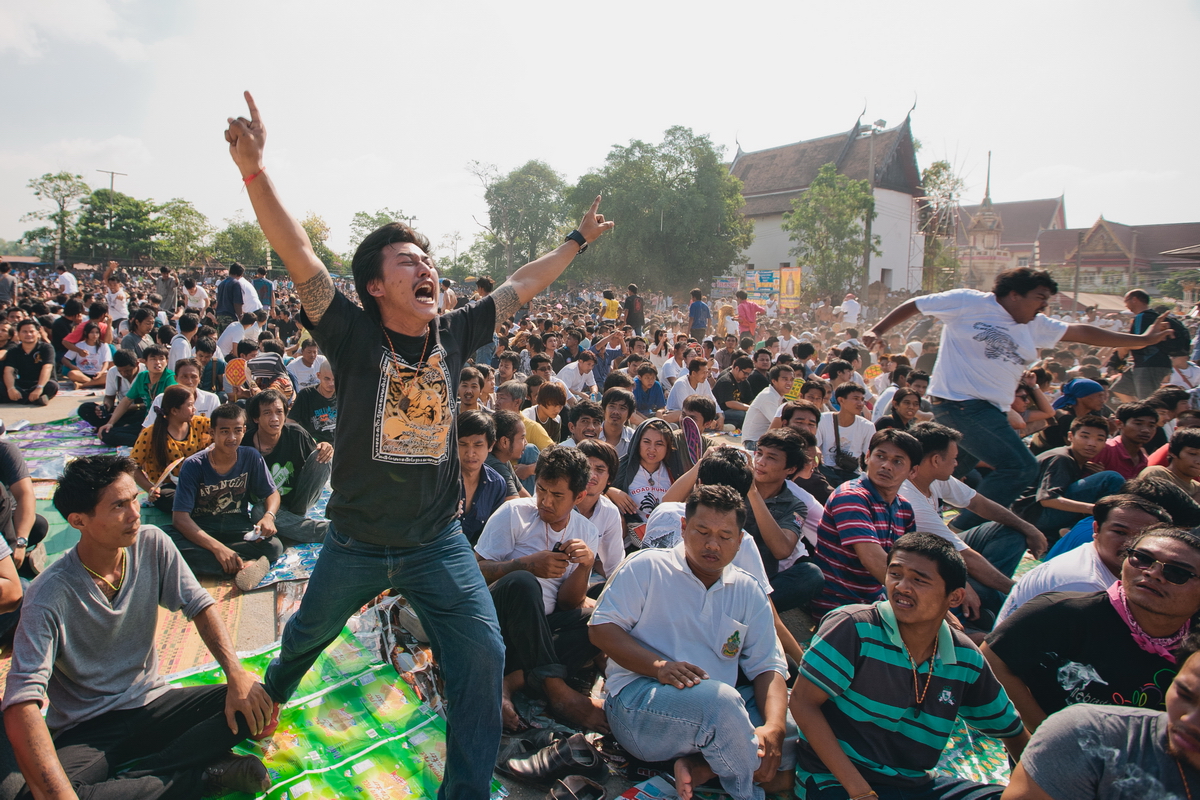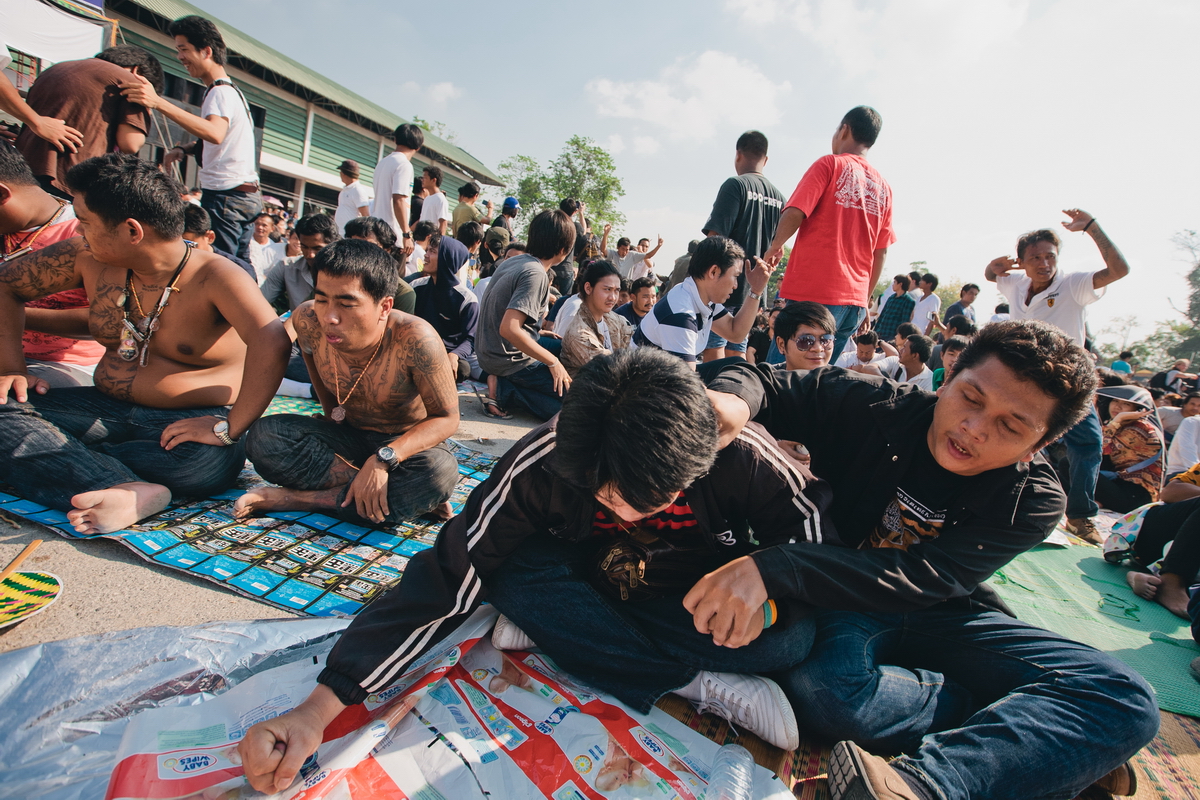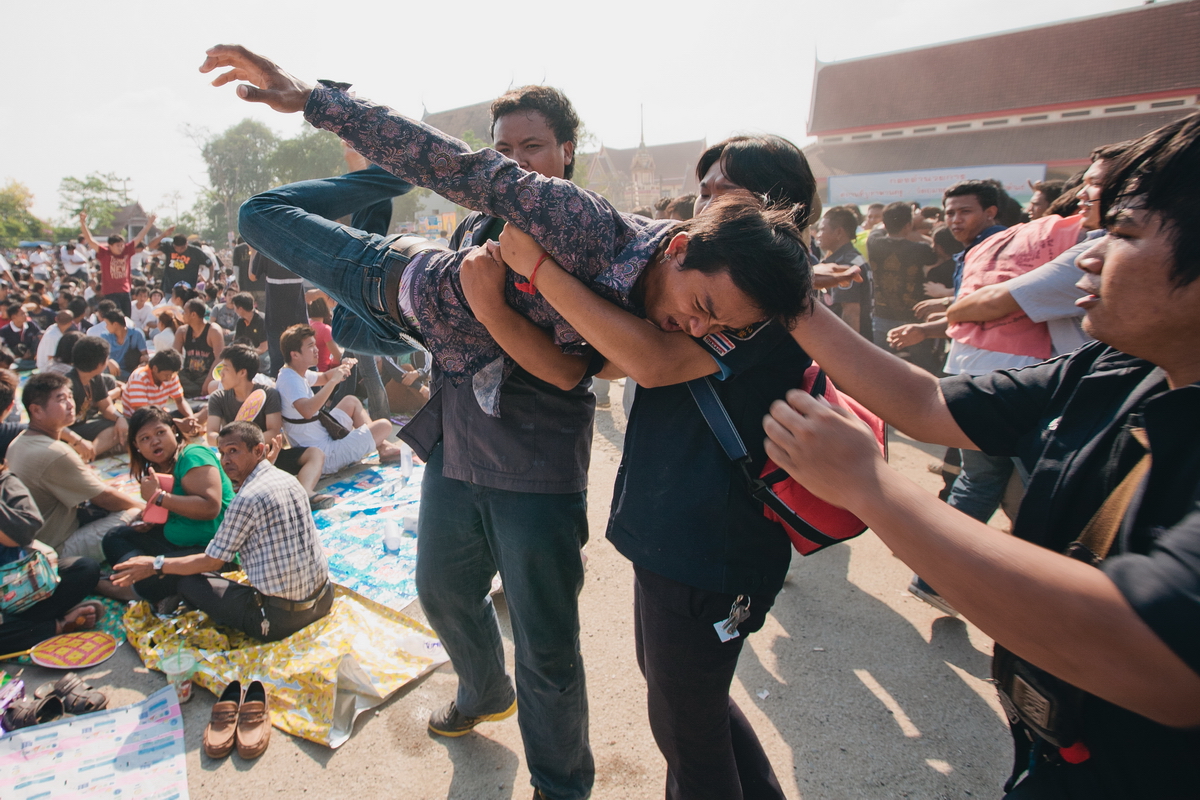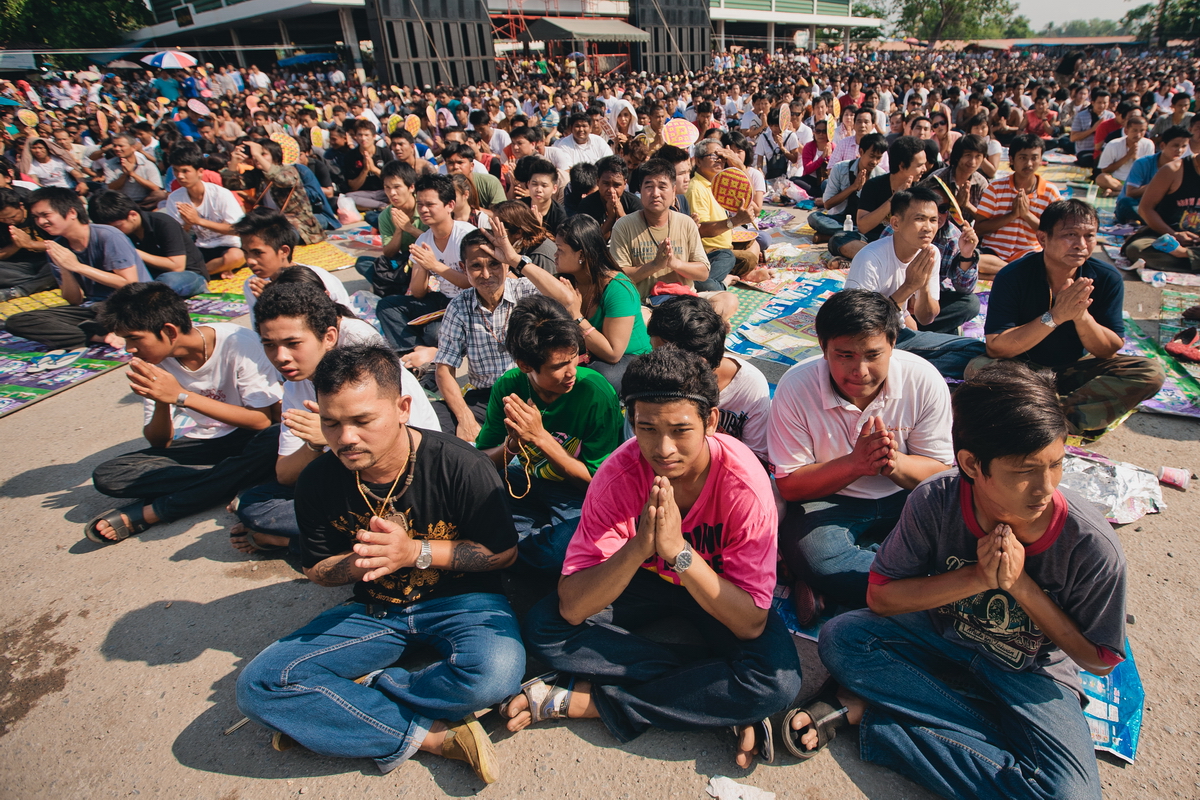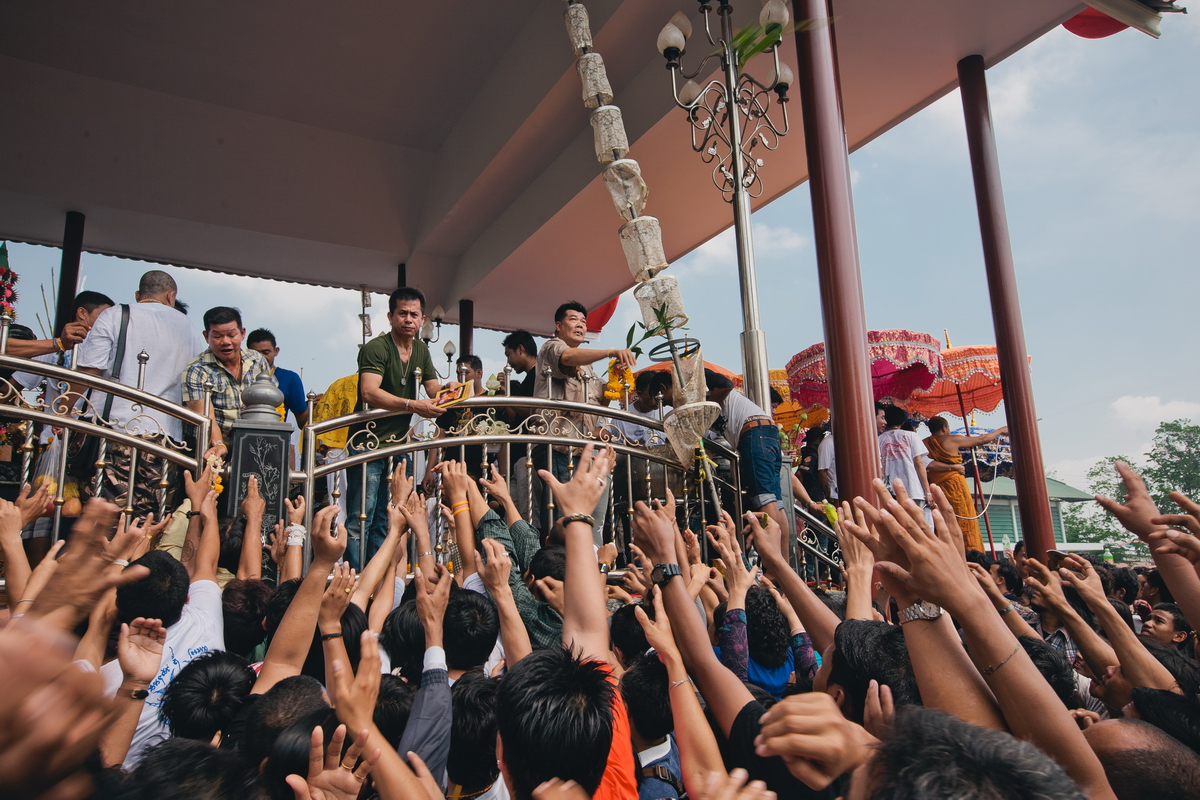 Sak Yant meanings
Ha-thaeo (Thai: ห้าแถว; Five rows) is one of the popular tattoos that brings good luck. It's tapped on the left shoulder, like the one that Angelina Jolie has. The first row will keep your house and home, set you on the right track, suggest the way out. The second row will improve your horoscope and prevent negative events. The third row will give protection in your job, from evil spirits, troubles and misfortune. The forth row will bring luck in everything. The fifth row will be responsible for love and mercy, and wil give you invulnerability.
Kao-yot (Thai: เก้ายอด; Nine spires) is a major symbol and basis for other tattoos, it's tapped on the nape of the neck. Some masters insist that it should be the first to be tapped.
Si-yot (Thai: สี่ยอด; Four spires) protects its owner and influence others' feelings.
Paet-thit (Thai: แปดทิศ; Eight points) protects you from all directions of the universe. It's a round tattoo usually placed in the center of the back.
Gecko attracts people and makes people want to communicate with you. Tattoo with two geckos attracts people of the opposite sex.
Tiger (usually with two tigers) is considered a really powerful tattoo. It provides power and impact that could be used to change your life and life of society.
Dragon is a rare Sak Yant that gives you wisdom, power and wealth.
Crocodile is an uncommon Sak Yant among masters. It's believed to bestow dark power and callousness to its owner, and person with this tattoo is difficult to defeat.
By Olga Saliy, Bangkok, Thailand
Published in "Free-Writer" magazine, Russia